A production of Angels In America — in the mountains of Virginia? "There's always been a hesitation because the traditional audience is fairly conservative," says Mark Kittlaus of Shenandoah Conservatory in Winchester, Va. But hesitate no more: Next weekend, the conservatory, part of Shenandoah University, will mount Millennium Approaches, the first part of Tony Kushner's award-winning 1993 masterpiece. Subtitled "A Gay Fantasia on National Themes," it focuses specifically on the impact and stigma of AIDS in the 1980s.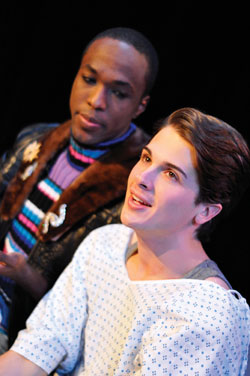 Angels In America
Kittlaus, the production's director and the head of Shenandoah's acting program, thinks Kushner's epic still has great relevance today.
"There are many universal themes in it," he says. "It deals with family, dysfunctionality, lost-lifetime dreams, death and sickness, inter-personal relationships. [And] it places the AIDS crisis in a world history of dealing with plagues and human struggle, so it's part of our human history and not just a crisis of the '80s — trapped in a single time."
The play's eight actors (and seven understudies), most of them seniors at the university, have shown extra enthusiasm for the project. "They came in to rehearsals [with their lines] almost completely memorized, off-book," marvels the director. "So we've been able to spend our time creating the very emotional moments that take place within the play."
"I think this show is a wonderful catalyst for displaying views on the gay community," says Nate Golden, who plays Louis. "It's interesting to see how at the time in the '80s, homosexuality was looked at as being an extremely awful thing."
"Everyone's committing 120 percent, and we're feeding off each other's energies," says David Bazemore, a Philadelphia native who plays Belize. "I hope [the play] helps others understand that…we're all not that different at the end of the day. We need each other."
Angels In America runs Thursday, Nov. 18, to Saturday, Nov. 20, at 8 p.m. Also Sunday, Nov. 21, at 2:30 p.m. Glaize Studio Theatre on the main campus of Shenandoah University, Winchester, Va. Tickets are $10. Call 540-665-4569 or visit conservatoryperforms.org.