When Aram Vartian hugged his friend Tom Goss goodbye on Wednesday night and saw Goss drive away, he expected to just make the short walk back to his home.
But what happened next was completely unexpected.
"I heard something like someone coming up quick from behind me," he says. "I kind of turned and then just pow. I just got decked."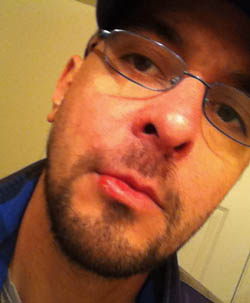 Aram Vartian, in a self-taken photo after he was attacked
(Photo by Aram Vartian)
The 34-year-old D.C. resident, who is the videographer and multimedia producer for Metro Weekly was punched from behind after saying good night to his friend, local singer-songwriter Tom Goss, while walking back to his apartment at 930 M Street NW.
"I hit the ground and I turned over, I'm on my back, and there's this guy [standing] over me, and he's screaming 'faggot.' He's got a scarf over his face, and he's 6-feet-2," says Vartian. "I got up to my feet, and I had my hands up to my face and there was blood, and I didn't know what this was about. I could hear him screaming, 'faggot, faggot, not in this neighborhood,' but I didn't process it at that moment."
Vartian says two people who were with the man distanced the attacker from him, saying, "We're sorry, sir, we're sorry, please don't call the police."
Vartian reached for his phone and called the police, at which point the men disappeared from the scene.
He says that he and Goss had noticed a group of about 10 youths walking in front of them before the incident occurred. Vartian assumes that the man who attacked him was from that group.
Officers from the Metropolitan Police Department reported the incident as a "simple assault" and as a "hate-bias crime." They drove Vartian to two men they believed might be suspects. When asked by MPD if one of those suspects was the attacker, Vartian was unable to confirm.
"It was so quick and so fast and all I can remember is the guy's eyes and the guy's fists and that's it."
He describes his attacker as an African-American "lean built" man, between 18-25, wearing dark track pants, a dark gray long-sleeve top and a black-and-white scarf.
Goss was saddened and shocked by the news, calling it ironic that the two had been working on a project about equality and tolerance prior to the incident.
"The thing that was hard for me is the idea that we're sitting here working on this project that's breaking a lot of stereotypes and hopefully bringing people together as an end result," Goss says.
"And [Aram] gets gay bashed while we're in the middle of this project. It was disheartening… and makes me realize that the work that we're doing is really important."
Vartian says he's not frightened by the incident.
"I thought I would be upset, I thought I would be angry, I'm none of those things," he says. "I'm not afraid. I just feel a little sad that someone would choose to be that angry."
MPD is working with Vartian on the case and did not immediately respond to a request for comment by Metro Weekly.