Cyndi Lauper calls for greater LGBT activism as her cure for the blues. "Everybody should be active right now. Everybody should be helping in any way that they can," says Lauper of the push for gay equality. "If everybody did a little something-something, things would be better."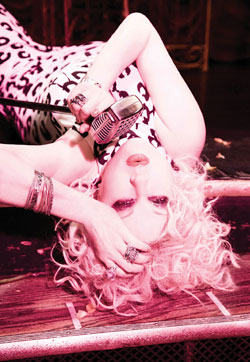 Cyndi Lauper
(Photo by Ellen von Unwerth)
Earlier this year, Lauper launched the "Give A Damn" campaign, an initiative of her True Colors Fund specifically geared to enlist straight support for gay concerns, including addressing the large number of homeless and runaway gay youth. "It's a straight cry for equal rights," she says.
The 57-year-old hitmaker got her start performing covers of the blues and Janis Joplin tunes. Now, roughly 35 years later, she's come full circle with her album Memphis Blues. "I think that right now, the way that the world is, it's the perfect time to do the blues," says Lauper of her journey into blues alley. "The blues, written by people who were oppressed, are always uplifting, either through humor or through spirit."
This Saturday, Lauper stops at the 9:30 Club for a blues jam with several veterans, including Blues Hall of Famer Charlie Musselwhite. In addition to standards, they'll revamp some of Lauper's pop hits "in blues style," including what she calls a "really funny" version of "Girls Just Wanna Have Fun."
Asked about the Cyndi Lauper Barbie doll Mattel recently released as part of its "Ladies of the '80s" series, Lauper laughs: "I worked hard on the outfit. I kept after them — made sure they had the [right] skirt and the whole thing."
Cyndi Lauper performs Saturday, Nov. 27, at the Nightclub 9:30, 815 V St. NW. Doors at 6 p.m. Tickets are $45. Call 202-265-0930 or visit 930.com.