UPDATE: Expanded coverage on the release of today's report.
The Pentagon today released its long-awaited "Report of the Comprehensive Review of the Issues Associated with a Repeal of 'Don't Ask, Don't Tell."
The executive summary of the report, reviewed by Metro Weekly, concludes that "while a repeal of 'Don't Ask, Don't Tell' will likely, in the short term, bring about some limited and isolated disruption to unit cohesion and retention, we do not believe this disruption will be widespread or long-lasting, and can be adequately addressed by the recommendations we offer below. Longer term, with a continued and sustained commitment to core values of leadership, professionalism, and respect for all, we are convinced that the U.S. military can adjust and accommodate this change, just as it has others in history."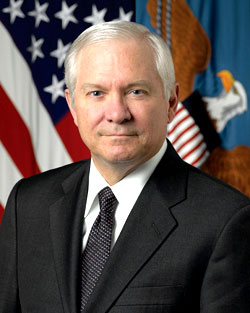 Defense Secretary Robert Gates
(Photo courtesy of the U.S. Department of Defense)
The report is authored by the co-chairs of the Pentagon working group, Defense Department general counsel Jeh Johnson and Gen. Carter Ham. They were aided by 49 military and 19 civilian personal.
The two aims of the study were to, 1) assess the impact of repeal and, 2) recommend changes in the event of repeal.
The report concludes that, based on the survey, there is "a widespread attitude among a solid majority of Service members that repeal of 'Don't Ask, Don't Tell' will not have a negative impact on their ability to conduct their military mission."
With over 115,000 service members responding, which is 28 percent of those solicited, the report shows "the margin of error for the results was less than +/- 1%"
Sixty-nine percent of service members reported that they had worked "in a unit with a co-worker that you believed to be homosexual."
When asked about the actual experience of serving in a unit with a coworker they believed to be gay or lesbian 92 percent stated that the unit's "ability to work together" was "very good," "good," or "neither good nor poor."
As previously reported, asked whether a service member who is gay would impact the unit's ability to "work together to get the job done," 70 percent say it would have a positive, mixed or no effect.
The report also includes data from a survey of self-identified gay and lesbian service members, conducted by Rand, that found "if 'Don't Ask, Don't Tell' were repealed, only 15 percent of gay and lesbian service members would like to have their sexual orientation known to everyone in their unit."
The report also found a difference in how service members think a repeal might affect the military versus how they have experienced serving with co-workers they believe to be gay.
"While a higher percentage of Service members in warfighting units predict negative effects of repeal," says the report, "the percentage distinctions between warfighitng units and the entire military are almost non-existent when asked about the actual experience of serving in a unit with someone believed to be gay."
The executive summary shares an anecdote collected earlier this year from a focus group.
"As one special operations force warfighter told us, 'We have a gay guy [in the unit]. He's big, he's mean, and he kills lots of bad guys. No one cared that he was gay."'
As predicted, Marines expressed the predictions of negative effects of repeal.
"Sixty-seven percent of those in Marine combat arms units predicted working alongside a gay man or lesbian will have a negative effect on their units effectiveness in completing it's mission 'in a field environment or out at sea.' By contrast, in response to the same question, but during 'an intense combat situation,' the percentage drops to 48 percent."
The report cites the military's experience with race and gender integration when considering repeal of DADT.
"Though there are fundamental differences between matters of race, gender, and sexual orientation, we believe the U.S. military's prior experiences with racial and gender integration are relevant."
Referring the racial integration, the report notes that "the resistance to change at that time was far more intense" than it is to open service by gays and lesbians. The executive summary describes the U.S. military as "probably the most racially diverse and integrated institution in the country."
The report concludes that, "Predictions and surveys tend to overestimate negative consequences, and underestimate the U.S. military's ability to adapt and incorporate within its ranks the diversity that is reflective of American society at large."
The recommendations of the report will depend upon "strong leadership, a clear message, and proactive education."
The recommendations discuss standards of conduct, moral and religious concerns, and privacy and cohabitation, including this definitive statement on the integration of gay and lesbian service members: "We recommend that the Department of Defense expressly prohibit berthing or billeting assignments or the designation of bathroom facilities based on sexual orientation."
However, the report says, "commanders would retain the authority they currently have to alter berthing or billeting assignments or accommodate privacy concerns on an individualized, case-by-case basis, in the interests of morale, good order and discipline, and consistent with performance of mission."
The recommendations state that "most concerns that we heard about showers and bathrooms were based on stereotype."
The report does not recommend that sexual orientation be placed alongside race, color, religion, sex and national origin as a class eligible for various diversity programs.
The recommendations also support pre-existing proposals to do away with the military sodomy law by ending article 125 from the UMCJ.