Next Friday, Nov. 12, the Whitman-Walker Clinic will give Dr. Shannon Hader its first-ever Community Service Award "in recognition of the tremendous work she's done here in D.C. in the fight against HIV and AIDS," says clinic spokesperson Chip Lewis. Hader stepped down this past June after three years as director of the city's HIV/AIDS Administration.
Hader will be honored during the clinic's 17th Annual Art for Life auction. More than 60 artists from around the world have donated pieces for the auction, to be held at the Carnegie Institute of Washington. Tickets start at $100.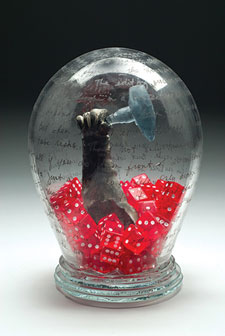 Art4Life
(Tim Tate)
"The event in total has raised about $1 million" in its 17 years, according to Lewis. This year's fundraising goal is $100,000, money that will go toward the clinic's HIV/AIDS prevention services for communities of color, including African-American and Latino.
"Right now in communities of color in D.C. we're seeing a tremendous HIV/AIDS epidemic," says Lewis. He cites official statistics showing that among gay and bisexual men of color in D.C., one in every three older than 30 has HIV, and one in eight younger than 30 has the infection.
In addition to Hader, the clinic will recognize four longtime artist contributors as Art for Life Honorees: Denise Odell, Renato Salazar, Shaun Van Steyn and Lloyd Wolf. Salazar, for one, has been donating art to the event every year since 1997. A preview of the art on auction – as well as absentee-bid forms for those who can't make it in person – are available at wwc.org/artforlife.
"All of the new people [needing HIV care] we still see coming through the front door, that's disheartening," says Lewis. "But it's good to know [the clinic is] in a stable and secure place, and that we're able to provide this really high-quality care to people in need." Since Lewis started working at the clinic 11 years ago, he's seen the facility go through good and bad times, as well as become a full-service health operation for "anyone in the LGBT community, regardless of their HIV status."
But the epidemic remains a key focus, and events like Art for Life are critical.
"It gives us resources to reach communities of color with the message that this is a preventable disease," says Lewis. "This does not have to happen to them."
For more information on Art for Life, c'all 202-797-3543 or visit wwc.org/artforlife.