Defense Secretary Robert Gates announced that the long-awaited Pentagon working group report on the implementation of a repeal of "Don't Ask, Don't Tell" will be released to Congress and the public on Tuesday, Nov. 30 – one day earlier than it had been expected.
The move was one of several in the first week of the lame-duck session of the 111th Congress that appeared to give momentum to advocates' efforts to see repeal this year of the 1993 law dictating military policy.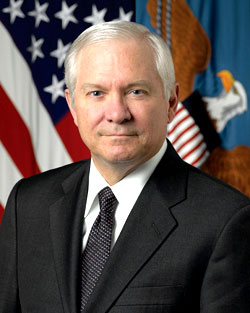 Defense Secretary Robert Gates
(Photo courtesy of the U.S. Department of Defense)
Pentagon spokesman Geoff Morrell, according to an American Forces Press Service report, said, "Secretary Gates is pushing all involved in the Comprehensive Review Working Group's report to have it ready for public release on Nov. 30 in order to accommodate the desire of the Senate Armed Services Committee to hold hearings as soon as possible."
Morrell continued, "Frankly, Dec. 1 was already an aggressive deadline by which to complete the report, incorporate the views of service secretaries and chiefs and for the secretary to make a recommendation on the way ahead, but he has further compressed the timeline in order to support Congress' wish to consider repeal before they adjourn."
In addition to Gates's announcement, Adm. Mike Mullen, the chairman of the Joint Chiefs of Staff, made the case for repeal in a series of Sunday news show appearances. In part, his argument was a refutation of Sen. John McCain's (R-Ariz.) preemptive criticism of the working group's upcoming report.
Of McCain's concern that the working group focused on the wrong issues, Mullen said on CNN's State of the Union, "Key is the leadership that it's going to take to implement it when the law changes, specifically, and to understand as clearly as we could the issues that surface from those it would affect the most: our men and women and their families."
Later, reiterating a point made by Gates and several members of Congress in recent weeks, Mullen told Christiane Amanpour on ABC's This Week, "It's very hard to predict what's going to happen … from a legislative perspective.
"The other piece that is out there that is very real is the courts are very active on this, and my concern is that at some point in time the courts could change this law and in that not give us the right amount of time to implement it. … If it's going to get done, it's much better done through legislature than it is out of the courts."
The views advanced by Gates and Mullen were not altogether surprising – though helpful to repeal efforts – because both men have been publicly in support of the repeal since their February testimony before the Senate Armed Services Committee. More surprising was the indirect pushback that McCain got in a National Journal interview with Adm. Gary Roughead, the chief of naval operations.
In the Nov. 21 article, Roughead said, "I think the survey, without question, was the most expansive survey of the American military that's ever been undertaken. I think the work that has been done is extraordinary."
Before the flurry of pro-repeal activity from the military, Sen. Joseph Lieberman (I-Conn.), said on Nov. 18 that he was "confident" that there were "more than 60 votes prepared to take up the defense authorization with the repeal" – with the caveat that the votes were there "if only there will be a guarantee of a fair and open amendment process."
Surrounded by Democratic pro-repeal senators, Lieberman's statement was strong – but open to interpretation, as others had been questioning whether the votes were there.
That evening, though, reports began circulating that Sen. Lisa Murkowski (R-Alaska) had told a local news station that she would support repeal. Although her spokesman later added some nuance and conditions to that characterization, the conditions described circumstances that leaks of the working group's report suggest are likely to occur.
Then, a group including Equality Nevada and Stonewall Democrats of Nevada released information that they had been told by Sen. John Ensign's (R-Nev.) regional representative Margot Allen that "Sen. John Ensign does not support the Don't Ask, Don't Tell policy and will vote to repeal it." Ensign's office, on Nov. 19, followed up with a clarification similar to that offered by Murkowski's office.
In addition, officials with the offices of Sens. Susan Collins (R-Maine) – who voted for repeal in the Senate Armed Services Committee in May – and Richard Lugar (R-Ind.) told The Washington Post's Greg Sargent that they, under the right procedural circumstances, would support a lame-duck National Defense Authorization Act/DADT repeal vote.
That done, the 56 Democratic senators who are on the record supporting moving the NDAA forward for a vote even if DADT repeal is included – having lost Democratic Sens. Blanche Lincoln and Mark Pryor of Arkansas in the September vote – would have four Republican votes if Collins, Ensign, Lugar and Murkowski stay onboard, giving them the 60 votes necessary to overcome a filibuster. But only 60 – and one of those Democrats, Sen. Roland Burris (D-Ill.), is going to be replaced soon by a Republican, Rep. Mark Kirk (R-Ill.), who already voted against repeal once this year.
Among the other targeted senators are Scott Brown (R-Mass.), Olympia Snowe (R-Maine) and George Voinovich (R-Ohio) – other Republicans whose votes were targeted in September – and Democratic Sen. Joe Manchin (D-W.V.), a new senator whose DADT repeal vote is uncertain.