Last year, British star Lily Allen caused a stir with an impossibly sweet-sounding song called "Fuck You." The title alone was an attention-grabber, of course. But the fetching song also developed a following for its broad swipe against haters, including homophobes. "Fuck you," she sings. "Fuck you very, very much."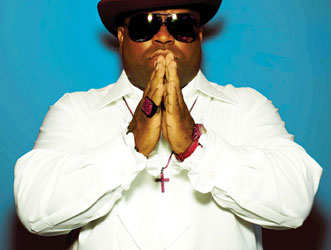 Cee Lo Green
This year, Cee Lo Green took a page from Allen's playbook, releasing an impossibly sweet-sounding song called "Fuck You." This time, the attention-grabbing title was used for a fetching song taking a broad swipe against broads — specifically, Green's ex. And this time, the song has created more than a stir. It's become a veritable sensation, complete with even a Glee version — featuring Gwyneth Paltrow! Poor Allen never had a chance. (Of course, it helped that Green created a clean version of the song, "Forget You." Maybe Allen should do the same?)
No one will forget him now: The song has finally given Green, born Thomas DeCarlo Callaway, mass name recognition. Green made everyone "Crazy" in 2006 — though that huge hit came in partnership with Danger Mouse, under the name Gnarls Barkley. Before that, Green was part of the Atlanta hip-hop group Goodie Mob. And he co-wrote several R&B-steeped hits you may have come to know over the past half-decade or so, including songs by Solange, Jennifer Hudson, Estelle and TLC. Not to mention a little ditty called "Don't Cha."
Though few could have seen it coming, his new solo album — his third — The Lady Killer proves Green is worth getting to know on his own. With production assist from the likes of Salaam Remi (Amy Winehouse) and Fraser T. Smith (Taio Cruz), Green, with his pleasing old-school tenor, has channeled an old-school vibe for the set. If it's all part of his calculated plan to win back the woman he loves, only the most stubborn wouldn't at least reconsider.
"Well hello there," he says sweetly at the start of the set, accompanied by smooth jazz piano tinkles. "When it comes to ladies, I have a license," he says, before dropping his voice an ominous octave, "to kill!" A violin screeches and a Pulp Fiction-esque surf-rock instrumental launches in response. But his preferred killing technique, as it were, is to wear down his ex until she takes him back out of sheer exhaustion. "If you promise to surrender I'll love you tender," he sings on "Love Gun."
Green cries his heart out, and then cries some more, all throughout The Lady Killer. It's a fully realized concept album of a man stuck in the grieving stage after a breakup. He's an OCD basket case.
He tries to be cool about his newly single status, asserting on the stirring, string-laden second track, "Bright Lights, Bigger City," that "it's alright, it's alright." And then he sings the phrase three more times, as if repeating it will make it true. He also passes on a humorous truism: "Friday night is cool, but there's just something about Saturday night. You can't say what you won't do, 'cuz you know that you just might."
But it's clear he can't stand being alone, without the one he sees as his one true love. "Sweet sugar, I surrender, I don't want no other woman," he sings on the funky "Fool For You." "Baby you win."
On one of the set's most buoyant and winsome songs, Green's convinced he's not alone in his pining. "Babe, it's okay to say that you love me," he exclaims to his ex. "So please baby, please lover. Let's find a way to forgive each other."
If not? Well, forget you. But bet you'll never forget Cee Lo.
CEE LO GREEN
The Lady Killer
Elektra
$18.98




and one-half

RÖYKSOPP
Senior
MB3 Records
$6.99



LAST YEAR, THE brilliant Norwegian dance duo Röyksopp released its third and best album, Junior. Any fan of moody, sophisticated, driving dance-pop — haunting house — would be remiss without it as part of their collection. One stunning Scandinavian singer after another contributes to the dazzling but heavy-hearted proceedings, from Anneli Drecker to Karin Dreijer Andersson to of course Robyn, with "The Girl and The Robot." (Röyksopp then returned the favor, giving Robyn the awe-inspiring "None of Dem" for her Body Talk Pt. 1 set.)
Now comes Junior's all-instrumental companion. Senior — get it? — is actually more similar in spirit to Melody A.M., Röyksopp's 2002 critically lauded debut, which put the chill in chill-out, and was more science than art. Senior is less cerebral than that; Torbjørn Brundtland and Svein Berge have become a lot more emotional in the intervening years. Senior certainly has its moments: "The Drug" is a pulsing techno wonder; "The Fear" is an aptly named twitching jam. But without Dreijer Andersson, "Tricky Two," the reprise of Junior's smashing "Tricky Tricky," is a bit bland. The whole set is certainly duller than Junior, and more lifeless than it needed to be. Just because someone is feeling old doesn't mean they can't act young every now and then.