More than 60 people applied for a part-time, paid position, to become the first HIV program associate at The Center, the area's LGBT community center.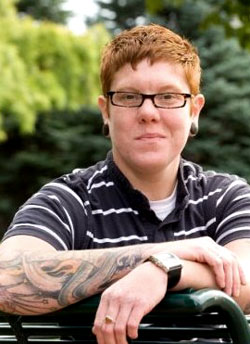 Ej Dean
(Courtesy of Ej Dean)
David Mariner, The Center's executive director, says Ej Dean, 31, originally from Michigan, was offered the position because of Dean's experience working with HIV/AIDS communities as well as LGBT people.
"Ej was one of the few people that had both solid experience in the HIV and AIDS field, and solid experience working with the LGBT community," Mariner says of Dean's harm-reduction case management work at the Callen-Lorde Community Health Center in New York.
"I think that we have a lot of work to do in D.C.," says Dean, who identifies as a "non-conforming gender person."
"[At Callan-Lorde], I was doing direct harm-reduction case management with people struggling with a lot of barriers to their HIV/AIDS care."
Working on HIV/AIDS and LGBT issues is a passion of Dean's, so much so that after helping Kalamazoo, Mich., implement an anti-discrimination policy that included transgender people, Dean joined others in celebrating that legislative victory with a tattoo. That particular bill number, 1865, is tattooed on Dean's wrist.
Dean, who began working in the health field as a nursing assistant at 18, adds that the tack to HIV/AIDS work was a natural progression from LGBT advocacy.
"I've spent a lot of years dedicating my life to equality in whatever way and HIV/AIDS is something that so many people are struggling with and there's still such a stigma about talking about it. I just feel called to be working in that area."
In addition to working at The Center part-time, Dean plans to attend Trinity Washington University to study human relations.
Mariner says The Center is hoping to expand its HIV/AIDS prevention programs in the coming year by increasing the number of venues that distribute safe-sex kits, among other efforts.
"In addition to the grant that brought Ej on board, we just received a small grant from the National Association of People with AIDS," he says, "so we'll be participating with other groups in an effort to raise awareness about HIV and AIDS among the African-American, gay, bi, trans men community and transgender folks in general."
For more information about The Center's HIV/AIDS programs, call 202-682-2245 or visit thedccenter.org.