Get Equal's Robin McGehee told me in March, "Our goal is not to be the person who gets to be in those negotiations."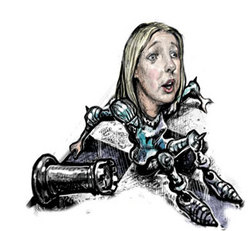 She added, "It's to be able to get Joe [Solmonese of the Human Rights Campaign] and Rea [Carey of the National Gay and Lesbian Task Force] and Mara [Keisling of the National Center for Transgender Equality] into those meetings where they can … use the political capital they've gotten to pressure" leaders like President Obama and others.
Today, however, things have changed.
McGehee has accepted a White House invitation to meet with White House deputy director of public engagement Brian Bond. But her response, she implies, will be different than Carey, HRC vice president David Smith and Center for American Progress senior vice president Winnie Stachelberg — who were met with Get Equal protests on Tuesday night for meeting with White House deputy chief of staff James Messina.
McGehee writes:
Only two short days after being arrested for chaining myself to the White House fence and asking my President why he hasn't fulfilled his promise of equality, I'll pass through the same gate and by those familiar guard shacks today to meet with Brian Bond, Deputy Director of the Office of Public Engagement. I accepted Mr. Bond's request for a meeting, but let me be clear – I don't, for a second, plan on backing down. Not for a second will I be talked out of fighting for my community's equality because of political pressure or the fear of not being invited back. Instead, I plan on following in the footsteps of Rep. Luis Gutierrez, an elected leader who showed the courage to fight for what he believed in by being arrested because of the lack of leadership other elected leaders are showing on immigration reform. As Rep. Guiterrez did yesterday, I too will honor the meeting they requested with me, but I won't honor any closed-door attempts to quiet a community starving for their dignity and their equality.
Implicit in her statement is the idea that HRC, the Task Force, CAP and any other LGBT organization that has met with the White House has been "talked out of fighting for [their] community's equality because of political pressure or the fear of not being invited back."
Implicit in her statement is the idea that those people — who include Servicemembers Legal Defense Network executive director Aubrey Sarvis, Servicemembers United executive director Alex Nicholson and Unfriendly Fire author Nathaniel Frank — did not "show[] the courage to fight for what [they] believed in."
McGehee told me in September of Get Equal, "We're pushing and challenging the traditional organizations that have been branded to represent us to do it better and to do it differently."
Now's her time to show those organizations — and the rest of the LGBT community — what she means.
[Drawing of Robin McGehee by Scott G. Brooks for Metro Weekly.]