Arena Stage artistic director Molly Smith is hoping there's a little Ado Annie in all of us. Annie is, of course, the gal from the Rodgers and Hammerstein musical Oklahoma!, whose head is easily turned with just a few "purdy" words or a compliment or two. Tell her that her lips are like cherries and her skin is like cream and she will fall instantly and completely in love.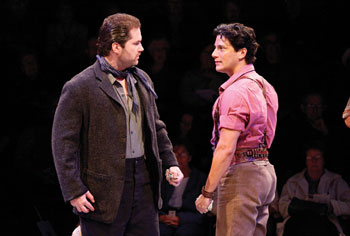 Romantic rivals: Ramey and Rodriguez
(Photo by Carol Rosegg)
She's just a girl who "cain't say no."
For their new production of Oklahoma! Smith and Arena are trying to make us all go a little weak in the knees with a good deal of pretty and charm. Smith's directorial matchmaking has coupled Nicholas Rodriguez and Eleasha Gamble as an almost impossibly handsome Curly and Laurey, their respective good looks equally matched by their outstanding talents.
Set designer Eugene Lee and lighting designer Michael Gilliam have also created a match made in heaven, crafting several utterly lovely duets in some of the production's most striking visual moments, while choreographer Parker Esse has very successfully drawn a cowboy chorus line that, when truly on, is as muscular and brawny as a rodeo.
Ultimately, however, while Smith's Oklahoma! is a beautiful show, it's not entirely memorable. It's a production that feels like nothing more than a handily done performance of Rodgers and Hammerstein's musical, as opposed to feeling like something decidedly "Arena" in nature.
Which is not to say that a classic musical done well is not a trademark of the Washington-based performing arts landmark. But it's almost impossible not to think about this new Oklahoma! without recalling director Amanda Dehnert's fantastic Fantasticks, mounted when Arena was temporarily making its home at U Street's historic Lincoln Theatre. Infused with magic and imagination, The Fantasticks bore the kind of signature imprint that made it a distinct part of Arena's history and not just another line in its lengthy and impressive résumé.
That bit of transformational wonder seems lacking in Oklahoma! Perhaps it's because Smith has decided to tell the story in such an altogether straight fashion, or maybe it's because this Oklahoma! seems dwarfed by the larger role the show is being asked to play in Arena's "welcome home" moment.
Whatever the exact reason, the result is an Oklahoma! that is simply okay.
Oklahoma! revolves around Curly (Rodriguez) and Laurey (Gamble), a cowboy and a farmer's daughter who are fooling no one with their constant fighting and boisterous declarations of the fact that they are not in love. They are absolutely, positively, hopelessly in love and Aunt Eller (E. Faye Butler) is working overtime to get one of them to make an honest move of it — a campaign she ratchets up when she realizes that Jud Fry (Aaron Ramey), the farm's hired hand, also has his eye on Laurey.
While Jud has never done anything outright to either Eller or Laurey (in fact he's done nothing but work very hard on their behalf) both are certain there's something not right about him. From the girlie pictures all over the walls of his cabin to his grim demeanor, he is not the most comforting of figures.
The show's songbook boasts some of musical theater's most well-known pieces, and many come through exactly how one imagines they were intended. Rodriguez has a voice that is so absolutely flawless, so gorgeously round and light, that it makes "Oh, What a Beautiful Morning" a dazzling sunrise all its own. He does equally fine work with "The Surrey with the Fringe on Top" and "People Will Say We're in Love," though his polished style presents a "Pore Jud Is Daid" that is a bit too unblemished.
Adding the necessary grit to "Pore Jud" and "Lonely Room" is Ramey, who brings a sound to the stage that is thick and deep and, in most ways, the polar opposite of Rodriguez's. It's a solid complement and plays brilliantly off of Gamble's incredibly versatile instrument, contrasting cleanly with the sassy, comedic play of Butler.
Unfortunately, not all of the performances reach the same level as those offered by these performers and some of the casting leaves questions hanging in the air. Cody Williams's Will Parker falls distinctly in this latter category. While his vocal performance has some very strong moments, the need to frame him as a dancer leaves him filling a role that doesn't quite come through. His movement seems a bit pale alongside the beefy flexing of the male ensemble. It's a contrast that distracts more than benefits the overall look of the production.
OKLAHOMA!



AND ONE HALF
To Dec. 26
Arena Stage
1101 6th St. SW
202-554-9066
arenastage.org
Also underserved is June Schreiner as Ado Annie, whose vocal work is hindered by an accent that – while humorous – sometimes moves the actor off-course and into the weeds. Similar issues can be found with the work being done by Cara Massey as Gertie Cummings and Nehal Joshi as Ali Hakim. With Massey and Joshi we can see the character work being done, resulting in performances that seem thin and unfinished.
When all is said and done, however, there will be plenty of audience members who will leave Arena Stage's new Mead Center swooning over Rodriguez and Gamble and humming the show's namesake song. Oklahoma! is, after all, an American classic. What seems less likely though is that they will actually recognize where Rodgers and Hammerstein left off and Arena truly began.