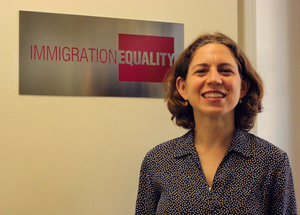 Saying she is "sanguine" not overly hopeful about the chances for passage of comprehensive immigration reform that includes the Uniting American Families Act in the coming weeks, Immigration Equality executive director Rachel Tiven said 2011 doesn't look good either.
On a conference call Thursday with Immigration Equality supporters and journalists, though, Tiven wasn't giving up, saying, "We're going to do our damnedest in the lame-duck [session] to push it forward."
Noting that "at least the first year of the 112th [Congress] is going to be very difficult to move immigration reform," Tiven focused — legislatively — on the progress made in the 111th Congress and the lame-duck session.
"It is [now] understood by Senate leaders and House members supporting reform that you can't have comprehensive immigration reform without [UAFA]," she said. "Without all families, it isn't comprehensive."
She urged supporters of reform to call their senators now to push for passage of S.B. 3932, the UAFA-inclusive comprehensive immigration reform introduced this fall by Sens. Robert Menendez (D-N.J.) and Patrick Leahy (D-Vt.).
Talking about the starting point for the 112th Congress in January, however, Tiven said on the call that, of the 135 co-sponsors of UAFA, 16 will not return to the House – nine of whom lost their races on Tuesday. In the Senate meanwhile, three of the 25 co-sponsors will not be returning. Sen. Russ Feingold (D-Wisc.) was the only Senate co-sponsor to lose his race on Tuesday.
"The reality is that there is a loss on co-sponsorship," she said, while noting, "No one was attacked in this election cycle because of their support for UAFA."
Of their approach in the new Congress, Tiven said that Immigration Equality always has advanced a three-prong approach: "Administrative, judicial and legislative."
"We are pushing the other two branches to act to minimize the harm, [but … a] full solution … has to come from Congress," she said. "Fixing it is the only way to fix it."
[Photo of Rachel Tiven provided by Immigration Equality.]