"I got a little girl singing on repeat in my head, oh-oh," Robyn sings, on the wicked tune "None of Dem." For much of 2010, it has rung true: Robyn has been singing on repeat in many heads. No one else — or at least, few others — can do it like she can. As the year draws to a close, it's still true, maybe even more so. The sassy and sweet Swede has just released Body Talk, featuring one slice of dance-pop perfection after another, nary a dud in the mix.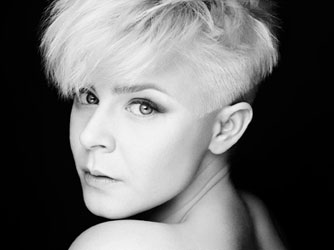 Robyn
(Photo by Rankin)
Still, there's no dancing around it: Robyn cheated. What was supposed to be a series of three albums of all new material, announced earlier in the year, turned out to be two extra-long EPs, Body Talk Pt. 1 and Body Talk Pt. 2. While a digital Pt. 3 – EP, with five new songs (or really four new, with one remake), is available, Robyn opted to officially close out the series with a compilation. Body Talk features all but three of the series' previously released songs.
If you haven't already had Robyn on repeat in your head this year, the new set is certainly a perfect way to catch up. Song by song, Robyn struggles to get over her ex one moment, then essentially swears off love, then falls in love anew. All throughout, she pledges devotion to dancing and to supporting her friends (and fans).
But for those who've heard it all, many times before? Ultimately, despite Robyn's shortcut out, the Body Talk compilation is still worth adding to your collection, since it sums up a great year that was. And the new tracks are on par with the old — sublime first single "Indestructible" is her strongest in the series, for starters. The new songs even reveal new sides to Robyn.
She sees love from a new angle here, the opposite of her usual view as the jilted lover. On "Call Your Girlfriend," she offers sage advice to her lover on how to let his girlfriend "down easy." "Don't you even try and explain how it's so different when we kiss," she sings. "You just tell her that the only way her heart will mend is when she learns to love again." Touché.
But the most noteworthy track is "Time Machine," for which Robyn reunited with Max Martin, the super-producer who provided her first big hit, "Show Me Love." The reunion is noteworthy on its own, but then there's the lyrical implication that Robyn would change her past if she could. "Yeah, who's laughing now?" she sings. "Didn't think you'd actually go. Stupid. Me and all my bitching." Maybe she's just regretting losing a lover. Or maybe she's regretting the notorious label squabbles she had all those years ago. Maybe even unknown arguments with Martin? Well, surely she's better for having made those mistakes. In any case, we're all better for them burying the hatchet now to produce this gem of a bewitching dance-pop song. Here's to more in the future.
Even more prolific than Robyn, Rihanna has released a new album every year since she emerged in 2005 — except for one, that is. In 2008, she was distracted by a disastrous love affair.
But what has she learned from the nearly two-year-old very public, violent debacle with Chris Brown? While it was still fresh, on last year's hard-to-take Rated R, she expressed some vulnerability, and gave some sense that she was still smarting from the affair. But ultimately, she was more focused on looking and sounding tough.
A year later, everything is more "Complicated," to cite one track from her new album Loud, which in some respects is even harder to take than Rated R. The Caribbean lilt that enhances several tracks here adds a winning stamp of distinctiveness. The set also boasts "Only Girl (In The World)," the gloriously anthemic Euro-dance ditty in which Rihanna pleads for total devotion from her man.
But then there's "S&M." "Sticks and stones may break my bones," Rihanna sings, "but chains and whips excite me."
And that's just the album opener. Songs to come don't just court drama and danger, they glorify guns and encourage violence. She even includes a "Part II" to her troubled summer hit with Eminem about domestic violence, "I Love The Way You Lie." "Maybe I'm a masochist. I try to run but I don't wanna ever leave," Rihanna sings, after relating how her lover gets off on causing her pain. Her only way out? Well, the only solution she offers, earlier in the set, is to off him. On "Man Down," she talks of killing a man by firing her "22," which she calls "Peggy Sue" and keeps "right down in my shoes."
So it's come to this: Rihanna has come to blows. She's decided to fight fire with fire. I'm not sure anybody wins.