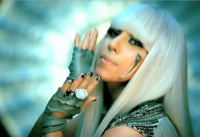 Lady Gaga has taken out a restraining order against a Russian fan who threatened to shoot her in the head. The fan — Anastasia Obukhova, a 26-year-old student living in New York, allegedly wrote in a letter to Lady Gaga, "You come to my dreas. I want to die and I want to die together with you."
Gee, what a sweet girl.
Obukova is forbidden from coming within 500 yards of Gaga. Guess she'll be seated in the nosebleeds at the next concert.