Michael Brandon's mother grounded his plans years ago to join the Air Force. Literally.
"I walked in to the recruiting office in Rockville," he recalls. "She pulled me out and said, 'You've got to be kidding me."'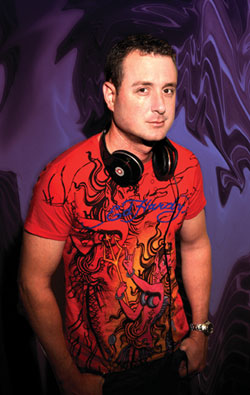 DJ Michael Brandon
(Photo by Todd Franson)
With that, Brandon recommitted to the chief reason he came to the U.S. from his native Peru nine years ago: to work in music. Technically, he followed his older sister north. But in an interesting twist, his North American roots run much deeper.
"My mom is actually from Indianapolis," he explains. "She went to Peru on vacation and met my dad down there, and she stayed there for 27 years." Now, the whole family — including Brandon's parents and three siblings — lives in the D.C. area. Brandon, who lives in Gaithersburg, Md., with a 110-lb. rescued German shepherd, came out a few years ago. "It took some time for my family and all that," the 29-year-old says, "but they're cool with it."
Brandon has become known as one of the area's leading Latin DJs, both for private special events and for weekly gay parties at small bars in Virginia and Maryland. But the gay DJ made his name at Apex. He's spun for the D.C. nightclub's weekly Saturday Caliente party in the back East Wing Dance Lounge for nearly three years. He also helms the monthly third-Friday Caliente Grande party in the Main Hall.
"Latin music has like 14 different rhythms, so it's a little bit of everything for everybody," Brandon says, noting that he plays everything from salsa and merengue to reggaeton and hip-hop. Pop, too — especially Lady Gaga. "[She's] the new Madonna," he says. "Anybody will dance to her."
In addition to lining up DJ gigs in other cities, Brandon sees producing original music in his future. But while he fronted a rock band in high school in Peru, he doesn't expect to do it again. "I don't think I'm that good to sing as a professional," he says, laughing, "I'll stick to karaoke with my friends."
DJ Michael Brandon spins every Saturday night for Caliente in the East Wing Lounge and the third Friday, including next Friday, Nov. 19, for Caliente Grande in the Main Hall at Apex Nightclub, 1415 22nd St. NW. Cover is $10, for everyone 18 and up. Call 202-296-0505 or visit apex-dc.com.