To quote the 1984 Deniece Williams song from the Footloose soundtrack, let's give the boy a hand, because James Franco's performance in 127 Hours is nothing short of astonishing.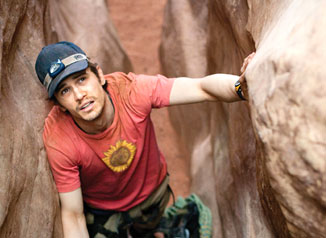 Cutting edge: Franco
(Photo by Chuck Zlotnick)
In 2003, Aron Ralston (Franco) made national headlines when he cut off his own forearm to save his life. After being pinned by a boulder in a remote section of the Utah desert for more than five days with little water or food, Aron used a small, dull blade to amputate his arm, then repelled down a 65-foot wall, and finally hiked out of the wilderness and found help. Aron's story, originally retold in his book Between a Rock and a Hard Place, is one of determination and grit, and prime fodder for a feature film.
Danny Boyle, in his first film since winning the Oscar for Slumdog Millionaire, proves that he is just as talented at managing a tale that's confined to a two-foot space and a man's mind as handling Slumdog's expansive narrative. Co-writing the script with Slumdog's Simon Beaufoy, Doyle captures both Aron's physical and mental experience, as he comes to the horrible realization that no one knows where he is, and desperate times call for desperate measures.
Boyle infuses a kinetic, child-like exuberance from the start, bisecting the screen with overlapping scenes of hordes of people, waving their arms and running, the images almost exploding into the theater. This melds perfectly with Aron's initial escape into the desert as he rides his bike across the vast expansiveness until he's finally alone, away from the chaos. The juxtaposition makes the solitude he's about to experience all the more terrifying. But more than just setting the stage for Aron's story, it also comes off as effortless filmmaking. Doyle's remarkable skill becomes even more apparent as he gets into the nitty-gritty of Aron's story.
For all of Boyle's talents, the one who really deserves the credit for making the film work is Franco. His portrayal is nearly flawless, as he transforms him from a boy with a lust for life, to a man resigned to his fate, and finally to a survivor. During his time trapped in the desert, Aron created videos for his family, and Franco's recreation of them is poignant. Occasionally funny but more often melancholy, Franco transcends the scene of a man looking into a camera and creates a portrait of a man staring at his fate.
Since the vast majority of Franco's scenes are alone, the brief moments of interaction with other actors is limited and mostly forgettable. Kate Mara and Amber Tamblyn play fellow hikers who spend the morning with Aron on his fateful day, and the memory of them helps spur him through his ordeal. Neither actor detracts from the film, but neither performance adds much either.
As Doyle proved with Trainspotting, he's not afraid to make his audiences squirm, and he does so with great effectiveness in 127 Hours. Doyle holds nothing back in recreating the amputation scene, including the days and process that lead up to it. He captures every step of the operation, from breaking the bones, to cutting the tendons (this part in particular is brilliantly enhanced with music), and finally to the final cut. No blood is spared, and while it's less than found in any gore porn film, the reality of the situation makes it all the more horrifying. On a similarly queasy note, the effective manner in which Doyle captures Aron's need to drink his own urine is perhaps the most stomach-turning part. It's never gratuitous, which only makes it worse.
127 HOURS




AND ONE HALF STARS
Starring
James Franco,
Amber Tamblyn,
Treat Williams
Rated R
94 Minutes
Opens Friday,
Nov. 12
Area Theaters
For all the reasons that the film works – the solitude and the feeling of desperation – it's also the biggest challenge for Boyle. How to keep the film interesting over the five days? While Boyle's exploration of Aron's mind is mostly captivating and veers into the surreal, it does start to drag around day three (though I can only imagine it did for Aron as well). Similarly, some of the key decisions around Aron's actions, why he didn't cut sooner and why he eventually did, are ambiguous in the moment, but explained clearly later. Clarifying these reasons would have greatly enhanced the emotional resonance.
While comparisons to Cast Away and Tom Hanks's lonely role are inevitable, Franco wins the contest by giving audiences no room for mockery. 127 Hours is 94 minutes of great filmmaking. Best of all, there's no volleyball bouncing around. It's just a man, a rock, and a hard place.