A few years ago, Riley Folds applied for a job at a company with a poor reputation toward gays and lesbians.
He debated how of his experience with LGBT groups to include on his résumé, not knowing how the employer would react. Folds, 35, ended up listing all of his extensive experience – LGBT or otherwise.
"It turns out a major initiative the company had was rolling out corporate-wide LGBT training," says Folds, founder and director of Out for Work, a D.C.-based organization that assists LGBT college students with launching their professional careers. "If I would have never brought out my LGBT experience on my résumé and at the interview, I probably would have never got the position."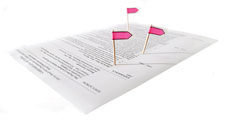 The struggle exists for many gay and lesbian job seekers; list involvement in LGBT organizations and chance being passed over by a prejudiced employer. Or don't mention it and risk deflating your résumé by avoiding the leadership and community involvement altogether.
Those who advise or advocate for gay and lesbian job seekers in D.C. suggest investigating the company, its policies and the job you're applying for before looking at your résumé and deciding which route is best.
"Employers and major corporations have made significant progress putting policies in place to protect LGBT employees from discrimination," says Daryl Herrschaft, director of the Workplace Project at the Human Rights Campaign. "In spite of the progress in many corporations on written polices, there is still a disconnect between written polices and what is practiced day-to-day inside workplaces all over the country."
As best you can, Herrschaft suggests researching the company to judge how inclusive they are of gay employees. Check to see if they include sexual orientation or gender identity in nondiscrimination polices. Search for any domestic-partner benefits they may provide. Look for an LGBT-employee resource group. Talk to current employees to get their impressions.
Some of the simplest research is at one's fingertips in the form of the HRC Corporate Equality Index, rating a huge number of companies with regard to policies on LGBT employees and customers. Out for Work publishes the HOT List, an index that charts which companies are hiring and how inclusive they are for gays and lesbians.
"As much as you can know going into a job interview, the better," Herrschaft advises.
Listing an LGBT leadership position, as Folds did, could prove beneficial as more companies today are seeking gay and transgendered employees to increase diversity.
"The people who really have a lot of LGBT activist type stuff on their résumé, they use their résumé as a way to screen out non-supportive employers anyway," says Ron Clayton, director of the career development program at The Center, D.C.'s LGBT community center. "I've actually suggested to some people to tone it down a little bit, but they'd rather keep the résumé with those items."
Folds says if applicants list an LGBT-related item on their résumé, they must be comfortable talking about it or including it could backfire. Employers will notice a hesitation or discomfort, and that could harm you in the interview process.
"If you're not at a point in your life where you're comfortable talking about that and being confident about your role in those LBGT initiatives, then you're going to have some trouble," he says.
He adds that – like with any job application – your résumé should be tailored to the position. In other words, don't mention your role in organizing a Proposition 8 protest if the related skills aren't needed for the job you're applying for.
"If it's not relevant, it shouldn't be on your résumé," says Folds.
Applicants should also know if the law is on their side or not.
In Washington, laws bar discrimination against employees and job seekers for both sexual orientation and gender identity, says Greg Nevins, attorney for Lambda Legal. Maryland protects residents from sexual-orientation discrimination, but not gender identity, he says, adding that Virginia protects neither class and refuses to allow local counties to draft their own employment-nondiscrimination ordinances.
So the best course of action will differ from locale to locale, company to company and applicant to applicant.
"I don't think there's a clear-cut answer you can give folks," says Herrshchaft. Ultimately, it's up to you to do your homework on potential employers, and some self-discovery about just who you are.
"No one can tell an individual whether or when they come out to their employer. That's an individual choice depending on each person's station in life."