Darius Nichols as Hud, photographed by Todd Franson in the Kennedy Center's Africa Room, Friday, Nov. 5, 2010
Darius Nichols almost passed on auditioning for the musical Hair.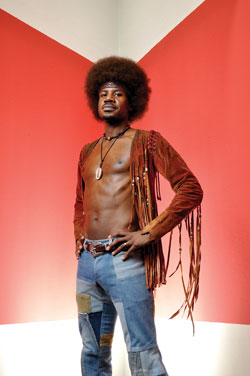 Darius Nichols as Hud


(Photography by Todd Franson)
"I would audition for a lot of edgier plays, like Rent and shows like that," he says. "I would never get them because I would always be seen as the nice guy. The guy next door. I figured I would be hearing all the same comments. We like you, but you just seem too nice."
The character that Nichols thought he would never be cast as was Hud, the sensuous, omnisexual wild child who introduces himself to the audience as a "Colored Spade" before striding – over the heads of audience members – deep into the thick of things.
Admittedly, it's hard to imagine a neighborhood where Hud is the boy next door.
Fortunately for all involved, director Diane Paulus saw something more than just a nice guy in Nichols and now D.C.-area audiences can find Nichols's Hud (and the rest of Hair's Love-Rock Musical Tribe) "Walking in Space" in the Kennedy Center Opera House, some 20 miles from Reston, Va., the town where Nichols grew up.
"I was in the band and the choir," he says. "I always did the school musical. It was when I played Alfred Doolittle in My Fair Lady that I actually thought, 'Hey, I'm kind of funny…."'
Since that realization Nichols has built a résumé that includes Jesus Christ Superstar, Fame-the Musical, the Broadway production of 110° in the Shade and, now, Hair's national touring company.
"The other night the mother of a high school friend showed up right before the show. I said, 'What are you doing here?' She said, 'I saw your name on the program."'
To hear Nichols describe the situation it seems that, were it not for that tag in the program, people who know him offstage might never connect the clean cut, openly gay actor with the outrageous, afro'd Hud.
"He seems so real to people," he says. "Then they'll see me and say, 'Not only do you not look like him, you sound different and walk differently.' All I can think is, well, that's a good thing.
"From the moment you see me onstage until the moment the show stops, I am Hud Tyler Johnson. When I put that wig on I basically give myself permission to do or say anything."
When it's suggested that the wig rule makes him a bit like a drag queen, Nichols laughs.
"Absolutely! One of the things that Diane Paulus drove home for us was to really involve ourselves in being these characters. I become Hud."
Preparation for the cast's transformation included the development a personal history for the Tribe members they would portray on stage. Nichols says his own story has some overlaps with the one he created for Hud.
"We both have a church background. We no longer attend church because of hurtful things that have happened there. That's why Hud's so flamboyantly preacher-like. I grew up Baptist and, then later, Pentecostal. That's when I decided I couldn't do it anymore. After all of the gay bashing I was getting from the pulpit, I couldn't. I adore my religion and how much of a role it played in shaping me into the 'good boy' I am seen as. Ultimately though, it was tearing down my spirit more than it was building it up."
Fitting that Nichols's decision to leave the established church in the name of spiritual fulfillment seems so Hair-like, much like his decision to be exactly who he is in his professional life.
"All gay performers have to have this discussion at some point," he says. "Are you going to be out? Are you going to be quiet, or are you going to be closeted? I made the decision that if someone asks me if I'm gay I want to say yes, because so many black gay youth can't see themselves in media without it being derogatory.
"I never saw any images of black gay men, to the point that I didn't think I could be gay because I thought it was a white thing. I decided I wasn't going to hide. I want to be able to be proud of who I am.
"When everything was in the news about kids committing suicide, the speech [Hair character] Margaret Mead makes in the show, right before she sings, suddenly had a lot more resonance. 'Be whoever you are. Do whatever you want to do, as long as you don't hurt anyone.'
"It's great that Hair still ties to modern society, but it's also sad," he concludes. "You'd think we'd have gotten past all this by now."
Hair is at the Kennedy Center through Nov. 21. Tickets are $25-$115. Call 202-467-4600 or visit kennedy-center.org.