Scott G. Brooks was so inspired by people's frustration with President Obama and the Democrats, he put Glenn Beck in a painting. Actually, Beck wasn't the sole inspiration for the title figure in "We The People," wearing nothing but a strategically placed patriotic ribbon and sporting "an artificial halo made out of light bulbs." But Beck "is a sort of fake messiah distracting people, leading them down the wrong path," says Brooks. "And the fact that people are listening to him and others distracting us on television, thinking they have something to offer, is just kind of mind-boggling.
"We all had such high hopes when Obama took office after eight years of Bush," he continues. "I think the problems are in the government. It's just this quagmire. We're a lot more screwed up than we thought, and [progress] is just very slow. And there are no real heroes."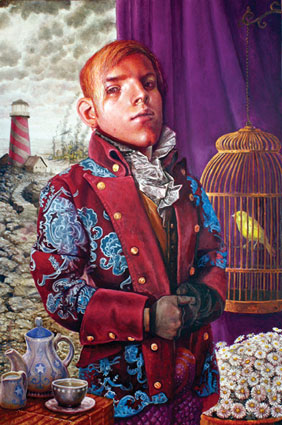 Scott Brooks' "Duty Bound with a Fancy Coat"
"We The People" is the central work in Brooks's new solo show of 12 new paintings at Long View Gallery. The exhibit that is more political than usual for the Michigan native. "I think I'm getting more politically engaged as I get older and have more to lose," he says. "You've kind of got to laugh at what's going on, all the absurdity."
He often adds clowns and circus stuff, or in other ways exaggerates elements for humor's sake in his figurative illustrations, which have an affinity toward pop-surrealism.
For example, notice the "large cockroach-looking machine" in the background of "Liberty Leading the People." "I did that around the time of the [Gulf Coast] oil spill," says Brooks, "so the tail end of it has oil gushing out."
We The People is on view through Nov. 28 at Long View Gallery, 1234 9th St. NW. Call 202-232-4788 or visit longviewgallery.com.