"I'm not the happy elf," says Michael Rupert. "I'm the grouchy elf." He's talking about his role in Adventure Theatre's The Happy Elf. "I play the happy elf's nemesis. I play the guy who tries to bring him down.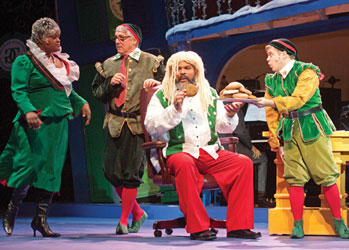 The Happy Elf
(Photo by Sanjay Suchak)
"It's always fun to play the bad guy," he continues. "Especially in a show like this that appeals to families and kids, because they get to boo [you]."
Adventure Theatre is currently staging what Rupert calls "a fully produced workshop" of The Happy Elf, being developed by Harry Connick Jr. in partnership with director John Rando (Urinetown). The musical is based on a song by Connick.
"I never thought I'd be doing a children's show," says Rupert, whose theater career spans more than four decades and includes two Tony nominations, including one win (for the 1986 Sweet Charity revival). Before The Happy Elf, he starred in Legally Blonde: The Musical, on Broadway and on tour. "I played Professor Callahan, who's kind of the bad guy in that show," he says. "He's a law professor who hits on Elle Woods."
The 59-year-old Los Angeles native knew from an early age he wanted to be an actor. To that end, he made his Broadway debut when he was just 16 in Kander & Ebb's The Happy Time. But it was years later before he publically ventured out of the closet.
"I really didn't come out until I was almost 30," says Rupert. In fact, it wasn't until he starred in William Finn's pioneering 1981 musical March of the Falsettos, about a married man coming to terms with being gay, that Rupert mustered his own courage to come out in an interview with the Los Angeles Times. "The impact of that show was so enormous on so many people," Rupert recalls. "The number of kids that would come to the stage door [after the show] and say, 'You know how much this means to me?' 'The show has helped me.'
"I've kind of been able to be a little bit of a role model, just letting younger gay guys know that it's okay," he continues. "We're not completely different from everybody else in our lives."
Sometimes we're even the bad guy.
The Happy Elf runs Friday, Nov. 26, at 7 p.m., and Saturday, Nov. 27, and Sunday, Nov. 28, at 11 a.m., 3 p.m. and 7 p.m., at Montgomery College's Robert E. Parilla Performing Arts Center, 51 Mannakee St., Rockville. Tickets are $20. Call 240-567-5301 or visit montgomerycollege.edu/PAC.