Midterm elections often chip away at the governing majority's rule – sometimes casting out whole chunks of that majority. This year, however, a rough quarter of the Democratic Party in the House of Representatives will not be returning in January, and House Speaker Nancy Pelosi (D-Calif.) will be a member of the minority party.
For Rep. John Boehner (R-Ohio), this was the sign of his success. With tears in his eyes, the leader of the House Republicans spoke late Election Night of the path he had taken to the speakership – and of the path forward for the Republican majority.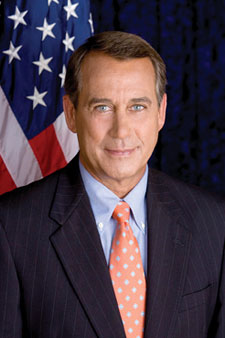 John Boehner
(Photo courtesy of US House of Representatives)
In the Senate, Majority Leader Harry Reid (R-Nev.) barely held on to his seat and kept the majority, albeit a slimmer one, in his chamber – although races in Alaska, Colorado and Washington state had not yet been called as of Metro Weekly's print deadline.
In a Nov. 3 news conference, President Barack Obama reflected on the election results, saying, "I need to do a better job, just like everyone else in Washington does."
He cautioned, however, against reading too much in terms of a partisan lesson from the election, noting, "I don't think people carry around with them a fixed ideology . . . . [T]hey just want to make sure we're making progress."
What also remained unclear on Nov. 3 was the path forward for progress toward LGBT equality.
Rea Carey, longtime LGBT activist who serves as executive director of the National Gay and Lesbian Task Force, said in a statement, "We'll cut to the chase: The shift in the balance of power will very likely slow advancement of lesbian, gay, bisexual and transgender rights legislation in Congress."
She went on, however, "Does this mean a blockade on LGBT rights? Not if we can help it. Fact is, our community has always had to fight — and fight hard — for equality."
For GOProud's board chairman, Christopher Barron, the election returns on Tuesday were not a blockade but instead an opportunity. In a statement, he said, "New conservative leadership in Washington will usher in new opportunities to improve the lives of all Americans – but especially gays and lesbians."
The Human Rights Campaign took issue with that position. Its initial release on the results concluded, "The loss of the House to anti-equality leaders is a serious blow to the LGBT community."
The release continued, "The presumptive leadership team of Reps. Boehner, [Eric] Cantor [(R-Va.)] and [Mike] Pence [(R-Ind.)] all score zeros on the HRC scorecard and many soon-to-be committee chairs have long anti-LGBT records." Pence has since announced that he will not seek a leadership position in the 112th Congress.
AMONG THE MANY INCUMBENTS' LOSSES, the loss of two Democratic supporters of LGBT issues, Rep. Patrick Murphy (D-Pa.) and Sen. Russ Feingold (R-Wisc.), are noteworthy – and, for some, stinging.
In a sign of the growing voice of gay Republicans, though, the challengers to both incumbents were supported by one of the right-partisan gay groups.
With a vote of 54 percent to 46 percent, Murphy has lost re-election to Congress to Mike Fitzpatrick (R). Fitzpatrick, a former congressman who had a moderate record but ran a more conservative race in 2010, will return to Congress in January. Murphy has been the House champion for the repeal of "Don't Ask, Don't Tell," sponsoring the amendment aimed at repeal that was passed by the House in May.
Servicemembers Legal Defense Network Executive Director Aubrey Sarvis said in a statement on Election Night, "Tonight the House of Representatives and our country lost a bright, capable young leader.
"SLDN will forever remember and be grateful for Patrick's remarkable leadership in the fight to repeal DADT, and I have no doubt Patrick Murphy will be back to serve this nation again," he said. "We appreciate his long and extraordinary service to our country."
Of Murphy's loss, Stonewall Democrats Executive Director Michael Mitchell said in a statement, "To say that we are heartbroken at the loss of one of our champions, Rep. Patrick Murphy, in his fight for reelection is an understatement. With DADT repeal, his commitment to our community never wavered. It was an honor to have Patrick as one of our ElectEquality candidates and we are proud of our efforts to help return him to Congress."
The Log Cabin Republicans had endorsed Fitzpatrick, telling The Washington Post's Jonathan Capehart, "While we may not agree on every issue with a candidate we endorse, we have a continued dialogue with these Members in our efforts to secure further Republican support for legislation that benefits gay and lesbian Americans."
Likewise, Feingold, with a 52 percent-47 percent vote, lost to Ron Johnson (R). As Justin Elliot wrote at Salon, "Feingold, the three-term civil libertarian senator who was a hero to progressives for, among other votes, opposing the PATRIOT Act in the weeks after Sept. 11, was trounced today by Republican and Tea Partier Ron Johnson."
Feingold was one of seven remaining senators of the 14 who had voted against the Defense of Marriage Act in 1996. The other six are Sens. Akaka (D-Hawaii), Boxer (D-Calif.), Feinstein (D-Calif.), Inouye (D-Hawaii), Kerry (D-Mass.) and Wyden (D-Ore.).
GOProud, meanwhile, had recommended – but not endorsed – Johnson's challenge to Feingold on Monday. In the announcement of five Senate recommendations, GOProud stated that the recommendation list "represents races where GOProud is strongly encouraging its members and allies to support these men and women."
WHEN IT CAME TO ATTEMPTING TO DEFEAT out Rep. Barney Frank (D-Mass.), however, GOProud was not successful. With nearly 25,000 more votes than challenger Sean Bielat, Frank won re-election with 54 percent of the vote to Bielat's 43 percent.
The Victory Fund – which supports out LGBT candidates – celebrated Frank's victory, with president and CEO Chuck Wolfe announcing in a statement, "Barney Frank is nothing if not a fighter, and we're very happy he will return to the House and continue to fight for the people of Massachusetts and for all LGBT Americans. Nobody has worked harder or longer in the U.S. Congress for fairness and equality for the LGBT community."
In addition to out Reps. Tammy Baldwin (D-Wisc.) and Jared Polis (D-Colo.) – who each outpolled their Republican challengers by about 20 percent – Frank will be joined by another out New Englander – Providence, R.I., Mayor David Cicilline (D) – in the 112th Congress.
Cicilline won in his first race for Congress by more than 10,000 votes, defeating challenger John Loughlin with 51 percent of the vote to Loughlin's 45 percent. A third challenger, Kenneth Capalbo, picked up 4 percent of the votes.
The Victory Fund's Wolfe said in a statement, "Mayor Cicilline will be a strong advocate for all Rhode Islanders, but he will also be an authentic voice for the millions of gay, lesbian, bisexual and transgender Americans who long for the day when we will be treated equally under law."
Two other out LGBT congressional candidates, Steve Pougnet (D-Calif.) and Ed Potosnak (D-N.J.), lost their races to Reps. Mary Bono Mack (R-Calif.) and Rep. Leonard Lance (R-N.J.), respectively.