Visit Metro Weekly's Poliglot for further updates to this story.
As the first week of the lame-duck Congress opened, the LGBT advocates who have been working on the repeal of the "Don't Ask, Don't Tell" policy knew that a carefully calibrated operation would need to thread a very narrow needle in a very short period.
In the week leading up to the lame-duck session, there were positive signs. But even in the first day of the lame-duck session, there were plenty of challenges – some self-inflicted.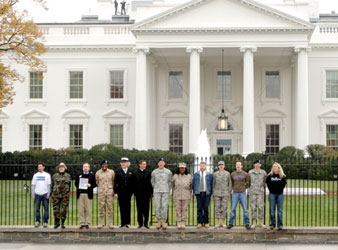 White House protest
(Photo by Yusef Najafi)
On Nov. 10, The Washington Post's Ed O'Keefe and Greg Jaffe reported that two sources familiar with the Pentagon working group examining DADT repeal implementation said that "[m]ore than 70 percent of respondents to a survey sent to active-duty and reserve troops over the summer said the effect of repealing the 'don't ask, don't tell' policy would be positive, mixed or nonexistent."
Earlier in the week, the White House had issued a statement from Communications Director Dan Pfeiffer that it opposed "any effort" to strip DADT repeal from the National Defense Authorization Act – the only realistic shot of passage of repeal this year and the way the repeal amendment was passed in the House in May.
Also, the NOH8 Campaign released an "anti-bullying message" video noting, among other things, that government actions "treat the LGBT community like second-class citizens." The messenger was particularly notable: Cindy McCain.
The wife of the leading DADT repeal opponent in the Senate, Sen. John McCain (R-Ariz.), Cindy McCain minced no words in the video, saying, "Our political and religious leaders tell LGBT youth that they have no future … they can't serve our country openly."
But on the night on Nov. 12, Cindy McCain effectively took back the words of the video, writing on Twitter, "I fully support the NOH8 campaign and all it stands for and am proud to be a part of it. But I stand by my husband's stance on DADT."
The pullback led to much chatter and questions, but the important part ­for DADT repeal advocates is that it was the first of several negative developments.
First, Sen. McCain appeared on Meet the Press on Nov. 14 – still opposing repeal but also telling David Gregory, "Once we get this study, we need to have hearings. And we need to examine it. And we need to look at whether it's the kind of study that we wanted. It isn't, in my view.
"I want a thorough and complete study of the effect on morale and battle effectiveness of the United States military. I will listen, as I've said for years, to our military leaders," he said. "This study was directed at how to implement the repeal ­– not whether the repeal should take place or not."
That McCain would seek to further delay repeal by criticizing the study is not surprising. He said as much in September when he spoke with reporters following the failure of the Senate to move forward on debate of the NDAA.
The only question was whether his previously stated position would have any impact on Senate Majority Leader Harry Reid (D-Nev.); Senate Armed Services Committee Chairman Sen. Carl Levin (D-Mich.); Republicans like Sens. Susan Collins (R-Maine), Olympia Snowe (R-Maine) or others; or President Obama as advocates push for lame-duck passage of the NDAA and DADT repeal.
Bright and early Monday morning, Nov. 15, as Congress returned to D.C., Politico broke news with a headline that set the day off the rails: "GAY TROOPS OK CUTTING DADT REPEAL FROM DEFENSE BILL."
The statement from OutServe and Knights Out was slightly more nuanced, but it did say in part that the organizations "respectfully urge Congress to pass the FY 2011 National Defense Authorization Act to fund the aircraft, weapons, combat vehicles, ammunition and promised pay-raises for all troops, whether or not the repeal of 'don't ask, don't tell' is included."
The comment prompted quick and very public rebukes from more aggressively messaged groups like Servicemembers United – with the group's executive director, Alex Nicholson, writing that "stripping DADT out of NDAA is simply a non-starter" – but also from the Human Rights Campaign, whose communications vice president, Fred Sainz, wrote, "NDAA must be passed and it must include DADT repeal this year; the two should not be separated."
All of the primary groups involved in repeal efforts – HRC, SU, Servicemembers Legal Defense Network and the Center for American Progress – released a joint statement that they stood "united to send one strong and consistent message to senators as they return for the lame duck session: repeal the unjust and discriminatory law known as 'Don't Ask, Don't Tell' as part of the National Defense Authorization Act (NDAA) this year. Under no conditions should DADT repeal be stripped from the underlying Defense Authorization bill; that is simply a non-starter."
In the midst of all this, Lt. Dan Choi and a group of 12 other activists, including servicemembers and veterans, walked quietly past police officers, members of the media and onlookers to the front gates of the White House for a demonstration that ended with their arrest hours later. The demonstration, a protest of Obama's perceived inaction to end the DADT policy, began shortly after 2 p.m. following a visit by members of Get Equal, including Choi, to Sen. Reid's office earlier in the day.
"We have served our country valiantly to defend our freedom and justice, and now it is time for our leaders to do the same," said Choi.
Referring to Obama's inaction on DADT repeal, he said, "There is a loud homophobia of those with platforms, and there is a silent homophobia of those who purport to be our friends and do nothing."
Activists joining Choi at the fence and later arrested were Michael Bedwell, Cadet Mara Boyd, Marine Corps Sgt. Justin Elzie, Catholic priest Geoff Farrow, Army Arab linguist Ian Finkenbinder, Dan Fotou of Get Equal, Get Equal Director Robin McGehee, Petty Officer Autumn Sandeen, Army Staff Sgt. Miriam Ben-Shalom, Army veteran Rob Smith, Cpl. Evelyn Thomas and Scott Wooledge. Bedwell held a Time magazine cover of Sgt. Leonard Matlovich, whose grave Get Equal had visited early Monday, Nov. 15.
Later in the evening, DADT repeal efforts took another hit, though, when former Secretary of State Colin Powell told CNN's Larry King, "I share Sen. McCain's view that we ought to let the process unfold and not try to intercept it with court rulings or with people trying to get a vote out of the Congress when the Congress is not ready to vote on it."
On Tuesday, Senate Armed Services Committee Chairman Carl Levin (D-Mich.) – who has been one of the strongest repeal advocates this year – told reporters, "I'm trying to get the bill through Congress. I'm the committee chairman for a 900-page bill. 'Don't Ask, Don't Tell' is two pages of 900 pages. My focus is different from the media focus. I'm just trying to get a bill passed," according to a Foreign Policy report.
The remarks echo comments made a week earlier by SLDN Executive Director Aubrey Sarvis, but suggested that the chairman was not yet convinced that he would be pushing forward the version of the NDAA that contains the DADT repeal amendment that was passed by the Senate Armed Services Committee in May.