JANUARY
The transition from 2009 to 2010 was harsh, marked by a murder. The year's first issue of Metro Weekly reported on the shooting of Anthony James Perkins, 29, found dead in his car in Anacostia on Dec. 27, 2009 – an apparent "pick-up" murder. Continuing this brutal trend, another gay man, Gordon Reaves Rivers, 47, was shot and killed Jan. 10, also in Anacostia.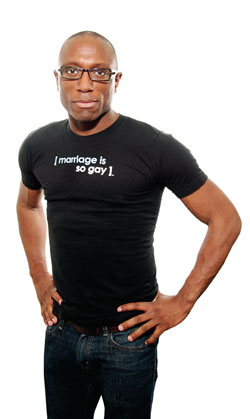 Michael Crawford
Gays and Lesbians Opposing Violence (GLOV), the local leader in advocating for improved safety for D.C.'s LGBT community, chose new co-chairs Jan. 28 – Kelly Pickard and Joseph Montoni – as Chris Farris and Todd Metrokin, himself the victim of a gay-bashing, stepped down after months of re-launching GLOV, originally formed in the 1990s.
Michael Crawford, instrumental in bringing marriage equality to D.C. – signed into law at the close of 2009 – accepted a job as new media director at the national, New York-based Freedom to Marry organization. Eyes turned to MTV Wednesdays in January, as well as February and March, as locals watched themselves on Real World: Washington DC.
At the Jan. 17 Mr. Mid-Atlantic Leather contest, local leatherman Matt Bamford brought the title home for 2010. Mark Guenther became the first paid, full-time executive director of the Capital Area Gay and Lesbian Chamber of Commerce (CAGLCC, aka The Chamber). The Center, the area's LGBT community center, moved to its first street-level address, occupying former Whitman-Walker Clinic space at 1810 14th St. NW. An open house followed in February. Halo kept its address at 1435 P St. NW, but changed its name to Mova.
FEBRUARY
The shortest month may belong to Black History, but Capitol Hill grabbed the headlines at the start. On Feb. 2, Navy Adm. Michael Mullen, chairman of the Joint Chiefs of Staff, delivered his now historic quote at a Senate Armed Services Committee hearing on "Don't Ask, Don't Tell" — "It is my personal belief that allowing gays and lesbians to serve openly would be the right thing to do." At the same meeting, Defense Secretary Robert Gates announced formation of a "high-level working group" to study DADT-repeal implementation. Meanwhile, Congress's LGBT Equality Caucus sent a Feb. 2 letter to President Obama seeking greater effort on immigration equality.
While Obama didn't have much to offer the community regarding immigration, he did go to bat at the Feb. 4 National Prayer Breakfast, which earned much-deserved criticism this year for inviting David Bahati, the Ugandan legislator infamous for his introduction of the so-called "kill the gays" bill. Instead of Bahati's take on the need for executing "repeat-offender" gays to help attendees digest their eggs and toast, they got a dose of Obama: "We may disagree about gay marriage, but surely we can agree that it is unconscionable to target gays and lesbians for who they are — whether it's here in the United States or, as Hillary [Clinton] mentioned, more extremely in odious laws that are being proposed most recently in Uganda."
The next day, Virginia's Gov. Robert F. McDonnell (R) issued his executive order on discrimination, specifically omitting sexual orientation.
Then, mercifully, back-to-back snowstorms effectively closed the District. But the streets were clean enough to welcome the Conservative Political Action Conference (CPAC) to Washington, Feb. 18 to 20 – co-sponsored by the Log Cabin Republicans' more conservative little brother, GOProud, whose participation was the most gripping news to come out of the weekend affair.
By the end of the short month, it was time for a birthday as Phase 1 turned 40 on Feb. 27.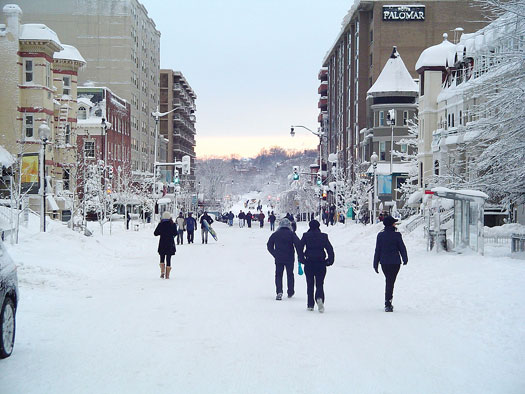 Snowmageddon
(Photo by David Uy)
MARCH
The celebration continued in March, when at long last the legislation signed by Mayor Adrian Fenty (D) at the close of 2009 giving D.C. marriage equality came into effect March 9 – though technically March 3, with a waiting period of three business days after applying for a license.
Celebration turned to shock March 13, when two transgender women from the local Latino community were attacked with a metal pipe in Petworth. Although Kathy Griffin injected some levity into D.C. about a week later at a Freedom Plaza rally for DADT repeal March 18, the subsequent arrests of Lt. Dan Choi, James Pietrangelo and Get Equal's Robin McGehee at the White House kept things tense, if righteous. Their efforts were simultaneously matched over at Speaker Nancy Pelosi's (D-Calif.) office, where the "ENDA 4" staged a sit-in protesting inaction on the Employment Nondiscrimination Act.
There was nothing tense or righteous about the Lesbian & Gay Chorus of Washington's March 16 announcement: The chorus's June 20 concert would be its farewell, with none to follow for the foreseeable future.
March 20 saw some poignant D.C. galas, as Iraq War veteran and DADT-repeal champ Rep. Patrick Murphy (D-Pa.) delivered the keynote address at the Servicemembers Legal Defense Network (SLDN) Annual National Dinner, while the Mautner Project's fete on the same night marked the organization's 20th year fighting for lesbian health. Earlier that day, Rep. Barney Frank (D-Mass.) reported being called "faggot" by Tea Party protesters on Capitol Hill. The LGBT community's staunch ally, Rep. John Lewis (D-Ga.), reportedly got the "n-word" from the same crowd.
The month ended on a bracing note March 25 as Mayor Fenty released the District's first behavioral study of men who have sex with men (MSM), showing 14 percent are HIV-positive.
Local lesbian professor Chai Feldblum grabbed a White House recess appointment March 27, securing her spot as a commissioner on the Equal Employment Opportunity Employment Commission.
APRIL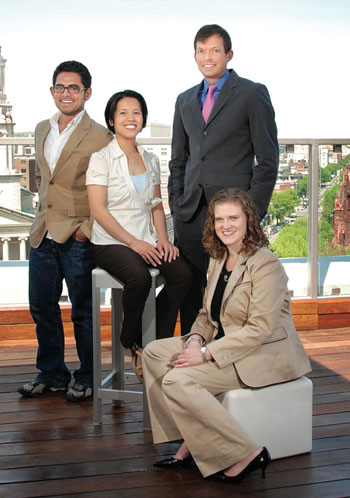 Metro Weekly's 2010 Next Generation Award Winners
(Photo by Ward Morrison)
April started with a little justice as Christopher McDonald was sentenced on April 5 to 120 days in prison for assaulting a group of lesbians on an Adams Morgan sidewalk in 2009, brandishing a knife and telling them, "If we were in Jamaica, I'd shoot you in the face for being gay."
Still, injustice won the month. On April 15, police discovered the body of the gay, much-loved, D.C. school principal, Brian Betts, shot to death in his Silver Spring home – another apparent "pick-up" murder. And as the sun set on a pleasant spring Friday, April 30, local youth activist Tyrone Hanley was beaten and robbed at 17th and P Streets NW.
Betts wasn't the only one to die in April, though thankfully the only murder in the community. Bill Miles, co-founder of Capital Pride, died of skin cancer April 10, just 52 years old. Charlotte Smallwood, a founding member of Transgender Health Empowerment and co-editor of Community Life, died of brain cancer April 12, at age 73.
Four bright spots in this sad month were Metro Weekly's 2010 Next Generation awardees, announced in the April 29 issue: Hyacinth Alvaran, Andrew Barnett, Harjant Gill and Amy Loudermilk.
MAY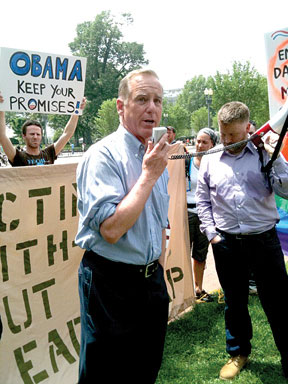 Howard Dean
(Photo by Chris Geidner)
May 2 saw another Get Equal DADT action at the White House, this time earning a visit from Howard Dean, and again ending in arrests. Arrests of an entirely different sort also affected the LGBT community in May: four people arrested in connection with the Betts murder case.
In another case, the 2006 murder of Robert Wone in a Swann Street home, it was time for three gay men to stand trial, beginning May 17.
May also saw some important birthdays. Metro Weekly celebrated its sweet 16 on May 6, the Centaurs MC took to the Potomac May 9 to mark the club's 40th, and Frank Kameny celebrated his 85th birthday at The Center on May 21.
Jonathan Howard and Gregory Jones gave locals another reason to celebrate in May as the D.C. couple grabbed the No. 2 spot in Crate & Barrel's national "Ultimate Wedding Contest." And D.C.-based rapper Wale celebrated with DC Black Pride May 30, performing at the main event after initially canceling, avowing his support for the community.
JUNE
As always, June was a big month for all things LGBT, particularly with the Capital Pride Festival celebrating its 35th anniversary. Pride's biggest coup was to snag recently out country singer Chely Wright as a headliner. Wright charmed the crowd with several songs and some heartfelt revelations.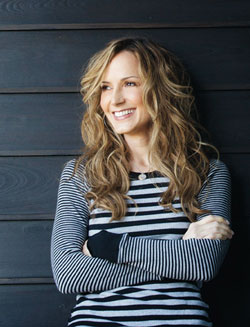 Chely Wright
(Photo by Michael Granberry)
On June 10, Kameny received a belated birthday gift from the city with the unveiling of Frank Kameny Way along a stretch of 17th Street NW. Along other stretches of D.C. pavement, The Center closed its new 14th Street home and headed over to 13th and U Streets NW, with a guarantee of staying put for at least two years. La Clinica del Pueblo opened the doors on a new drop-in center for LGBT youth, Mpodérate!, at 3055 Mount Pleasant St. NW. On the local arts scene, "Queering Sound" hit a milestone, turning 10.
The federal government, meanwhile, celebrated the LGBT community at the White House Pride Month Reception June 22, and also announced a change in federal family-leave policy to allow for coverage of same-sex partners' children. A week later, June 29, the federal government kicked Lt. Dan Choi out of the Army for being gay.
June 29 also marked the end of the Wone trial, with D.C. Superior Court Judge Lynn Leibovitz finding Joseph Price, Dylan Ward and Victory Zaborsky not guilty of obstruction of justice and conspiracy to obstruct justice, setting the stage for Wone's widow, Kathy, to move forward with her civil suit.
Locals also said good-bye to Jerome Sikorski, a founder of Whitman-Walker Clinic, who died of heart failure June 9 while battling bone-marrow cancer. Sikorski was 69.
JULY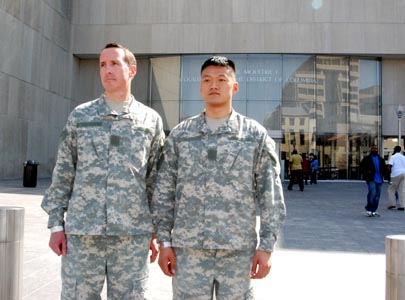 James Pietrangelo and Dan Choi after pleading "not guilty" at D.C. Superior Court
(Photo by Todd Franson)
Choi and Pietrangelo had reason to celebrate in July, as D.C. Superior Court Judge Fredrick J. Sullivan on July 13 dismissed all White House-protest charges against the pair. Some locals – namely Justin Nelson and Chance Mitchell of the National Gay and Lesbian Chamber of Commerce, and Bob Witeck – also celebrated in July, but they did it in Buenos Aires, lucky enough to be on-hand as Argentine President Cristina Fernández de Kirchner signed marriage equality into law July 21.
Back at home, 26-year-old Mark Gower, a gay man, was found dead in his Mount Pleasant apartment. His death was ruled a suicide.
At the end of the month, One In Ten, the group behind the annual October LGBT film festival "Reel Affirmations," announced that the 2010 festival would be re-tooled and pushed back to spring 2011, citing changes in both the community and media, as well as debt.
AUGUST
Police in Rehoboth Beach, Del. ­– a favorite escape of D.C.'s gay sun-seekers – put an end to a seaside crime spree that began mid-July and included gay victims in a string of robberies and assaults, with the early August arrests of six young men.
Drama of another sort was on offer in August, with the debut of Bravo's The Real Housewives of D.C. featuring Paul Wharton, not a housewife but a gay man.
Drama was followed by tragedy, as Delando King was found stabbed to death in his Quincy Court apartment Aug. 9. Marcus Mclean was arrested five days later in a crime bearing the hallmarks of yet another "pick-up" murder.
Tragedy was followed by near comedy in the form of the National Organization for Marriage's (NOM) "Summer of Marriage" tour landing in D.C. on Aug. 13. The tour's scant attendance was no different in the District, though it was countered by "The Big Commit" and Arkansas elementary school student Will Phillips, who bravely advised NOM he was "putting [them] on notice."
Tom McGuire of EFN Lounge/Motley Bar (née Be Bar) announced the bar's closing Aug. 17.
Whether tragedy or comedy was up for debate as former Republican National Committee Chair Ken Mehlman outed himself in the Aug. 25 issue of The Atlantic.
The murder of Tyli'a "NaNa Boo" Mack was certainly a tragedy, and on the one-year anniversary of the unsolved crime, Aug. 26, community members expressed as much to members of the Metropolitan Police Department.
SEPTEMBER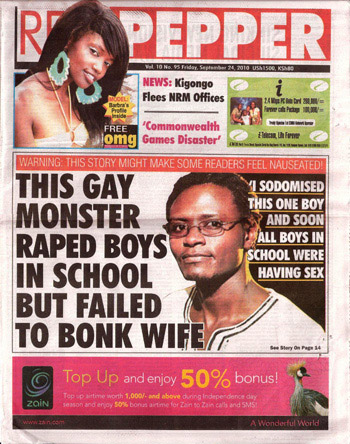 Uganda's Red Pepper uses front page to attack gay asylum seeker
When it's primary season, September in D.C. is about little else. This year's Democratic primary turned a bit ugly with anonymous "robocalls" attacking incumbent Ward 1 gay Councilmember Jim Graham, dubbing him a "wretched" and "immoral" child killer. And NOM put its money behind Delano Hunter to unseat Ward 5's Harry Thomas Jr. for his support of marriage equality. NOM failed. As did Fenty in his bid to be the Democratic nominee for mayor (read, simply, to be mayor), with that win going instead to Council Chairman Vince Gray.
In Maryland, Dr. Dana Beyer fell short of making history in her bid to be the state's first transgender delegate in Annapolis.
Reminding local politicians of one of the most pressing issues on D.C.'s plate, a week after the Sept. 14 primaries, a special screening of the local HIV/AIDS documentary The Other City was offered as a fundraiser for Mpodérate! at E Street Cinemas. And reminding all gay people how much worse things could be, the Sept. 24 issue of the Ugandan tabloid Red Pepper seized on a July Metro Weekly interview with Kushaba Moses Mworeko, a Ugandan seeking asylum in the U.S. on the basis of sexual orientation. Red Pepper's headline? "This Gay Monster Raped Boys in School but Failed To Bonk Wife."
Speaker Pelosi closed out the month with a telling prediction at the Victory Fund's 10th Annual Gay & Lesbian Leadership Awards. On the 29th she told the audience DADT would be history by the end of the year.
OCTOBER
Although it was the first October in years without a Reel Affirmations film festival, October 2010 nevertheless showcased what makes D.C. such a culturally rich place to a call home.
Oct. 2 offered not one, but two marches of relevance to the LGBT community. First up was Whitman-Walker Clinic's 24th annual AIDS Walk, followed by the One Nation March, which included an LGBT contingent of the Human Rights Campaign, the National Gay and Lesbian Task Force, Pride At Work, the National Black Justice Coalition and National Stonewall Democrats.
Justice Elana Kagan joined the U.S. Supreme Court Oct. 4, just in time to hear an argument from the notoriously homophobic Westboro Baptist Church's Margie Phelps on the 6th.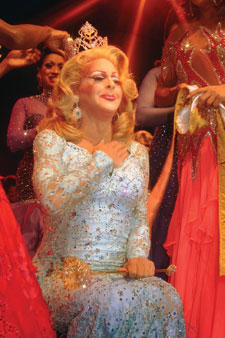 Coti Collins, Miss Gay America
Courtesy of Miss Gay America
COLAGE – whose acronym originally stood for "Children Of Lesbians And Gays Everywhere," but is now dubbing itself "People with a Lesbian, Gay, Bisexual, Transgender or Queer Parent" – chose D.C. for the group's 20th anniversary gala on the 10th.
At the intersection of D.C. business and nightlife, Babak Movahedi filed for bankruptcy protection for Logan Circle Spectrum LLC, parent company of his Mova Lounge.
An October newcomer was the Rally for Sanity, which seemed to draw more than its fair share of LGBT people – at least more than were apparent at Glenn Beck's Aug. 28 "Restoring Honor" rally.
And with Halloween, there was the welcome return of the High Heel Race.
Beyond Washington, locals faced the good and the bad in October. Blogger Ben Carver was attacked in the bathroom of New York's Stonewall Inn, while Miss Gay D.C. Coti Collins won the Miss Gay America title in Columbus, Ohio.
NOVEMBER
The Nov. 2 midterm elections didn't give Washingtonians much in they way of surprises. They did, however, give us a new gay neighbor as Rhode Island Democrat David Cicilline won his run for the U.S. House of Representatives.
The Rainbow History Project, caretaker of the local community's legacy, celebrated the decade mark Nov. 16, while D.C.'s Different Drummers hit 30 on the 6th.
An unknown homophobe hit Metro Weekly's Aram Vartian Nov. 10, about a block from his Convention Center-area home, yelling anti-gay epithets. While that assailant seems to have gotten away, on Nov. 23 Alante Saunders, the man who pleaded guilty to shooting Brian Betts in April, was sentenced to 40 years in prison.
Nov. 15 was a particularly busy day, with yet another White House DADT protest; the World Bank pulling the plug on matching employee donations for PFOX, an "ex-gay" group; and a little celebrity tennis – the World Team Tennis Smash Hits 2010 Reception and Auction – at American University raised more than $500,000 for the Elton John AIDS Foundation and the Washington AIDS Partnership.
A blast from the past's "no promo homo" culture wars chilled the end of November with removal of a four-minute excerpt of David Wojnarowicz's 1987 video, "A Fire in my Belly," from the National Portrait Gallery's Hide/Seek exhibit following a complaint from the Catholic League.
DECEMBER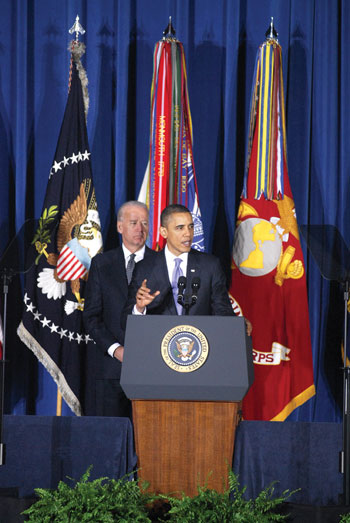 President Barack Obama with Vice President Joe Biden [left]
(Photo by Ward Morrison)
Wojnarowicz's video may have been booted out of November, but it was warmly welcomed into December Transformer gallery on P Street NW. Across the street, Mova had a blow-out moving weekend Dec. 17 to 19, though there's no word as to where the lounge may be moving, or when.
The close of 2010 also had Dan Choi revealing that he'd been hospitalized for a mental breakdown, just as DADT repeal neared the finish line. But while DADT goes down, 2010 closes with no such assurances on ENDA or Proposition 8 or the Defense of Marriage Act (DOMA) – and a GOP-controlled House ready to kick off the new year.
Locally Mayor-elect Gray still has a number of appointments to make that may particularly affect the LGBT community. And as the murders and attacks that have grabbed the community's attention over 2010 don't appear to be winding down, there is plenty to think about. With regard to such crimes, however, it is probably a safe bet that we'll be seeing much more of celebrity attorney Gloria Allred, now representing Betts's family in pushing the Department of Justice to investigate his murder as a federal hate crime. Allred met with the department's civil rights division Dec. 7.