When then-Lt. Dan Choi and former Army infantryman James Pietrangelo II took a group of attendees at a Human Rights Campaign rally for the repeal of "Don't Ask, Don't Tell" away from the rally's location on Freedom Plaza and to the White House, it was clear that March 18 was not just any other day in LGBT activism and advocacy.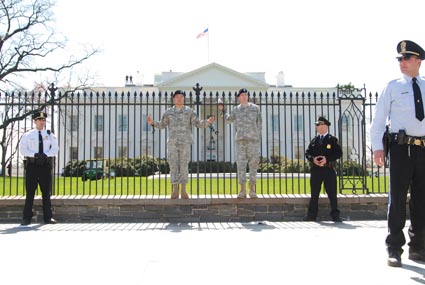 Following on the heels of the National Equality March the past fall, two of the march's leaders – Robin McGehee and Kip Williams – had worked with two of the more prominent LGBT Washington politicos – Paul Yandura and Donald Hitchcock – to start Get Equal, and Choi and Pietrangelo's arrest on March 18 was the group's coming out.
Less publicized even at the time and forgotten by many now, is the second Get Equal protest of that day. Several other members and supporters of Get Equal went to the office of House Speaker Nancy Pelosi (D-Calif.) to protest inaction on the Employment Non-Discrimination Act. Several of those protesters also were arrested.
Although the group's ENDA activism did not draw the attention of the White House arrests, the activism on both fronts shook up the LGBT community. With some agreeing with their tactics and others preferring the more traditional D.C. approach taken by groups like HRC, newer organizations have cropped up throughout the LGBT movement, causing many to at least think about the right approach to move forward.
For right-leaning LGBT people, GOProud was the upstart challenging Log Cabin Republicans. LCR is, as its own people say, an auxiliary group of the Republican Party, whereas GOProud is very much a home for the most conservative gays. But, regardless of the groups' differences, their heightened presence likely helped win the votes of the 23 Republicans who supported DADT repeal in Congress this month.
GOProud and Get Equal weren't alone. The American Foundation for Equal Rights formed to bring the Proposition 8 challenge because no other group would. Servicemembers United and, later, OutServe constantly took aggressive steps that would not likely have been seen from Servicemembers Legal Defense Network or HRC.
Of course, all of the newer groups took steps that were at times risky and some of those steps did or could fail or alienate people. But, as 2010 comes to an end, it is abundantly clear that, if nothing else, more activism has brought more energy to the movement for LGBT equality.