It's hard to take a radio show seriously when it gets its name from a gay stereotype. "Swish" was used once upon a time to describe an over-the-top effeminate gay man and the way he moves. It's even harder when that show is a podcast, since nearly anyone can create one.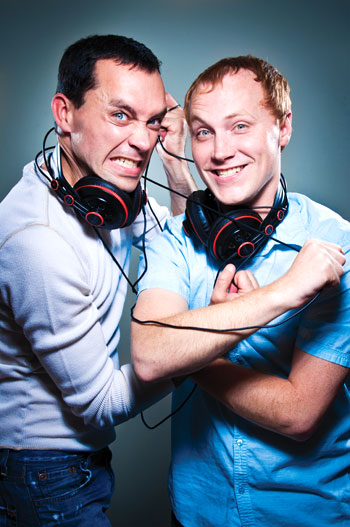 Wallis and Blades
(Photo by Julian Vankim)
But that's okay. Because the guys behind Swish Edition — a weekly, free-to-download, usually hour-long program recorded in Dupont Circle — don't want you to take them seriously.
"We don't tend to harp on serious topics," says Jason Royce, the show's executive producer. "We're not political. We're not one of those shows. There's enough of those."
And podcasts, like many of today's Internet giants – Twitter, YouTube, Facebook, to name a few – have come a long way over the past several years.
No longer does the word "podcast" elicit an image of a nerdy teenager wired up and streaming his musings and music to his friends from his parent's basement. Instead, by the close of 2010, it's become big business.
With Apple presenting programming such as National Public Radio's Talk of the Nation, and rumored to be offering Howard Stern – who brought his large fanbase to satellite radio five years ago – a three-year, $600 million contract to migrate his audience once again, this time to iTunes, it seems things have shifted.
People aren't laughing at podcasts anymore.
Instead they're laughing along with programming such as Onion Radio News and D.C.'s Swish Edition.
So what exactly is the Swish Edition?
"It's kind of a cross between a Howard Stern kind of a show and a public affairs kind of format," says co-host Scott Wallis, 40. "It's definitely an explicit podcast. We talk about sexual things, we do cuss, it gets a little dirty, a little racy, sometimes a little racier than my boyfriend would like – he's more on the conservative side."
Dale Blades, 29, Wallis's co-host, who is also gay, agrees.
"I would say it's very Howard Stern-ish. We talk dirty [about] anything and everything. It's definitely gay-orientated and it can get kind of gross."
Blades notes that "there's really no particular topic whatsoever that we discuss. There is an outline that we try to follow with different segments, but if you were to ask me to actually give an answer to what our show is, it's very hard to say."
You might remember Blades and Wallis as the hosts of It's a Gay Thing DC. That podcast launched in October of 2009 and offered interviews of LGBT people living in the D.C. area, as well as coverage of events such as Capital Pride.
"The first person to do that show was Freddie Lutz," Wallis says. Lutz is the owner of Freddie's Beach Bar & Restaurant in Crystal City. "I've been good friends with him since I first moved to D.C. in '93 before Freddie's [Beach Bar] was even a thought in his mind. So he was the natural person to be the guinea pig for our first show."
Wallis and Blades joined Lutz at his home in Crystal City and recorded the interview from his dinning room.
Wallis and Blades
(Photo by Julian Vankim)
"It was just an experiment at first. We got an iTunes account and put it up online and people started listening to it – we couldn't believe it. So, we did it every single week."
Last summer Wallis and Blades were inspired to expand the scope of the show beyond Washington by making it an international program. Teaming up with GayCities.com and Metro Weekly, they did just that by creating "It's a Gay World" in June. But since that URL was already taken, Blades and Wallis went back to the drawing board to devise something entirely new.
"We went through hundreds and hundreds of different names. It took us months to figure out what the new show was going to be called," Wallis says.
Blades came up with "swish."
"I kind of took a gay stereotype — swish — the way feminine boys may walk, they have like a swish in their step – I just thought it was hysterical and I had no idea that Scott was going to like it." He added the word "edition."
Wallis loved it.
"It's all things swishy," Wallis adds. "We use that word a lot."
And while "swishy" may not set the tone for a serious political discussion on the show, the boys aren't the type to shy away from one either.
"We've got the hot political stories of the day, coming on the show through Metro Weekly and we'll talk about a serious issue if it's something we feel passionate about," Wallis says. "We've had people on from Whitman-Walker Clinic, and we've talked to Jarrett Barrios, the president of GLAAD, so we definitely do our serious along with our silly.
"We try not to be too controversial," he continues, "but we definitely have our opinions. I think Dale and I are a little more conservative on some political issues than the majority of gay people, so sometimes we push some buttons – but we're not afraid to push buttons."
While the hosts of Swish Edition's podcast may not be able to put to words exactly what happens on air, it may make more sense to think of it as hanging out with your gay friends. And like any party, the guys from Swish Edition start that process with a few drinks in the kitchen of Wallis's Dupont Circle home, where he lives with his partner of the past 16 years.
After loosening up, they go downstairs to what their listeners know as the "secret underground studio" to begin taping.
The studio is decorated with random memorabilia, such as an autographed photograph of the cast of the original Melrose Place, a photograph of Lynda Carter in her prime as Wonder Woman, a "Pride" beer sign, and a life-size Dalmatian plush figure that's eerily similar to Wallis's real-life 14-year-old canine, Jack.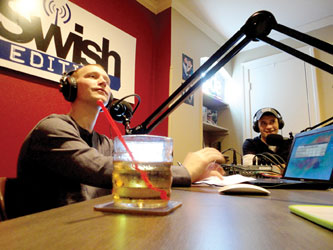 Blades and Wallis in the studio
(Photo by Yusef Najafi)
The boys have two days to edit the program and make sure that random slipups – an unintentional diss about an upcoming musical guest, for example – don't make it on the final podcast. After all, they're still growing as a program and trying to attract guests.
And it can be difficult to attract new guests.
"I don't want to say it's hard," Royce says. "Sometimes it's frustrating, because we're a podcast reaching out to agents and PR people and media people for celebrities. So [our] request is probably coming through with Letterman's people or some big newspaper. It's sometimes frustrating when you don't hear back from them."
Royce says the biggest let-downs so far have been Chelsea Handler, comedian Lisa Lampanelli and Cyndi Lauper.
"Scott and Dale are not ex-celebrities. We don't have that name power, so really we just sell ourselves as three guys doing a fun show for the gays, but anyone can listen and we're cool," he says.
But Royce, who describes himself as the show's equivalent of Stern's sidekick Robin Quivers, is optimistic that the Swish Edition is building momentum by featuring guests such as comic Margaret Cho and Mike Manning from MTV's Real World: Washington D.C.
"Even though they're not huge names, we've had enough people on now that we'll be there in six months," he says. "We're not going to have Brad Pitt or Tom Cruise, but at some point we'll have a much easier time of getting a Cyndi Lauper. Maybe her [PR person] will eventually talk to me."
Long before the Swish Edition was trying to pull build its reputation, Wallis was making waves on a college radio station in Radford, Va.
"I was a disc jockey and I had my own show, until I got a little too racy for Radford University, so they stuck me back on music," he says. "That's when I started my obsession with radio. Of course, that was before podcasting."
Wallis, who grew up in Williamsburg, Va., came to Washington after graduating in 1993.
Blades, who's lived in Washington since 2003, holds an administrative position with a local health organization – at least until the Swish Edition makes him rich and famous. The Seaford, Del., native says he's always been interested in radio.
"I just love the entire media format," he says. "There's different types of media. You have TV, you have print, and you have radio. I just find radio more entertaining. I can't stay focused enough with words on a page. I get easily distracted. So radio has just been a love…for me."
Growing up, Blades idolized the iconic radio personality Casey Kasem.
"I didn't have a lot of exposure to other syndicated hosts just because [Seaford-area radio stations were] probably too conservative to carry them," he says. "Casey Kasem was probably the most liberal that we could get down there. And before the Internet came out, it was limited."
Blades and Wallis first crossed paths in Washington in 2009 at a weekly happy hour at JR.'s, then maintained a friendship through mutual friends.
Ironically, Blades says he didn't register an immediate connection with Wallis.
"When I first became aware of him, he was just there and we were just talking," Blades recalls. "There wasn't much dialogue between the both of us, we just knew each other existed. It wasn't until I was invited to spend a weekend at his beach house, it was at that time that we had the opportunity to speak and find out what our interests were, and we had come to find out that radio…is a love of both of ours."
Wallis remembers that weekend, too.
"We were sitting around at my beach house one summer talking about how much fun it would be to do a show," he says. "We knew that we had both been active at Capital Pride every year, and kind of mini-activists and donors to several charities here in D.C. and we knew that we wanted to do a gay-themed show if we were going to do a show."
The on-air candor has brought the two men closer together as friends.
"Dale and I are now best friends, absolutely," Wallis says. "We do all kinds of things together, hang out constantly. We're definitely best friends and it's all because of the show and because we love doing it so much."
Apparently, so do their listeners.
While the duo won't release numbers, Wallis says their audience is growing.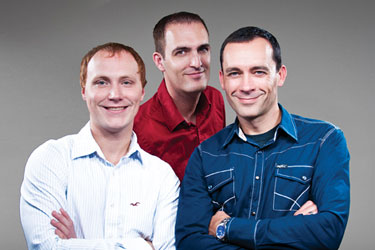 Dale Blades, Jason Royce, and Scott Wallis
(Photo by Julian Vankim)
"We have a rough idea. We can get concrete numbers from iTunes about download, but it's harder to figure out how many different people are streaming it, because it shows up in various places on the Web, not just swishedition.com, but also GayCities. It's harder to count that. We don't release the number, but they are growing, I can tell you that."
Blades says that growth is something he's looking for.
"We started off with a very D.C.-centric podcast and 99 percent of our listener fanbase came from the D.C. metro area," Blades explains. "When we decided to go towards more this national show, we kind of knew that it was going to be tough to get the word out that we're here and that the show exists. My goal with the whole show is to grow the audience, and especially to grow the audience outside the D.C. metro area.
"It's not that I don't love the D.C. area – I've loved the city since I got here – but I definitely want people to be aware of us and just know that the show exists and have a listen and just enjoy it.
"We're not there to educate anyone," he concludes. "God knows you're not going to learn anything from our show, but we want to do this once a week to find people be entertained by the humor that Scott and I and Jason have."
The Swish Edition's free weekly podcast is available on iTunes every Thursday. For more on the Swish Edition, visit swishedition.com.