Abel Aguilera once called Ralphi Rosario a whore.
"I left Ralphi dirty messages on his voicemail," Aguilera says. "[Saying things like] he's never home — that he's a whore, stuff like that."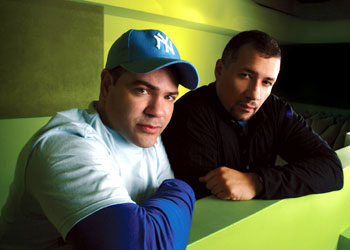 Rosabel
(Photo by Liz Liguori)
It was all good-natured ribbing between friends. Not only did it not start a fight, it actually inspired a musical partnership, one that has set dance floors on fire worldwide for 16 years. Rosario, you see, kept the voicemail recordings and made a track out of Aguilera's name-calling.
That's actually Aguilera talking in Spanish on "La Puta," the duo's first track, a minor club hit.
"We're not just business partners. We're more like brothers," he says. Though Aguilera grew up in New York of Cuban descent and Rosario in Chicago of Puerto Rican stock, "we clicked because we had pretty much the same exact story" as DJs, says the Miami-based Aguilera. "We both started at pretty much the same age, we both went through the same exact phases — with the exception that Ralphi started producing earlier. And we both [played] the straight world before we even got introduced in the gay world."
As solo artists, Aguilera has dominated as a DJ in the gay world for decades now while Rosario, also a gay club DJ, is a dance music pioneer, one of the genre's leading remixers. Together, they've played practically every major gay party and club in the world. (They'll spin this Saturday, Dec. 11, for their first time together at Town and first time together in D.C. in years.) They've also remixed everyone from Donna Summer to Cyndi Lauper to Rihanna to Gloria Estefan, who gave them their first big break in the mid-'90s with hits including "You'll Be Mine (Party Time)" and "Oye."
But Rosabel's own productions draw attention, too. They're not all as fun or funny as "La Puta" — but most of them are. Current hit "C'mon Get Funky" featuring Tamara Wallace (Funky Green Dogs) certainly qualifies. "Where'd you learn to funk like that, hey boy?" Wallace teases.
And then there's the 2004 club hit "Cha Cha Heels" featuring Jeanie Tracy. Aguilera says they assembled the track from scraps, outtakes from earlier recording sessions with Tracy. "We would joke around and do all kinds of stupid things," he says. "While she was recording, we would record her [saying] a lot of those stupid things. That was never supposed to be out."
Rosabel spins Saturday, Dec. 11, at Town's Winter Wonderland Party, 2009 8th St. NW. Cover is $12. Call 202-234-TOWN or visit towndc.com.