You take the good, you take the bad, you take them both and there you have the films of 2010. Hopefully you skipped the bad and went straight for the good, but given how many flops on the Worst Films of the Year list were marketed to the gay community, you probably weren't that lucky.
The Best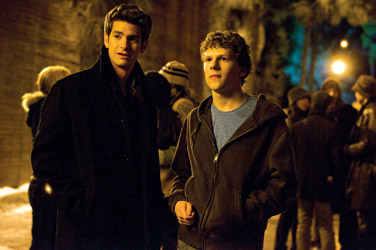 Andrew Garfield (L) and Jesse Eisenberg: The Social Network
The Social Network — David Fincher and Aaron Sorkin turned a profile of Facebook founder Mark Zuckerberg into a brilliant film. Stars Jesse Eisenberg, Andrew Garfield, and yes, even Justin Timberlake, are all fantastic. If you haven't seen it yet, log off Facebook and go.
The Town — Once might have been a fluke, but another strong directorial showing by Ben Affleck proves he's as good behind the camera as he is easy on the eyes. The Town wonderfully captures a bank-robbing band of boys from Boston and may well give Jeremy Renner another Oscar nomination. That would be wicked ahhsome.
The Fighter — It may be one of those films you only want to watch once, but The Fighter is definitely worth one round of viewing. Mark Wahlberg and Christian Bale are both terrific as boxing brothers who have to face tough opponents before even stepping into the ring. Melissa Leo and Amy Adams are fighters in their own right, completing an amazing team of actors telling a tough, touching story.
Black Swan — Natalie Portman dances into hearts and nightmares in the trippy Black Swan. Director Darren Aronofsky leaves audiences scratching their heads and terrified of cutting their fingernails with this drama set in the high-pressure world of professional ballet. Filled with psychos and sex, the thriller certainly deserves an encore. Hopefully one that explains what just happened.
The Kids Are All Right — Despite the huge issue that many took with the plot, Lisa Cholodenko's story about two lesbian moms and their kids is still a beautiful and touching film. While Annette Bening and Julianne Moore make a superb couple, there's a good chance that Bening is going to be taking home a golden man on Oscar night.
127 Hours — Never have a man and a rock been so perfectly paired together on-screen. James Franco brings great heart (and leaves behind an arm) to the recreation of Aron Ralston's harrowing escape from a life-threatening hiking accident. Director Danny Boyle's strong vision heightens an already inspiring story and makes the self-amputation scene both horrible and artistic.
Let Me In — Tween vampires can suck on this. Matt Reeves's remake of the Swedish film Let the Right One In is a strong companion to the original, mainly because he doesn't water anything down. Kid stars Kodi Smit-McPhee and Chloe Moretz are a cute couple, even when covered in blood.
How to Train Your Dragon — So darn touching. Not only does the awkward kid save the day, dragons are cool! There's a little something for everyone in this animated gem.
Joan Rivers: A Piece of Work — As Joan Rivers might say, "Fuck you, Academy." Ricki Stern and Anne Sundberg crafted a wonderful portrait of the comedienne, but it wasn't even short-listed for the Oscar this year. Nevertheless, it remains one of the best documentaries to peek behind the public persona to expose the real face of the individual. Okay, maybe not the real face….
The Ghost Writer — Roman Polanski's film is a thriller of the first degree. As the never-named ghostwriter caught in an international conspiracy, Ewan McGregor captures the character's curiosity and tenacity with ease. The director creates a world of intrigue and menace that slowly builds to a brave and un-Hollywood ballsy ending.
The Worst
You Again ­­– Great actors wasted in this stupid film about high school rivals makes it even more nauseating. This may go down as the film where Betty White jumped the shark.
The Twilight Saga: Eclipse — Another year, another stupid vampire flick. At least they're breaking Stephenie Meyer's next book into two parts so that the Twilight Saga can be represented here five years in a row. (Just a hunch…)
Burlesque — Aside from a few new songs, there's nothing original at all about Burlesque. Plot? No. Sultry rendition of "Diamonds Are a Girl's Best Friend"? Nope. Stanley Tucci's or Alan Cumming's characters? Negative. Cher's face or Christina's boobs? Definitely not and probably not. Too derivative to be interesting and not bad enough to be campy, the soundtrack is really all you need.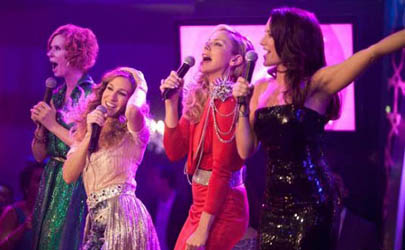 Sex and the City 2
Sex and the City 2 — Maybe it's because so much of the second SATC film took place in the desert, but the franchise is starting to feel dried up. All audiences answered in the affirmative when Carrie asked, "Is this because I'm' a bitch wife who nags you?" Careful Carrie, it's not just Big you risk losing. It's your fan base.
Hot Tub Time Machine — Rub-a-dub-dub, stay out of the tub. This infantile script plays to the basest of all humors and ends up stepping in its own excrement jokes. Not even John Cusack making self-referential '80s movie jokes could save it.
Clash of the Titans — You know a film is bad when it's so cheesy you can no longer appreciate how hot Sam Worthington is. But nothing like a huge box office haul to green light a sequel.
Valentine's Day — Too many stories and too many cute coincidences make it a miserable cliché of what we're supposed to want. Sitting on the couch alone and eating a tub of ice cream is way better than suffering through this lovey-dovey crap.
The Tourist — It's a miracle that The Tourist was nominated for anything other than a Razzie. Why it received a Golden Globe nomination for Best Motion Picture – Musical or Comedy (it's neither) and acting nominations for stars Johnny Depp and Angelina Jolie is beyond comprehension. My guess is that Angelina and Brad offered to adopt all the voting members of the Hollywood Foreign Press Association.
Chloe — The only fun part of Chloe is pointing out all the ridiculous inconsistencies with Erin Cressida Wilson's script. Like when the doctor who hires a prostitute to seduce her husband insists on an STD examination after a hand job is given, but she'll treat a bloody cut on the hooker without wearing latex gloves. Huh? Aside from a hot lesbian sex scene between Julianne Moore and Amanda Seyfried, Chloe is laughably bad.
I Love You Phillip Morris — The worst film of the year: the long-awaited movie in which Jim Carrey and Ewan McGregor are gay for pay. The only interesting part of Phillip Morris is how insulting it is and how most critics were falling over themselves to praise it. Even after its distribution was delayed by two years it still feels like it was given an early parole. This one should have stayed locked in the can.