Steven (Jim Carrey) is living the American dream: a wife, a kid, a job as the church organist, and gay sex on the side. A car crash provides the motivation to finally come out, which Steven does by screaming, "I'm a fag," as he's being loaded into the ambulance. Soon he's strolling down Ocean Drive in Miami Beach with a hot boyfriend at his side, two yippy dogs, and plenty of bling. Stereotypes are stereotypes for a reason – and I Love You Phillip Morris wallows in each and every one of them.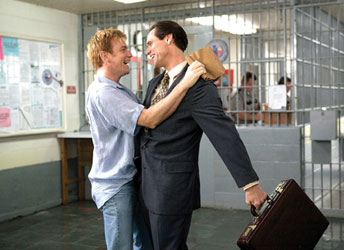 Not so smokin': McGregor and Carrey
As Steven says, "being gay is really expensive," and since his job in grocery market produce doesn't even begin to bankroll it, he starts faking falls in supermarkets, throwing himself down escalators, and anything else that produces an insurance settlement. However, it doesn't take much time for the long arm of the law to give Steven the reach around and throw him in the slammer. At this point, it's only 15 minutes into the film and the story is already feeling overplayed.
Steven quickly learns the way to survive in prison, which, as he explains to a newbie, means sucking a lot of dick (his words). But when he encounters the shy Phillip Morris (Ewan McGregor), Steven falls head over heels. It's important to note that falling head over heels – and down a staircase – is also what happens when Steven is running a scam. Which is why the budding romance between the two is so uninspiring from the start.
Since Phillip Morris first premiered at Sundance almost two years ago, its scheduled release date went up in smoke numerous times. So many, in fact, it rivals the number of times the main character, Steven Russell (Jim Carrey), escapes from prison (four). John Requa and Glenn Ficarra, who co-wrote the screenplay, based on a nonfiction book by journalist Steve McVicker, and co-direct, have several fundamental challenges with the film. The central problem is how to make Steven likeable. He's an unabashed cheat who lacks any remorse or regret for his illegal actions. Even having Steven provide voiceover narration can't make the character more accessible. It's hard to care about the movie when you can't be bothered to care about the characters.
Even a good performance can overcome a challenging role, and unfortunately Carrey doesn't deliver. In order to be a successful con man and escape prison four times, Steven Russell must be incredibly charming, cunning, and smart. Carrey never stops being Carrey long enough to create a separate personality for Steven. Most of Steven's insurance fraud "accidents" are designed to show off Carrey's penchant for physical comedy. The rest of the film is filled with Carrey's signature overacting, cheesy guffaws and embellished mannerisms. It's a character we've seen from him before, yet even Ace Ventura was endearing. As Steven Russell, the act is transparent and ineffective.
McGregor plays the trusting Phillip Morris to be effete and effeminate (definitely more a Virginia Slim than a Marlboro Man). Obviously the kind-hearted one in the relationship, though still an ex-con in his own right, Phillip is supposed to be a victim of love — but any fool who doesn't question a Christmas bonus that's received in July is just a fool. While Carrey doesn't seem to be trying hard enough to bring something new to the role, McGregor has the opposite problem. He's too busy playing gay to really play the part.
I LOVE YOU PHILLIP MORRIS

Starring
Jim Carrey,
Ewan McGregor
Rated R
100 Minutes
Opens Friday,
Dec. 10
Area Theaters
Since neither actor effectively captures his individual role well, the chemistry between the two never ignites. Their relationship is supposed to be the justification for Steven's illegal antics, so this failing causes the rest of the film to unravel more quickly than one of Steven's escape attempts.
The film's obvious hook is that Carrey and McGregor are playing a gay couple. While their relationship is handled in a matter-of-fact manner, the script is littered with content that borders on insulting. The big reveal that Steven is gay comes in the middle of a sex scene when his sex partner suddenly enters the screen screaming "Come in my ass!" While this could be a true reflection of the time since the film is set several decades ago, it's more likely an attempt to be shocking. Either way it comes off as a cheap trick. When Phillip spits after performing oral sex on Steven and is accused of not loving him for not swallowing, it feels gratuitous. It's gay humor that's attempting to be edgy, but it's only going to seem funny to non-gay people.
If one were able to better pinpoint the tone of the movie from the beginning, it might improve upon the experience. The tug between farce, biopic and dark comedy is never resolved in any satisfying way. Which is why, when a character is having his deathbed scene, the only emotion it provokes is impatience that he's not dead yet. That's the sign that your film is worse than bad — it's boring.