"We've had a successful same-sex relationship for 23 years," says John Requa of his partner, Glenn Ficarra. Perhaps some clarification is needed — his screenwriting partner. Their partnership has produced such hits as Cats & Dogs and its recent sequel, The Revenge of Kitty Galore. They ventured into edgier territory with Bad Santa. As for their first foray into directing, the result was I Love You Phillip Morris, in which two convicts, played by Ewan McGregor and Jim Carrey, fall in love in prison (see review, page 62).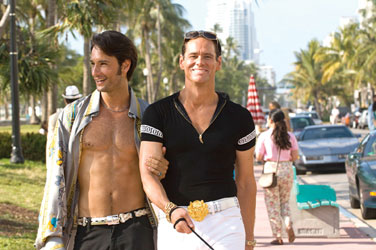 I Love You Phillip Morris
(Photo by Glenn Watson)
Based on a true story, the film has been, as they say in Hollywood, "on the shelf" since 2009. Its first planned release fell through due to problems with the original distributor.
"People were assuming the reason it got delayed was because of the gay subject matter," says Glenn Ficarra. "People just assume that it was a vast homophobic conspiracy. 'America doesn't want you to see this movie.'"
Requa and Ficarra eventually got the rights back to their movie and found a new distributor in Roadside Attractions. The film opens nationwide this Friday, Dec. 10.
"We were terrified when [the first planned] release fell through," says Requa. "But now, if anything, the mystery behind its delay has kind of given it a little bit of a larger than life quality."
While writing the film, the pair, says Ficarra, "tried to divorce ourselves from the real world and say, 'We can't get bogged down in the politics of homosexuality in the modern culture. We have to just basically tell our story the way we want to tell it.'"
The result, he believes, is "a very touching love story. It's a very emotional movie."
I Love You Phillip Morris opens Friday, Dec. 10, in area theaters.