"I will be the gay advocate flamenco dancer for all of us," laughs Edwin Aparicio. In fact, he already is. Among other pursuits, the 35-year-old Aparicio is on the faculty of the Washington School of Ballet, and travels regularly to Spain, birthplace of the multicultural art form, which incorporates music as well as dancing. He's helping the art form evolve.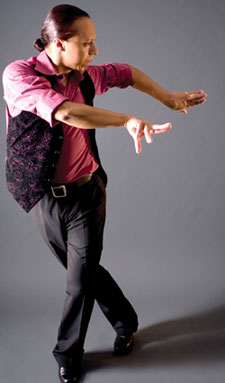 Edwin Aparicio
(Photo by Enoch Chan)
"[Traditionally] flamenco is very manly and macho, with no room for femininity," he says. More recently though, male flamenco dancers "can be a little bit softer, and a little bit more fluid with their movements. And then girls a little stronger with their footwork and stronger with their upper body."
Aparicio also coordinates GALA Theatre's annual Flamenco Festival, part of the theater company's ArteAmérica series in collaboration with the Washington Performing Arts Society. The sixth edition of the festival wraps up this weekend with a performance by Aparicio's fledgling dance company. The world premiere Alma Flamenca pays tribute to GALA in its 35th year.
Born in El Salvador but raised since age 11 in D.C., Aparacio has been dancing since attending high school. "My family has had a hard life, I guess, with me being in the arts and openly gay from the get-go," he says. But it's not just his family he's had to educate. Flamenco musicians, he says, are also generally hostile or misinformed about homosexuality. While their aversion is subtle, "as a gay man, you feel that it's there, to a point that you have to say, 'Just relax, because it's not contagious.' It's that level of ignorance sometimes."
But flamenco's growing popularity is also helping educate the traditional-minded. "It's such a rich art form, so full of expression and emotion," says Aparacio. "There's room for everybody."
The Flamenco Aparicio Dance Company performs Saturday, Dec. 4, at 8 p.m., and Sunday, Dec. 5, at 3 p.m., at GALA Theatre at Tivoli Square, 3333 14th St. NW. Tickets are $30. Call 202-234-7174 or visit galatheatre.org.