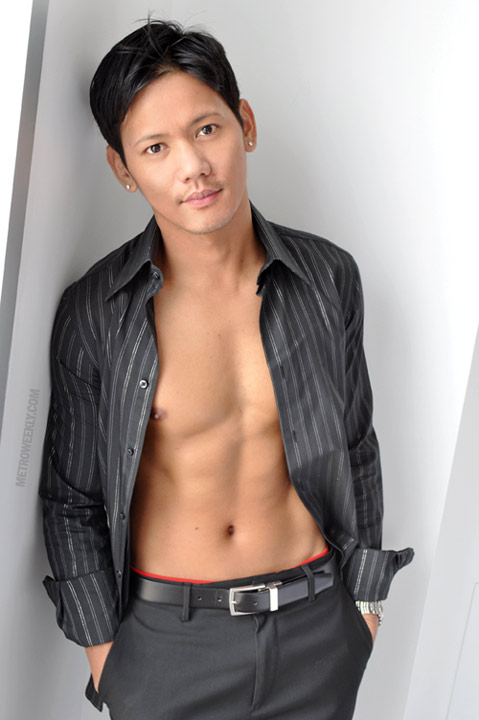 Franklin Caintic
(Photo by Jeff Code)
In his original Coverboy profile last May, Franklin Caintic said he had "lube, massage oil and dental floss" in his nightstand drawer.
Dental floss?
"It's actually more Luke — he flosses his teeth more than I do," Caintic says, referring to his husband, Luke Easley. But never underestimate the value of dental floss. "We actually have a friend who's a dentist, and she said, 'I voted just because you mentioned dental floss,"' he laughs.
The sweet, soft-spoken Caintic ultimately owes his standing as Metro Weekly's 2010 Coverboy of the Year to his large family and social networks. He encouraged his many siblings and friends, both those here in D.C. and in the Philippines where he grew up, to campaign for him on Facebook.
"I had Luke post it to his Facebook page every four days. And then all my sisters and their kids, and my friends back home, they all reposted the link for Metro Weekly," he laughs. "It's horrible."
Caintic calls his Coverboy experience "exciting," even affirming.
"Being a foreigner — I'm not sure if I can call myself a foreigner now — but my not being white is hard," he says. He sometimes feels tension or prejudice, especially in the gay community. "And that's why I was surprised when I was in the top 10. And now, I'm in the top three. Wow!"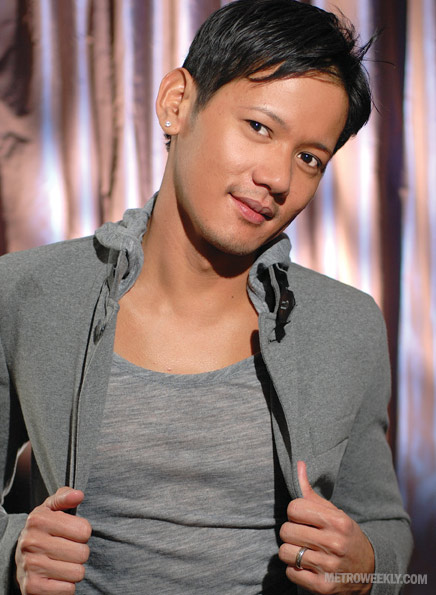 Franklin Caintic
(Photo by Jeff Code)
The 31-year-old Caintic moved to the U.S. when he was 18, after his parents and his older siblings had emigrated from the Philippines one by one.
"As soon as I finished high school, I came here. One week later, I was crying and I said, 'Mom, I want to go back home. I don't want to be here."' He says it was a combination of culture shock and the dawning realization that he's gay.
Soon enough, he adjusted to life in the states. In many ways, he's now living the gay American dream. But it took his parents a lot longer to accept his homosexuality. His father still struggles with it, and he had to come out to his mother multiple times.
"She kept saying, 'No. We need to see first that you date a girl and if it doesn't work, then we'll accept it.' But I did date a girl back home when I was young, just to try it." It wasn't the right path for Caintic.
Caintic met Easley, a former bartender at JR.'s and DJ around town, a decade ago on the dance floor at Nation. But Caintic wasn't supposed to be there.
Living at his parents' house near College Park, he explains, "I was only allowed to go out once a month, [even though] I was already 18. Any Saturday I wanted to go out I had to sneak out, jump out of the window and climb back in," he says. His friends would be waiting down the street in a getaway car. Surprisingly, Caintic never got caught.
The chance encounter with Easley didn't lead to anything right away. "When we met he had a boyfriend," says Caintic. "We didn't start dating until a year and a half after that."
Easley, who was a Metro Weekly Coverboy in 2001 just as the two started dating, proposed later that year to Caintic on Christmas Eve at D.C.'s Cathedral of St. Matthew the Apostle. "After the Mass, he got down on his knees and asked me if I wanted to marry him. I was like, 'Yes!"'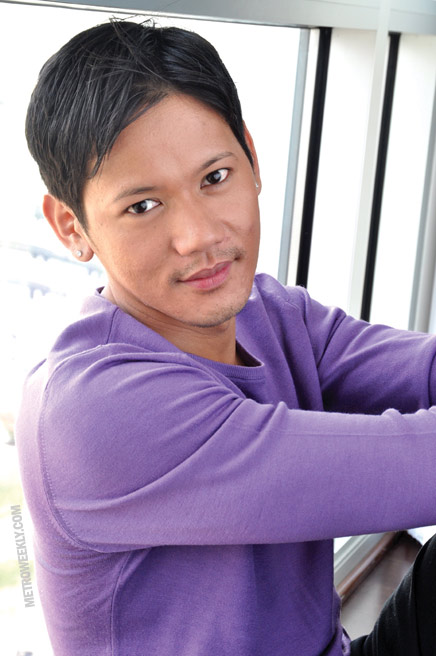 Franklin Caintic
(Photo by Jeff Code)
The two didn't get officially married until earlier this year, on the first day D.C. granted marriage licenses for same-sex couples. They were couple No. 77.
Later that night, they received a lavish dinner at their home in the U Street area, cooked by his mother and sisters. "My mom told me that she was so happy," he says. Even Caintic's father came.
"He said 'Happy Anniversary,"' he laughs. "I don't think he can ever say the word marriage, because for him marriage is between a man and a woman."
Caintic isn't the only gay in the family. "I think gay is in my blood," he says. "I have three cousins who are gay, and then my eldest sister is a lesbian." In fact, she and her partner live with their parents.
In addition to regular gatherings at their house, Caintic sees his parents several times a week at the Larry's Cookies franchise they run downtown. He often spends his lunch break from his job at the Department of Agriculture's credit union there. And he works for his parents on Saturday afternoons, when most of his family pops in too. "I have 15 or so nieces and nephews," he says. "I used to like kids when I had two nieces. But now that I have 15, I'm like, oh my God!"
Eventually, he and Easley will have kids. But for now, they're content with their 2-and-a-half-year-old shih tzu Sophie. "She's so spoiled it's crazy. She really is like a baby to us."
Winner Prize Package
$500 Cash
Apex — $100 in Apex Dollars
Annie's — $300 Dinner Certificate
Arena Stage — 2 Tickets to Edward Albee's Who's Afraid of Virginia Woolf?
Artisphere — 2 Tickets to Dar Williams and IBIS Chamber Music Society concert on Sunday, Jan. 30, 2011
Blowoff — Admission (+1) for all 2011 Dates at 9:30 Club
Capital Queer Prom — 2 tickets to the 5th anniversary of the prom
Club Fuego — 2 Admissions and $50 Bar Tab
Club Hippo — $50 Gift Card
DC Cowboys — $100 Certificate for Dance School Winter Session
Cobalt — $100 Bar Tab
DC's Different Drummers — 4 Tickets to Spring Concert, April 9 or 10, 2011
DC Eagle — $50 Bar Tab and Eagle T-Shirt
Freddie's Beach Bar — Sunday Buffet Brunch for 4
GALA Hispanic Theatre — 2 Tickets to a Mainstage Production in the 2010-2011 Season
Gay Men's Chorus — 2 Orchestra tickets to 30th Anniversary Show featuring Jennifer Holliday on Saturday, June 4, 2011
Green Lantern — 2-hour Cocktail Party for up to 50 friends
HRC Store — $100 Shopping Spree at D.C. Store
JR.'s — $100 Bar Tab
Kennedy Center — 2 Tickets to The Cripple of Inishmaan, Feb. 8-12, 2011 and 2 Tickets to Barbara Cook's Spotlight: Alexander Gemingnani on April 1, 2011
Landmark Theatres — 2 VIP Tickets

Leather Rack — $75 Gift Certificate
Level One Restaurant — $50 Gift Certificate
MAL Weekend 2011 — 1 Ticket to Reaction Dance
Miss Gay DC America 2011 — 4 VIP Tickets to pageant on Saturday, March 19, 2011 at Town
Miss Pixie's Furnishings & Whatnot — $100 Gift Certificate
Nellie's Sports Bar — $100 Bar Tab
Reel Affirmations XX — 2 VIP Passes
Robert Dodge Photography — Basic Portrait Photoshoot
Round House Theatre — 4 Tickets to Amadeus, May 11-June 5, 2011
Shakespeare Theatre Company — 2 Tickets to Any Production for Remainder of 2010-2011 Season
Signature Theatre — A Pair of 7-Show Subscription Packages for the 2011-2012 season, to be announced in late February, 2011
SKIN Cosmetic Dermatology of Georgetown — $200 of Professional Skin Care Products
Strathmore — 1 Star-Level Membership, 2 Pairs of Tickets to any "Strathmore Presents" event (restrictions apply), 2 Pairs of Tickets to any "Friday Night Eclectic" event
Studio Theatre — Festival Pass for 2 to "New Ireland: The Enda Walsh Festival," March 15-May 1, 2011
Task Force — 2 Tickets to the Winter Party Festival's Beach Party in Miami, March 6, 2011
The Lodge — $50 Bar Tab and Cover
The State Theatre — 4 Tickets to Any Show of Choice and State Theatre Gift Pack (cool t-shirt and bumper sticker)
The Washington Ballet — 2 Premium Orchestra Tickets and a Backstage Tour for Rock & Roll, Feb. 20 at 1 p.m.
Town Danceboutique — $100 Bar Tab
Washington Shakespeare Company — 2 TheatrePasses, Good for 10 tickets to Final 3 Shows of Season
Woolly Mammoth Theatre Company — 2 tickets to Opening Night for Booty Candy
Ziegfeld's/Secrets — $100 Cash
Our thanks to all those nightspots, restaurants, businesses and performing arts venues who graciously provided prizes to this year's Coverboy winners. Certain restrictions apply to some prizes. Prizes are non-transferable.
The 2010 Coverboy of the Year was photographed on location at Donovan House – A Thompson Hotel in Washington, D.C. Visit donovanhousedc.com.