Drag queen Ella Fitzgerald is an angel who tumbled to earth. Literally.
"I went to pose as an angel and slipped," says Donnell Robinson, who performs as Fitzgerald. At a Christmas show two decades ago at the old Ziegfeld's, Robinson lifted his leg over the club's platform railing. "And next thing I know, I'm down on the [stage] floor. I fell about six feet, and banged up my leg really bad." He had to walk with a cane for two weeks after that. But ever the professional, Robinson kept on performing. "I put my wig back on, I put on my angel wings, hopped up there and did the number. And they wonder why I have arthritis!"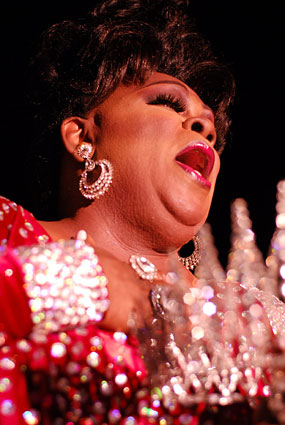 Good thing for Robinson the stage is on one level at the new Ziegfeld's. Good thing for everyone, Robinson is still performing Stacy Lattisaw's "Let Me Be Your Angel" every year at the club's annual Christmas Show. This year marks Fitzgerald's 28th as show host, but only the second in the new location.
"We're billing it as a Gleeful Christmas Show," says Ziegfeld's manager Jon Parks, "because the girls are going to be doing some production numbers from the Glee Christmas album."
Fitzgerald, the First Lady of Ziegfeld's, will perform a total of four numbers. She will be joined by Tatiyanna Vocé, Miss Ziegfeld's Sue Nami, Patti Lovelace and Billie Ross. Mona Lotts from Rehoboth's Blue Moon will offer some Dolly Parton Christmas. And Delta Knight, a regular at the old Ziegfeld's, will return for a rare performance of his "lighted illusion" act. "He comes out as a lit-up Christmas tree," says Parks, and performs to Debby Boone's "You Light Up My Life." Knight's act even includes a "lighted dildo and all kinds of craziness," adds Parks.
The show is intended to be a "little Christmas party with our patrons," says Parks. "All of the music all night long will be Christmas. If it ain't Christmas, they ain't doing it." In addition to drinks and drag, the venue serves light food, including nachos, hot dogs and pretzels. "At least now the kids can get a bite to eat when they're over here," he says.
Patrons are more than welcome to dress up in festive holiday wear. Just don't expect the drag queens to wear any ugly Christmas sweaters.
"Oh no, no, no," he says. "We're Ziegfeld's, darling. Those bitches better come out in rhinestones and jewelry and beads and feathers."
Not to mention angel wings.'
Ziegfeld's Christmas Show is Saturday, Dec. 18, starting at 11:15 p.m. at Ziegfeld's, 1024 Half St. SW. Cover is $5 before 10:30 p.m.; $10 after, with a $1-off drink coupon. Call 202-863-0607 or visit ziegfelds.com.