Mary Lou, a four-episode Israeli musical miniseries, directed by Eytan Fox, is a cross between a gay version of Mamma Mia and Glee — in Hebrew. The series, which will have its Washington premiere this Saturday, Dec. 4 during the 21st Washington Jewish Film Festival, tells the story of Meir, a young gay man in search of the mother who abandoned him during his 10th birthday party. In his quest, Meir winds up in Tel Aviv, where he becomes a popular drag queen named Mary Lou. It's all set to the recordings of Israeli '70s pop icon Tzvika Pick.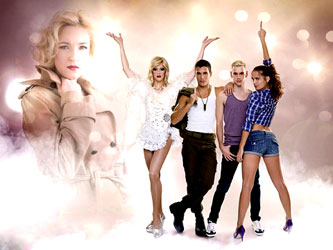 Mary Lou
"I directed Mary Lou before I saw Glee," Fox says. "When I did, I realized that what we're doing with Mary Lou was like Glee to some extent, because it was giving young people in Israel a legitimacy of being…true to yourself."
Known for the films Yossi and Jagger and Walk on Water, Fox describes Pick as Israel's "Lady Gaga of the '70s."
During the summer of 2009, Fox was in the midst of post-production for Mary Lou when a gunman opened fire at a gay youth center in Israel, killing two and wounding 11 others.
"I was just sitting in the editing room with the guy who plays Gabriel, and suddenly everybody starts calling us because we're gay and we could have been [at the center]," Fox recalls. "It made me realize on one hand we're so progressive, we're doing these wonderful projects, but then you have these terrible things happening in Tel Aviv, and how important, educationally, this series is to show that we're not giving up, we're not giving in, we're still going to do our thing."
The 21st Washington Jewish Film Festival runs from Dec. 2 to 12. Mary Lou will be shown Saturday, Dec. 4, at 9:15 p.m., at DCJCC's Aaron and Cecile Goldman Theater, 1529 16th St. NW. For more information, visit wjff.org.