Since November 2008, when the voters of California passed Proposition 8 and ended marriage equality in the state, much attention has been given to the twists and turns that the constitutional amendment has taken. In January, though, when Ted Olson and David Boies made their case about why Proposition 8 was unconstitutional to U.S. District Court Judge Vaughn Walker, LGBT media – and lesbian, gay, bisexual and transgender people – focused on the trial like never before.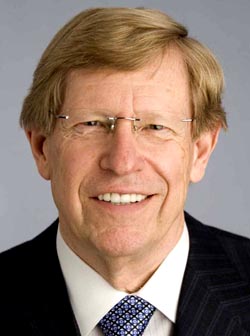 Ted Olson
Then, before Walker issued his decision, another judge – U.S. District Court Judge Joseph Tauro – issued two rulings striking down a portion of the Defense of Marriage Act as unconstitutional. In similar cases brought by the Gay & Lesbian Advocates & Defenders and the state of Massachusetts, Section 3 of DOMA – the federal definition of "marriage" and "spouse" as relating only to opposite-sex couples – was successfully argued to violate equal protection and due process of the laws.
Then, with Walker's Aug. 4 ruling finding that Proposition 8 was unconstitutional for similar reasons, marriage looked again possible in California. Although the proponents of Proposition 8 have appealed, the Ninth Circuit Court of Appeals heard arguments earlier this month and opponents of marriage equality appear – at least in California – to have an uphill battle to keep equality out.
More broadly, though, the three rulings from two different federal judges signaled a changed landscape for marriage equality court challenges. Moreover, with the Republican House less likely to take up DOMA repeal than the Democratic Congress – which did little itself on that front – it appears that, at least until 2013, the courts will be the only place for any federal action on marriage equality.
Outside of the federal landscape, though, advocates happy with the recent passage of civil-unions legislation in Illinois are looking for the next marriage success at the state level to be coming in Maryland.