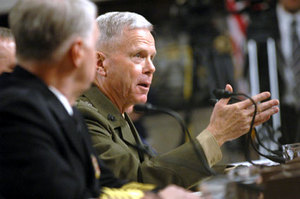 The Marine Corps commandant, Gen. James Amos, made it clear when testifying before the Senate Armed Services Committee on Dec. 3 that he opposed the repeal of the "Don't Ask, Don't Tell" policy. He also, however, said, "Could we implement repeal at this time? The answer is yes. … We are Marines."
Today, however, Amos appeared to think less of the ability of the Marines to implement a repeal of the 1993 military policy banning open gay and lesbian service, focusing on the "distraction" it might cause and suggesting that DADT repeal could lead to a loss of life.
The comments led Aubrey Sarvis, the executive director of Servicemembers Legal Defense Network, to say in a statement that "General Amos needs to fall in line and salute or resign now."
As Kevin Baron from Stars and Stripes reported, Amos took questions from reporters at the Pentagon today, saying, "Mistakes and inattention or distractions cost Marines lives. That's the currency of this fight.
"I take that very, very seriously," Amos said, according to Baron's report. "I don't want to lose any Marines to the distraction. I don't want to have any Marines that I'm visiting at Bethesda [National Naval Medical Center, in Maryland] with no legs be the result of any type of distraction."
Aaron Belkin, the director of the Palm Center, told Metro Weekly, "Among those U.S. Marines who know a gay or lesbian peer in their unit, 88.1 percent say that the unit functions effectively. Gen. Amos is cherry-picking the data to support his 20th century views, and everyone knows it."
Belkin added, "Gen. Amos admitted [in his testimony on Dec. 3] that he is the only Service Chief who did not take the time to ask his colleagues in foreign militaries whether allowing gays and lesbians to serve openly undermines combat effectiveness."
Human Rights Campaign spokesman Fred Sainz echoed that point, saying in a statement, "The experience of all foreign militaries has been that the integration of gays and lesbians is accomplished successfully when it is done quickly and with the full support of military leaders. We're still hoping that General Amos heeds these lessons."
Servicemembers United executive director Alex Nicholson, meanwhile, said in a statement that Amos's "commentary is moving from the realm of reasonable disagreement in the provision of professional military advice to hysteria-inducing absurdity on this topic that reflects very poorly on DOD and on the administration."
SLDN's Sarvis went on in his statement to say of Amos's comments, "He had his say before the Senate and House. General Amos needs to stop lobbying against his Commander-in-Chief, the Secretary of Defense, and the Chairman of the Joint Chiefs. If he cannot do that, the President should ask for his resignation."
Sainz, as in his earlier comments, took a less stark tone, saying in a statement, "General Amos should be listening to his two bosses, the defense secretary and the joint chiefs chairman. Both have made it clear that a gradual and orderly process carried about by the Pentagon as a result of legislative repeal is a far better alternative than a judge's decision that could bring about repeal overnight."
Amos's comments come as efforts for passage of standalone DADT repeal legislation got a boost with the announcement today that Rep. Patrick Murphy (D-Pa.) was introducing a House version of the legislation introduced by Sen. Joseph Lieberman (I-Conn.) late this past week.
Spokespeople for Secretary of Defense Robert Gates and Chairman of the Joint Chiefs of Staff Adm. Mike Mullen — both of whom have said they support legislative repeal of DADT this year — did not respond to requests from Metro Weekly for comment on the commandant's concerns.
At the White House briefing today, however, when asked by The Advocate's Kerry Eleveld about the comments, White House spokesman Robert Gibbs would not respond directly, instead only pointing to the support for repeal from Obama, Gates and Mullen and the majority support for repeal in the Senate. A spokesman for President Barack Obama would not provide further comment beyond that offered by Gibbs at the briefing.
[Photo: Gen. James Amos testifies before the Senate Armed Services Committee about "Don't Ask, Don't Tell" on Dec. 3. (Photo by Ward Morrison.)]