Maybe I overdid it as a kid, and ruined Christmas forever?
Every year as a kid I would exhaust myself, spinning through my parents' collection of Christmas records from the mid-20th century — yes, I'm talking vinyl. Julie Andrews and an orchestra offering classical renditions of Christmas standards? Why, thank you Firestone!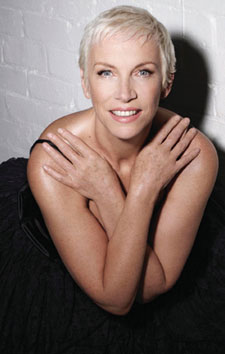 Annie Lennox
(Photo by Mike Owen)
Slowly but surely, and especially once I hit college, I started building up my own collection — on CD. From quickly forgettable pop compilations — A Very Special Christmas, anyone? — to cheesy Mannheim Steamroller renditions to a delightfully jazzy Ella Fitzgerald set to the classy, classical A Carnegie Hall Christmas Concert — Kathleen Battle and Frederica von Stade! — there wasn't a Yuletide variety I didn't try.
Handel's Messiah: A Soulful Celebration? Preach it, brother!
But those CDs are all old — and collecting dust. Years ago I gave up hope of rekindling the seasonal passion. Oh sure, I may secretly enjoy Mariah Carey's "All I Want For Christmas Is You" — but I would never willingly put it on. As it is I hear it a dozen times every week this time of year. Bah, humbug.
But if you're less of a Scrooge than me, this season seems as good as any to indulge in festive music, with several notable new releases.
In case you haven't heard, Mariah Carey returns for another seasonal spell. Merry Christmas II You even includes a new modified version of her original holiday hit — and plenty of other pablum to go with it. There's a hilariously bad dance version of "Auld Lang Syne," complete with not one but two New Year's countdowns, including a super-sped up one. There's also a live version of "O Holy Night," a total train wreck, with Carey vocally dipping too low and too high — and often sounding uninspired — all before an audience that can't stop clapping and whistling.
If early 20th century pop romps through a winter wonderland are to your liking, you'll find it on Christmas with the Puppini Sisters, which even includes takes on Carey's "All I Want For Christmas Is You" and Wham's "Last Christmas." The Andrews Sisters-influenced Brits are too retro for my taste. Even with winks and nods and a touch of sass, it's all too prim and straight-laced — too cold — to roast my chestnuts. Fred Schneider of The B-52's offers a slightly better novelty romp with the silly — and cheap-sounding — Destination…Christmas! with his electro-pop side band the Superions. These joke songs are half-baked and often missing a melodic ingredient, but it could be amusing entertainment for your next spiked eggnog party. And anyway, some people like fruitcake. ("Don't call me fruitcake!" Schneider teases at one point.)
Signature Theatre's Matt Conner, the local composer (Nevermore) and actor (Show Boat, Sunset Boulevard), parlays his experience as Signature's lobby pianist to record his first album of instrumental classic Christmas tunes, plus two original recordings — including the moody "Snow." Winter is a sweet set — the sound of an expensive music box in stereo — as perfect as a gift for your mother or grandmother as it is as accompaniment while you go about decorating. Which is not to say Winter fades into the background. Conner's dazzling, multi-tempo, dramatic rendering of "Jingle Bells" is sure to grab your attention, for one.
ANNIE LENNOX
A Christmas Cornucopia
Decca Records
$18.98






MATT CONNER
Winter
$20




Available at signature-theatre.org

MARIAH CAREY
Merry Christmas II You
Island
$13.98


But really, there's only one set that could turn a jaded Christmas caroler's heart from brittle to buttermilk fudge. At least, only Annie Lennox has rekindled my spirit.
A new album from Lennox? Just two years ago she threatened to quit the music business altogether, so this alone is news worth heralding. (And she's signed a new contract with a new label, to boot.) But listening to A Christmas Cornucopia is better news still.
Lennox, a Christmas baby, here transforms shopworn Christmas classics, mostly traditional hymns. She embellishes them with unexpected, even atonal harmonies, with her own multi-tracked vocals plus the African Children's Choir. She teases out the dark or dramatic undercurrents in many otherwise joyous hymns — her "God Rest Ye Merry Gentlemen" is stunning in that regard. She adds world music touches, including African vocal chants and the use of captivating old-world instruments. But all of it is done with great care, intending to please both an amateur and an academic listener.
If she hadn't been thinking about making this set for a long time, you can tell she at least took a long time making it. Few other artists would go to the lengths she has here. No one else has in years.