Six years ago, Craig Cipollini was the Nutcracker prince in a Gay Men's Chorus of Washington production. Now, he's the king. That is to say, he's calling the shots as director of the revived and re-imagined Men In Tights: A Pink Nutcracker.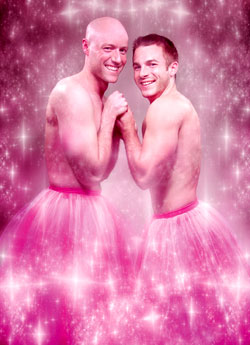 A Pink Nutcracker
(Photo by Julian Vankim)
"It's a very different production from the last one. It's really fresh, really fun," says Cipollini, who also choreographed the revival, to be staged next weekend at Lisner Auditorium. The first half of the show features over 200 singers plus an orchestra performing holiday choral music. The second half focuses on the gay Nutcracker, with 24 cast members and the chorus.
This time around, not only does the lead female role of Clara become Clarence, the tale also becomes "a gay love story" between Clarence and the prince. "The brother Fritz is jealous because he wants the prince for himself," says Cipollini. "That's where the fight ensues from."
Cipollini has carried over the original production's Sugar Plum Fairy, comically played by a drag queen. "His looks are along the lines of the Ugly Stepsisters in Cinderella: very garish and over-the-top, larger-than-life," Cipollini says. "Not the prettiest girl you've ever seen."
"The two leads are really, really phenomenal dancers. They're just going to blow people away," says Cipollini, who started dancing when he was a teenager, growing up in the Baltimore area. He recently retired from performing with the DC Cowboys.
After some time as a "starving actor" and stage performer — "I was usually dancer boy No. 3" — he turned to choreography, working with a few theaters in Baltimore until he moved to D.C. seven years ago. And now, in addition to volunteer choreographer by night, he's the chorus's business manager by day.
Cipollini has never actually sung with the chorus. He doesn't plan to, either.
"I'm enjoying the behind-tne-scenes creative process much more than [I did] performing," he says.'
A Pink Nutcracker is Friday, Dec. 17, and Saturday, Dec. 18, at 8 p.m. Also Saturday, Dec. 18, and Sunday, Dec. 19, at 3 p.m. Lisner Auditorium, 730 21st St. NW. Tickets are $20 to $50. Call 202-994-6800 or visit gmwc.org.