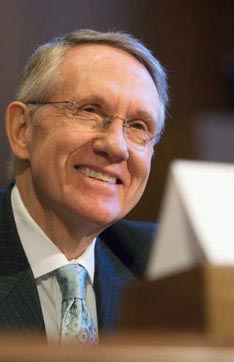 On the floor of the Senate just now, Majority Leader Harry Reid (D-Nev.) said, "I am working with Senator Collins, Senator Lieberman, Senator Levin & others to try and come up with some way to move forward on the defense bill, but, we'll see if that can be done."
Sen. Susan Collins (R-Maine) is the "tip of the spear" — per Log Cabin Republicans' Clarke Cooper — for Republican support for the National Defense Authorization Act, about which Reid was speaking and which contains the "Don't Ask, Don't Tell" repeal amendment.
Sen. Joseph Lieberman (I-Conn.) has been one of the key supporters of repeal, as has Sen. Carl Levin (D-Mich.), the chairman of the Senate Armed Services Committee.
This morning, Reid said he would hold a vote this evening on a motion to reconsider the NDAA. Just now, however, he said it will likely be hours before the Senate even can vote on the DREAM Act, a bill the vote for which is supposed to come before a vote can be held on the NDAA.
The time may be good for the negotiations on the NDAA, which have been rough today, as Brian Beutler at Talking Points Memo recently reported.
Most observers believe that all of the Democrats will vote yes on the motion to proceed, although the votes of Sens. Joe Manchin (D-W.V.) and Blanche Lincoln (D-Ark.) have been in question and their offices are yet to confirm what their vote would be on the motion today. Meanwhile, even that only would give 58 votes, so the Republican votes of Sens. Collins, Scott Brown (R-Mass.) and Lisa Murkowski (R-Alaska) could be key. All three have now said they support DADT repeal, but all three likewise have give procedural caveats as to when they would vote to consider repeal.
If Collins comes on board, other Republican votes could appear, too, including fellow Maine senator Sen. Olympia Snowe. Other possible Republicans are Sens. Mark Kirk (R-Ill.) and Richard Lugar (R-Ind.), as well as retiring Sens. Kit Bond (R-Mo.), Judd Gregg (R-N.H.) and George Voinovich (R-Ohio).
UPDATE @ 5:35 PM: The Daily Caller's Chris Moody reports, "Collins just said she will support DADT repeal, but only if Senate resolves tax rate extension first." Likewise, The Washington Post's Ed O'Keefe: "Sen. Collins tells reporters she's NOT voting tonight to move forward on [NDAA] DADT if it comes up."
Well, that's not good. It comes back to the tax-cut issue, which I raised throughout the day. So, the question now is if Reid tries to get Collins back on board for tonight, pulls the vote — which he only said was "likely" — or holds what appears to be an almost definitely unsuccessful vote.
UPDATE @ 6:10 PM: CNN's Evan Glass: "Harry Reid will postpone tonight's vote on DADT repeal; negotiations w[ith] wavering Republicans continue."
So, that's a night. No vote.