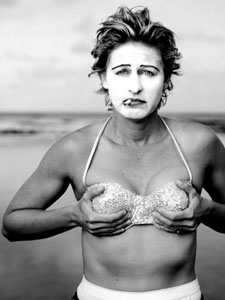 Michael Iacovone and Mike Blasenstein were not happy when they found out that David Wojnarowicz's video, "A Fire in the Belly," had been removed from the National Portrait Gallery's Hide/Seek: Difference and Desire in American Portraiture exhibit after a conservative news publication reported on the exhibit and conservative figures objected to Wojnarowicz's video.
So, despite museum rules that clearly prohibit taking video or photographs in the museum, the pair went to the museum on Saturday, Dec. 4, to protest the removal of the video by creating their own video.
Blasenstein stood with an iPad around his neck that had the video playing on it. Iacovone videotaped Blasenstein, who — in addition to the video — had fliers available for museum patrons seeking an explanation of what the pair was doing.
From the video taken by the pair, museum security at first allowed Blasenstein to be there but discouraged museum patrons from taking the fliers. At one point, security makes it clear that they are aware the Iacovone is recording Blasenstein. It is only at that point that security appears to start taking action to stop the pair. Iacovone was told to stop filming and refused. Both were eventually detained. The video stops at that point.
According to a news release from the pair, though, they eventually were released but "permanently banned from all Smithsonian properties." It was not immediately clear the reason for Blasenstein being detained.
National Portrait Gallery Protest from Michael Dax Iacovone on Vimeo.
In the release from the pair, which Metro Weekly received on Sunday, Dec. 5, Blasenstein said, "I was dumbstruck that this kind of thing could happen in 2010. I'd never heard of David Wojnarowicz before, but the more I learned about him, the more I realized that the same forces trying to suppress his work and cut his funding when he was alive were still trying to silence him today.
"Suddenly I realized that 'Silence = Death' wasn't some retro relic, but something that made it possible for me as a gay man to enjoy whatever acceptance and protections I have today. I wanted to make sure that this man who died 18 years ago wasn't swept from view again—especially from an exhibition professing to honor the marginalized."
Metro Weekly has requested additional information on the incident from the National Portrait Gallery press office.