Next June, Doug Peck will get married in his hometown of Chicago. "It's not legal [there] yet but we're doing it anyway," he says. The couple will commit to the tune of "Make Your Garden Grow."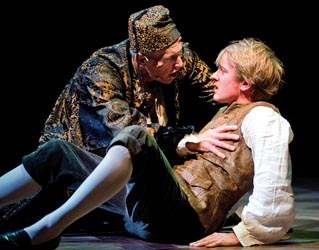 Candide
(Photo by Scott Suchman)
The rousing finale to Leonard Bernstein's comic operetta Candide, the song has been an important to Peck's relationship. It's now even more important. After all, Peck is the 29-year-old music director, arranger and conductor for Shakespeare Theatre's current production of Candide. It's the venue's first musical, adapted from Voltaire's globe-hopping timeless satire.
And his partner Rob Lindley? He's in the 19-member cast. "Like everybody else, he had to audition," says Peck. "It's always tricky as a couple, but really rewarding to work together."
A co-production with Chicago's Goodman Theatre, Candide arrived at the Shakespeare after a run this fall in the Windy City. Featuring the same actors and same gorgeous, elaborate set, the only substantial changes are an "over-the-top fantastic" D.C.-based 12-piece orchestra and a slightly trimmed runtime. But at 2 hours, 45 minutes, the production is almost twice the length of the popular 1974 revival that many people confuse as the original. (The original flopped on Broadway in 1956.)
"[Director] Hal Prince's 1974 version put a kind-of Saturday Night Live sketch comedy-tone onto the piece and whiz-banged through the whole thing in a single 90-minute act," says Peck. He worked on this two-act adaptation with Tony-winning director Mary Zimmerman, helping guide her through "her first big old-fashioned Broadway book musical. Our guiding spirit was to use Voltaire's novel as faithfully as possible, and to use as much of Bernstein's score as possible.
"Bernstein said that there is more of him in Candide than any of his other scores," he says. — Doug Rule
Candide runs to Jan. 9 at Sidney Harman Hall, 610 F St. NW. Tickets are $20 to $108. Call 202-547-1122 or visit shakespearetheatre.org.