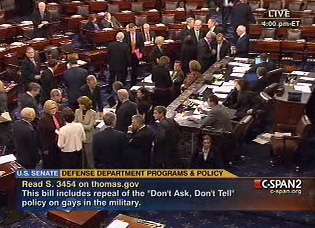 Following a showdown in the well of the U.S. Senate between Senate Majority Leader Harry Reid (D-Nev.) and Sen. Susan Collins (R-Maine), the vote to proceed to debate on the National Defense Authorization Act — the bill that contains the "Don't Ask, Don't Tell" repeal amendment — failed to secure the 60 votes needed for passage of the procedural vote. Passage only would have led to debate on the bill, not passage of the bill itself.
Even that, though, was too much for the partisan squabble that made its way to the chamber Thursday afternoon and ended in a 57-40 vote, three votes shy of those needed for debate.
With Reid praising Collins's work and saying that she should not be criticized, the majority leader attacked other Republicans for "stalling" consideration of the defense bill. Collins, who eventually voted yes to proceed, was not joined by any of her Republican colleagues, including Sens. Scott Brown (R-Mass.) and Lisa Murkowski (R-Alaska) — who have said that they support repeal. Meanwhile, Democratic Sen. Joe Manchin (D-W.V.) also voted no. Sen. Blanche Lincoln (D-Ark.) was, apparently, at the dentist's office, and unable to vote. She came to the floor after the vote, saying, "would like to have been recorded as voting yes. … Had I been here, I would have voted yes."
Quickly, however, Sen. Joseph Lieberman (I-Conn.), joined by Collins, held a news conference to announce an effort for a stand-alone bill, which Lieberman said should have more than 60 votes.
That effort, due to the timing, was just taking shape and would be difficult despite the support of Reid and others. As Lieberman said, "We're not kidding ourselves; this will not be easy." In addition, the House would have to take action to pass the stand-alone bill, and it was not immediately clear if this possibility had been discussed with the House leadership, which supports repeal.
The NDAA vote, however, was a big loss for advocates fighting all year to get the measure to repeal DADT through Congress.
Human Rights Campaign President Joe Solmonese said in a statement provided to Metro Weekly, "Today leaders of both parties let down the U.S. military and the American people. Instead of doing what is right, 'the world's greatest deliberative body' devolved into shameful schoolyard spats that put petty partisan politics above the needs of our women and men in uniform.
"This fight is too important to give up despite this setback and we will continue fighting in this lame duck session. It's not over."
The Palm Center's deputy executive director, Christopher Neff, agreed, saying in a statement, "There is no legal or military rationale for the current law, only prejudice. It is now up to our civil leaders to consider every available legislative, executive and judicial option to move beyond 'don't ask, don't tell.'"
Servicemembers United executive director Alex Nicholson discussed the option being sought by Lieberman in a statement, saying, "Since the votes are there in isolation, the Senate should still consider a stand-alone bill to repeal the 'Don't Ask, Don't Tell' law before adjourning for the winter holidays."
Servicemembers Legal Defense Network executive director Aubrey Sarvis said of Lieberman's proposal, "We need to be on the bill that moves, period. We support Sen. Lieberman's plan to move a standalone bill.
"We also believe another viable option is the Continuing Resolution (CR) coming over from the U.S. House of Representatives," he said in the statement. "The Senate and the President must remain in session and in Washington to find another path for repeal to get done in the lame-duck."
HRC, which announced support for the stand-alone bill, also raised the possibility of a stop-loss order.
"The Senate's apparent refusal to act on 'Don't Ask, Don't Tell' repeal makes Presidential action imperative in order for him to fulfill his state of the union promise," Solmonese said. "The only measure of success is an end to the discharges and anything less is unacceptable."
The HRC release notes, "Under his powers to ensure national security following the September 11 attacks, the President has the ability to issue stop-loss orders preventing certain service members from discharge. Pending an enduring solution to this unjust and discriminatory law, the President can and should suspend DADT-related discharges under the stop-loss provision."
Minutes after the vote Sen. Mark Udall (D-Colo.) went to the floor to criticize the Senate's failure to move forward on the defense bill today and to echo Lieberman's recommendation, saying of DADT repeal, "I'm willing to stay through the holidays to debate it as a stand-alone measure."
"The best way to change the policy" is through Congress," he said. "The vote that we just had means that we won't have a debate on 'Don't Ask, Don't Tell.'"
Nicholson agreed, "This was a major failure on the part of the Senate to simply do its job and pass an annual defense authorization bill. Politics prevailed over responsibility today, and now more than one million American servicemembers, including tens of thousands of gay and lesbian troops, are worse off as a result."