Jonathan D. Katz was literally thrown out of New York's Guggenheim Museum in 2005.
Katz, at the time the founding director of Lesbian and Gay Studies at Yale University, was attending a press conference to discuss a Guggenheim retrospective on Robert Rauschenberg. Katz had planned to write about it for the Village Voice, raising questions, he says, "about all the things that were being either erased or actively falsified in the exhibition so as not to address Rauschenberg's sexuality and the vast import of his relationships with Jasper Johns and Cy Towmbly, his first [male] partner.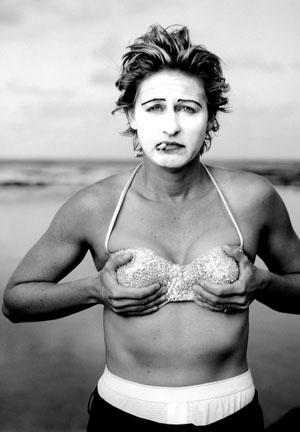 Ellen Degeneres by Annie Leibovitz, from the Hide/Seek exhibit
"I mean," he continues, "here you have the three most important artists of post-war America, and they were all lovers! [Yet] it was nowhere on the wall, and the rich inter-pictoral discourse between the three men was never articulated."
Katz had already produced much scholarship about the artistic import of Rauschenberg's relationships. He had even organized an exhibition on Rauschenberg at Yale the year before. So the Guggenheim staff was on to him, and interceded before he could cause a scene at the press conference. A security guard escorted him off the premises.
According to Katz, it was hardly an isolated incidence of censorship.
Major museums across the country have dutifully pursued an unofficial "blacklist on sexuality" ever since conservatives in Congress stirred up the homophobic culture wars in the 1980s.
So successful has been the censorship that even a mere off-handed mention of the homosexuality of a prominent artist, such as Walt Whitman, could become a noteworthy development.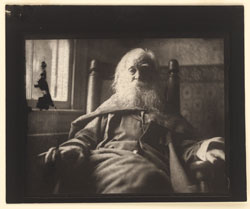 Whitman by Eakins
"In the label, I wrote, 'This is Walt Whitman and his lover of eight years Peter Doyle,"' David C. Ward says, about one portrait he included in a 2006 exhibition on the great American poet at the National Portrait Gallery. "And I quoted from the very affectionate letters that [Whitman and Doyle] interchanged between each other."
When Katz saw the label, "I basically dropped my jaw, because I'd never seen that relationship acknowledged [in a major museum] before."
A historian on staff at the Gallery, Ward didn't realize how significant his acknowledgement was at the time. But upon meeting and then discussing it further with Katz, he realized they were on to something. After years of deliberation, the two co-curated Hide/Seek: Difference and Desire in American Portraiture, now at the Portrait Gallery, the first major museum exhibition exploring sexuality and gender — especially same-sex desire — in American history. It's also the largest show the Portrait Gallery, the Smithsonian Institution's museum of biography, has ever installed. Including over 100 items, from paintings and photographs to videos to even a candy installation, the show offers fascinating glimpses into queer American lives over the past century or so, documenting underground parties, coded mainstream references and advertising, the art of cruising, and the impact of AIDS. A companion book, further exploring sexuality and American art history, is also available.
Earlier this week, a full month into the exhibition, one video, by the late David Wojnarowicz, was removed from the exhibit. A conservative news organization called the video, with ants crawling over a crucified, bleeding man, sacrilegious. It's meant to symbolize the suffering of AIDS, the disease that eventually claimed the artist.
"The video is being removed because the publicity is distracting from the themes of the exhibition. And we wanted the larger themes to be able to stay in place," Portrait Gallery spokesperson Bethany Bentley told Metro Weekly, adding bluntly: "Nothing else will be removed from the exhibition."
Asked if that would still hold even if somebody cries foul over another piece of art, Bentley replied, "Nope, this is it."
Admittedly few other pieces are likely to cause controversy. The show is overstuffed with works by recognized American masters, including Thomas Eakin, Marsden Hartley, Romaine Brooks, Georgia O'Keeffe, Andy Warhol and Keith Haring — as well as Rauschenberg and Johns. There are famous subjects, too, including Marcel Duchamp, Gertrude Stein, Langston Hughes, Roy Cohn and Ellen DeGeneres. "This isn't marginal or outsider art," explains Ward. "This [represents] the mainstream of American artistic practice. [It's just] been systematically ignored. It's been hiding in plain sight."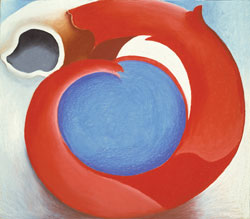 Georgia O'Keeffe
An 1891 portrait of Whitman by Eakins kicks off the exhibit. "Whitman's refusal to accept the existence of boundaries and limits on the body as well as the mind," reads the portrait's label, "is the most radical statement ever of American individualism."
"There are people who still sort of see it as not being particularly important [that Whitman was gay]," Ward says. "What Jonathan and I are saying [with this exhibit] is that in many cases these things are important."
That goes for Robert Rauschenberg's relationships, too. Ward notes that upon the artist's death in 2008, the New York Times's lengthy obituary made prominent mention of his short and unsuccessful heterosexual marriage but slighted his gay relationships. It only noted in passing the extensive partnership he had with Johns.
"The fact that they had a relationship might not be all that much of interest if it was just a personal, private relationship," he says, "but their relationship deeply informed their artistic work. I mean, it doesn't make any sense to talk about [art of] the 1950s unless you know or acknowledge that Jasper Johns and Robert Rauschenberg were partners, both domestically and artistically."
And yet, "as a result of the culture wars, it literally became impossible to talk about same-sex desire," says Ward. "You had this kind of demonization by the right wing even of a kind of homosexual presence. You couldn't even bring this up."
No Promo Homo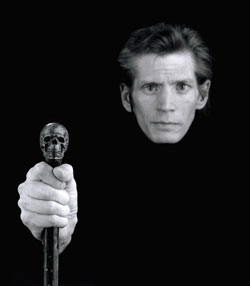 Mapplethorpe
THE SILENCE ON matters of sexuality that still pervades major American museums largely grew out of controversy stoked by the Corcoran Gallery of Art 21 years ago. After the museum agreed to display a traveling exhibit of works by provocative gay artist Robert Mapplethorpe, "Jesse Helms and other Neanderthals in Congress went on the attack," says Katz.
Corcoran cancelled its exhibition, but that did nothing to assuage conservatives in Congress. Says Katz: "[They] essentially gutted the National Endowment for the Arts and installed what we call a 'no-promo-homo' clause in all government support for artistic endeavors, basically proscribing any articulation of same-sex sexuality. [And] until our show opened, every museum in the country, no matter how powerful, [has] followed."
A couple years ago, Katz conducted a study for the National Gay and Lesbian Task Force about the frequency of LGBT representation over the past decade in eight of the biggest New York museums. "The statistics are just unbelievable," he says. "Just pathetically low. Less than two percent at the MET. The New York Historical Society has never once even so much as used the word gay. Given the fact that, say, Stonewall happened in New York, that's an offensive oversight." Katz chalks up the censorship to extremely conservative boards of directors at New York museums, but also to lingering effects of the '80s culture wars.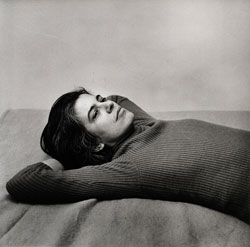 Sontag
Katz had just started his career as an art historian when the Mapplethorpe brouhaha erupted.
"I was finishing up my dissertation," he says. "I had entered the field with the idea that [gay studies] would be like feminism. Within a few years, everybody would be talking about it, and it would be one of those paradigm-shifting intellectual endeavors, and I was going to be on the ground floor. Pretty much immediately, that floor collapsed."
The intervening decades have been "a painful odyssey," says Katz, noting that extensive scholarship on the subject of art and sexuality, both his own and that of his colleagues, has not been reflected at museums. "Not only have we not seen any of the scholarship on [museum] walls, we've actually seen our scholarship purged from the catalogs, excised from bibliographies, greeted with a sort-of Soviet-style censorship." It was enough to bring out the activist in Katz, who earned a bachelor's degree in philosophy and literature at George Washington University in the early '80s. During the height of the culture wars, while working on his dissertation from Northwestern University, Katz helped start a few LGBT organizations in San Francisco, from Queer Nation to the Harvey Milk Institute to a National Queer Arts Festival.
Now, in addition to serving as director of the doctoral program in visual studies at the State University of New York at Buffalo, Katz is co-curating another monumental exhibition, this time in a partnership with — coming full circle — the Corcoran. AIDS/Art/America, examining the impact of AIDS on art, is scheduled for 2014.
AIDS plays a powerful part in Hide/Seek, too, from an unfinished painting by Keith Haring to portraits of others, including Mapplethorpe — all of whom were gone too soon, victims of the disease. There's also a mound of individually wrapped candies in one corner, meant to signify the life of artist Felix Gonzalez-Torres's partner. All museum-goers are encouraged to take a piece of candy. As they do so, the weight of the piece drops from its original 175 lbs, his partner's weight before wasting away.
A Pinch-Me Moment
"I'M HOPING THAT [Hide/Seek] begins to make it increasingly awkward not to talk about sexuality when addressing the development of American art," says Katz. "That it ends the blacklist." He hopes that museums start to catch up to a half-century of scholarship on the subject.
"If a federal installation in Washington, D.C., can talk about sexuality and have a successful show that's popular and critically strongly reviewed, well maybe the Museum of Modern Art can do something like that too." (Hide/Seek is "one of the best thematic exhibitions in years," crowed Washington Post art critic Blake Gopnik.)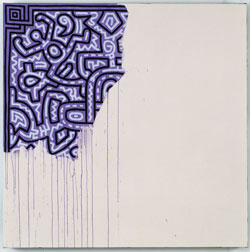 Keith Haring
Both Ward and Katz express gratitude to the higher-ups at the National Portrait Gallery for appreciating the value of this exhibit and braving controversy in putting it on. Ward says it builds on other work of the museum, including the new permanent exhibition The Struggle for Justice on the quest for civil rights, including gay rights.
Katz concedes that seeing Hide/Seek on the walls at the Portrait Gallery was "one of those pinch-me moments." Even though he had spent years with Ward in putting together the exhibition, "for much of the life of the show, we were of course aware of political realities. I fully expected at any moment the show would be cancelled."
Even if this exhibit turns out to be a hoped-for tipping point, Katz is fully prepared for setbacks, such as the recent conservative charge of sacrilege, intended to intimidate. He knows it will continue to require what he calls bullheaded persistence.
"The midterm elections," he says, "have again put progressives on notice that much of the American polity will move only kicking and screaming into the 21st Century."
Hide/Seek: Difference and Desire in American Portraiture is on display through Feb. 13, 2011, at the National Portrait Gallery, 8th and F Streets NW. Call 202-633-8300 or visit npg.si.edu.