Okay. So, Nellie Forbush is no Cee Lo Green.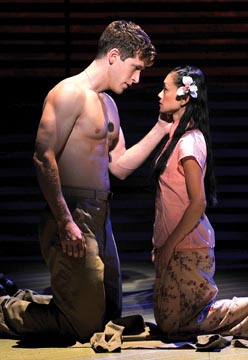 South Pacific- Davis and Maeda
(Photo by Peter Coomb)
While both deliver tunes that are incredibly infectious and sure to stay with you for a few days, "Wash that Man Right Outa My Hair," title-wise, not only lacks the initial punch of Cee Lo's "F**k You," but also its resolve. Sure, hanging out with her fellow nurses, hair full of suds and jerry-rigged shower full of fresh hot water, Nellie is unmovable. She's going to wash that man right out of her hair and send him on his way.
But then, "that man" shows up and it's like it never, ever happened. Nellie goes weak in the knees and the next thing you know she's telling anyone that will listen how she's "in love with a wonderful guy."
In any other context but a big, splashy, old school musical it would be very hard to take Nellie Forbush the least bit seriously. Fortunately, this is one of the splashiest of musicals, South Pacific, and the Lincoln Center Theater touring production – now doing shore time at the Kennedy Center – has waded waist deep into capital "R" Romance of both the big Broadway musical and the World War II era in which South Pacific is set.
What sets South Pacific apart in the vast American mythology that is the WWII romance, is that Nellie (Carmen Cusack) is the commissioned officer and the sweetheart standing about pining is Emile (David Pittsinger), a French civilian plantation owner on the Polynesian island where Ensign Forbush and her company are stationed. Nellie and Emile have fallen instantly and madly in love with one another, ever since the "enchanted evening" where Emile spotted Nellie "across a crowded room."
At this point it bears mention that all the quotation marks above are entirely unavoidable. South Pacific has not only spawned a vast progeny of musical earworms and familiar tunes, including "Some Enchanted Evening," "Bali Ha'i," "There is Nothing Like a Dame" and "Younger Than Springtime," but it hails from that school of musical theater where, if you're going to do it, you're going to sing about it.
South Pacific's other love story involves a cocky pilot, U.S. Marine Corps Lieutenant Joseph Cable (Anderson Davis) and a young island girl, which is to not even mention the touching but one-sided torch held by Luther Billis (Timothy Gulan), the company's scheming class clown.
Of course, this musical isn't all tropical breezes and palm trees. South Pacific also carries out some weightier subjects for consideration, including racism and class, and the company involved in this production gives proper dignity to those aspects.
Strong acting acknowledged – particularly the comedic roles played by Gulan, and actors Genson Blimline and Rusty Ross who play Billis's partners-in-crime – South Pacific is very much carried by its cast's singers. While Pittsinger's velvet-smooth bourbon tones are quite wonderful, it is really Cusack who shines from the stage like a gorgeous island sunrise. She has a voice like fine cut crystal, always skating that edge where the beautiful longing of expectation meets a highly developed level of execution. Most impressively (though this will seem to some to be a ridiculous thing to note), Cusack sings as Forbush, with a touch of the Arkansas girl's accent honeying her vocal performance. (If you're wondering, Cusack is from Houston, not Little Rock.) It gives wonderful foundation to the character and grounds her entirely.
South Pacific is a vivid, picture postcard of a musical. Sure, the show's heroine might be a bit fickle for the taste of some but, if you don't like it… well, you know what Cee Lo says.
A BIT OF disclosure before stepping back behind the screen of theater critic. When I hear the name Norma Desmond my first thought is not of the film Sunset Boulevard starring Gloria Swanson as the aging and forgotten silent film star. It is, instead, of Carol Burnett's outrageous and satirical take on that iconic film character. Ridiculous headdresses and wraps, flowing robes and smeared mascara, Burnett's Nora Desmond fell somewhere between a B-grade Clara Bow and drunken Miss Havisham.
So, it was with some anticipation that I arrived at Signature Theatre to see their production of Andrew Lloyd Webber's musical Sunset Boulevard. Needless to say, this is not a camp opera and Signature's Max (Ed Dixon) bears no resemblance to the late Harvey Korman. It is, however, a great deal of fun, particularly as Webber's vexingly repetitive tones are overcome by a strong cast and a wonderfully choreographed production.
A broken down car lands Joe Gillis (D.B. Bonds), a struggling screenwriter, in Norma Desmond's sprawling Sunset Boulevard estate. Initially mistaken for a tardy funeral director, Gillis finds himself quickly absorbed into Desmond's eccentric household. Amidst the baroque furnishings and vast gallery of portraits of the film star in her prime, there is just Desmond (Florence Lacey) and her faithful butler Max.
Desmond has written a magnum opus of a film, the thing that she believes will restore her to the greatness she has earned ("I am big. It's the pictures that got small.") With a bit of subtle persuasion – and with no idea the events that he is setting in motion – Gillis persuades Desmond to hire him to help get the script in shape. It's a movie he has no doubt will never get made, and not simply because it casts the 50-year old actress as the 16-year old Salome.
SOUTH PACIFIC




To Jan. 16, 2011,
Kennedy Center
$39-$150
202-467-4600
kennedy-center.org

SUNSET BOULEVARD




To Feb. 13, 2011
Signature Theatre
Arlington, Va.
$59-$85
703-820-9771
signature-theatre.org
Lacey is a stunner as Desmond. With a voice that is more than equal to the lovely and memorable "With One Look" and the melancholy wistfulness that is "New Ways to Dream," Lacey's Desmond is as believably fragile as fearsome. She is disturbing, unsettling, but also capable of commanding great grace and elegance. By the time we see her in the state from which Burnett cribbed her drag there is absolutely nothing funny about it.
Carrying the audience through the show is Bond's Joe, crafted from equal parts leading man and film noir gumshoe. Bond has an easy confidence about him that suits Joe perfectly. He is given the chance to deliver the show's most Webber-esque belt with the title number "Sunset Boulevard" (runner up for that title is Desmond's "As If We Never Said Goodbye"), and does so with enough control and integrity to make it work.
Unfortunately, Sunset Boulevard is one of those shows that almost works against itself. Most notable is Lloyd Webber's great discomfort with silence, the need to urge everything that is not an actual song into a kind of sing-song poetry played over (and over and over) one of the musical's major motifs. While it provides some texture to the show's overall feel, there is a point where the effect becomes a kind of hypnotic hum. Moments begin to blur one into the other, muddied by the peculiar rhythm narration is pressed to follow.
But these things are Andrew Lloyd Webber's stock-in-trade, so it should be surprising to very few that Sunset Boulevard is filled with entirely unsubtle loops, wall-to-wall lyrical chatter and a few well-placed, back-of-the-house flooding numbers. Without question, it makes for a show that will quickly grate the nerves of some in the audience, but Signature's take on it results in a musical that is more than ready for its close-up.