From H Street to Columbia Heights to that new vast temple to the drama gods on the waterfront, D.C.'s theater scene is bright and varied and not a little, quite pleasingly, eccentric. Here's to some of the best from 2010.
The Best
The Talented Mr. Ripley, Round House Theatre — From its disorienting set design to playwright Phyllis Nagy's incredible ability to understand the strength of simplicity to Karl Miller's brilliant turn as the sociopath Tom Ripley, The Talented Mr. Ripley was a page to stage triumph for Round House.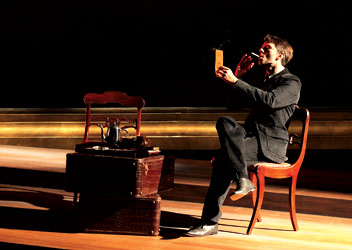 The Talented Mr. Ripley
Naked Boys Singing, Ganymede Arts — The cynics will roll their eyes and say "duh" when word gets out that Naked Boys made this year's lists but, naked or not, Ganymede deserves another round of applause for an outstanding production of a great show.
Sweeney Todd, Signature Theatre — That Signature did such a smart turn with Stephen Sondheim's grimmest of fairy tales is perhaps unsurprising. That Edward Gero and Sherri L. Edelen managed to create a demon barber and bloody baker that felt so entirely modern and utterly unique is what caused the musical to stand out in a stand-out season.
Orestes: A Tragic Romp, Folger Theatre — Holly Twyford and Jay Sullivan took the stage as Electra and Orestes for Anne Washburn's visually gorgeous comic tragedy. Given the phenomenal script and the fantastic cast we're tempted to say that having the show directed by Aaron Posner was gilding the lily. Nah.
[title of show], Signature Theatre — It's a musical about two guys writing a musical about two guys writing a musical that uses the phrase "cage match of noses." How could it not have made the list? Sure, it wasn't the biggest, most grandly outfitted show at Signature, but four actors and a couple of folding chairs was all they needed.
You're a Good Man, Charlie Brown, No Rules Theatre Company — A skilled troupe of actors delivered the Peanuts musical with the sentimentality of an old favorite and the fresh kick of a new hit.
In the Red and Brown Water, Studio Theatre — Tarell Alvin McCraney's "Brother/Sister Plays," of which Red and Brown Water is the second, exist in an arresting world that is equal parts gritty reality and poetic mythology. Studio is kicking off the New Year with the final play in the series, Marcus; or The Secret of Sweet. We're already camped out in front of the theater.
War of the Worlds, SCENA — SCENA's War of the Worlds took us behind the scenes of that CBS radio broadcast that, legend has it, had many convinced that Mars was attacking. With their War of the Worlds, SCENA caused a panic of their own…the really good kind.
Beauty of the Father, Gala Hispanic Theatre — Columbia Heights is not the place most folks think of when they think of theater. That's a shame, because Gala Hispanic has a knack for giving much deserved attention to shows that aren't on the radar but should be. Nilo Cruz's play was an engaging and beautifully rendered story of flirtation, jealousy and anger which Gala brought vividly to life.
Dancing at Lughnasa, The Keegan Theatre — One of the first e-mails I ever got telling me that, as a critic, I didn't know what I was talking about was from Keegan. It's that spirit, so often reserved for defending members of one's own family, that makes this company so fascinating to watch. It's also why shows like Lughnasa, which balance on the complicated nature of familial relationships, bloom so brightly in their hands.
Stop. Please, stop.
Out of curiosity, is anyone else ready to see the curtains drop on these items in 2011?
Turn on the dark. Either you've spent most of this show texting and checking e-mail or your lap is radioactive. If it's the radioactive thing, isn't there a superhero you should be fighting somewhere?
I hear music, and you could too. It's hard in this world of iPods to not start to think of all music as the background music to your life. But that music you're hearing now is the orchestra, and what they're playing is the overture. So, while your story is riveting, so is (in theory at least) the musical that's about to start.
Door vs. Window. It's unavoidable. Maybe it was traffic or a slow waiter. For whatever reason, you're late to the show. That's fine, it happens. But maybe you and your guest could debate who's sitting where before you're standing in the aisle, blocking other people's view of the stage and drowning out the actors with your "whispered" debate about whether or not you need to sit on the outside so you can dash to the restroom.
A little elbow room, very little. In the midst of my stamping and whining, a compliment. Karma Camp is a genius. Not just because of the choreography that she creates, but because she has the deftest sense of scale in D.C. theater. There's a lesson to be learned here. Work with what you have because, when you don't, those gasps you hear aren't awe, they're us wondering how many more times that dancer is going to just miss hitting her head on that bookshelf.
Can't take my eyes off of you. Here's the thing. There is nothing better than when a group comes together in such a way that the divide between lead actors and ensemble is utterly seamless. And there is nothing more distracting than an ensemble member who is clearly trying to be remembered. Don't worry "Reporter #4" and "Man in Hospital," your time will come, just not right now.