You can blame it all on Ed Bailey.
During the early days of Metro Weekly, Ed, who at the time ran VelvetNation and now co-owns and operates Town Danceboutique, politely noted that the magazine didn't really have much in the way of nightlife coverage. In fact, it had zilch.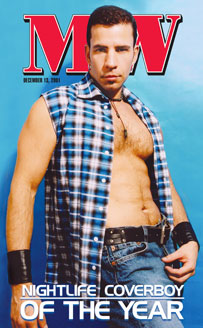 So we got to thinking: What if we developed a section specifically celebrating gay nightlife in the city? What if this section occupied the latter quarter of the magazine and featured its own cover? A magazine within a magazine, with its own unique identity.
It took some planning, but we finally committed to a date to launch the new section: March 1, 2001. But something was needed to go along with the club and bar listings. Something visual, something with a hook. That something turned out to be the Nightlife Coverboy.
From the start, we were committed to using original photography of local guys. The first six months of Coverboy were mainly photographed by Michael Wichita. The first shoot took place at BodySmith Gym with several local men who'd agreed to go shirtless for the occasion (including Chris Farris, who was the section's first coverboy).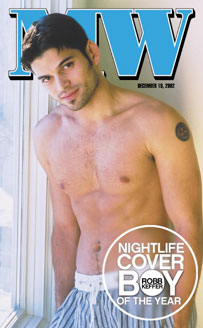 As the design came together, we realized it needed a smattering of editorial as well. The answer? Nightlife Coverboy questions. The first batch was developed by staff writer Jonathan Padget, and a few of those initial questions — "Describe your dream guy," "What's on your nightstand?" — have become iconic to the section. Looking at the answers from the 400 or so men who have posed over the years, you'd find some interesting trends. Like, for instance, that the majority of them admire their mothers and would love to give skydiving a try. As for that baseball question, well, we still haven't figured out what a "mascot" actually does but there are a lot of them out there.
Near the end of 2001, we decided to hold a competition and call it Nightlife Coverboy of the Year. It went well. So well, in fact, that we've held it year in and year out. And now here we are at our first decade mark.
To celebrate, we thought we'd share the covers for our first nine winners. The 2001 cover was photographed by Michael Wichita, but the rest were shot by Jeff Code, who has been our exclusive Nightlife Coverboy photographer for over nine years. The covers have evolved with the magazine, and this year, as well as last year, we had the tremendous fortune to shoot at the elegant Donovan House hotel. Our media producer Aram Vartian crafted a behind-the-scenes video so you can see the three finalists — none of whom knew at that time where they placed — as they strike various poses. You can see the video on our website or at youtube.com/metroweekly.
For years, people have asked if we're ever going to change the questions? In a word, no. They ain't broke. But we're happy to add some new ones, with some help from you. Visit metroweekly.com/nightlife/coverboy for a chance to add some questions to our new online suggestion box. And for those of you wondering how you can apply to be a coverboy, you'll find a form there as well.
So, congratulations to this year's winners — and the winners of years past. They make us proud to be gay.
Oh, and one more thing… Thanks, Ed.