Twenty-ten will go down as the year of gay pop. Oh sure, at least a couple openly gay pop stars have gotten our attention most other years in recent memory. But I can't remember a time when our team has released as much high-profile quality music as over the past 12 months.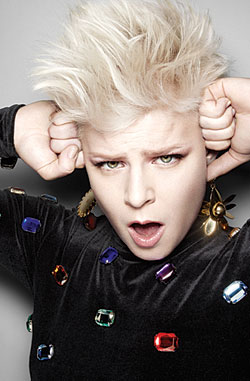 Robyn
(Photo by Rankin)
The highest profile, of course, was Elton John. The Union was a worthwhile addition to any John fan's collection. But it wasn't one of the year's best. As a producer, the gay avant-garde classical composer Nico Muhly contributed to at least two albums worth savoring, including Antony and The Johnsons' best set yet, Swanlights. Muhly is worth keeping an eye on. The bisexual Sia also deserves an honorable mention for her co-writing work in making Christina Aguilera's Bionic less toxic than it could have been, and for her own surprisingly cheery set We Are Born. Her magnetic concert at the 9:30 Club — one of the year's finest — was mere gravy.
Twenty-ten was also the year the world first got to know the name Bruno Mars. The 25-year-old Hawaiian is responsible for two of the year's best singles: Cee Lo Green's "Fuck You" (as a co-writer) and "Just The Way You Are."
Meanwhile, some of the biggest names in pop, or those with releases otherwise highly anticipated, disappointed me, from Rihanna to Goldfrapp to Arcade Fire. And Kanye West doesn't make my list, either. My Beautiful Dark Twisted Fantasy isn't nearly as phenomenal as billed. I certainly saw a few flashes of brilliance, buried beneath too much ungainly arrogance and excessively foul sentiment.
The brilliance of the following shown brighter — and darker — than all the rest.
The Best
Robyn, Body Talk — The sweet and sassy Swede has been stuck on repeat in many dancers heads all year with the release of arts_entertainment/music.php?ak=5783">two EPs before this full-length magnum opus last month. No one else created sophisticated, smart dance-pop better than this.
Matt Morris, When Everything Breaks Open — The Mouseketeer that got away, Morris — son of country-pop/Broadway star Gary Morris — comes across like a less-showy Rufus Wainwright, or even a bluesier Justin Timberlake. Fellow Mickey Mouse Club-alum Timberlake co-produced Morris's masterful, moving debut, full of rich instrumentation and sumptuous vocals, and music as stormy – and as captivating – as they come.
LCD Soundsystem, This Is Happening — The Bowie-inspired seven-piece LCD has played a key part in the past decade's reunited merger of rock and dance music. This most certainly is happening.
Kele, The Boxer — The solo debut from the newly out gay lead singer of Bloc Party, The Boxer is more electronic than rock, more in line with his guest spots in recent years working with Tiesto and the Chemical Brothers. It's everything you wanted, and more.
Cee Lo Green, Lady Killer — A fully realized concept album of a man stuck in the grieving stage after a breakup, Green's breakthrough as a solo artist — thanks to the irrepressible lead single "Fuck You," already a classic — is crazy good.
Scissor Sisters, Night Work — With Night Work, the gay, glam-rock band succeeds in its aim to revive the sound of gay disco-rock, waylaid due to AIDS.
Sade, Soldier of Love — It may have taken singer Helen Folasade Adu and her three supporting band members a decade to release new material, but some things are worth the wait. From Adu's husky alto to her band's finely honed, understated orchestration, Sade proves a smooth operator still.
Jonsi, Go — Made in collaboration with gay composer Nico Muhly, Go is as giddy as someone at his first Pride parade. It's certainly not anything you could have expected from this gay Icelandic ambient rocker — lead singer of Sigur Ros. And his multimedia concert at 9:30 was a dazzler, too.
Bitch, Blasted — This lesbian artist's main instrument is the electric violin, and that adds an elegant and reflective, even resonant, tone to her latest, a breakup-fueled set, which bristles with passion and intensity.
Carolina Chocolate Drops, Genuine Negro Jig
A black bluegrass band? Yes, this young North Carolina string trio aims to carry the torch for a dying musical sub-genre still hampered by minstrel-show connotations. The band's bawdy cover of Blu Cantrell's 2001 R&B hit "Hit 'Em Up Style (Oops!)" is a jaw-dropper.
The Worst
Ke$ha, Animal — The crass dollar-sign-bearing star's top-of-the-year debut was so bad, a follow-up EP, Cannibal, released just 11 months later, couldn't help but be better. But there's no accounting for this mess — even her recent gay-affirming single "We R Who We R" still leaves you feeling dirty for having listened to it.
Andy Bell, Nonstop — With Erasure on a break, Bell releases his second solo set, night and day from any of his past work. Instead of warm and bright, the set is cold and dark. Sterile. And the lyrics are often vapid, embarrassing. Nonstop? Quite the opposite.
Justin Bieber, My World 2.0 — Justin Bieber is a baby who can barely sing, who's given us melodies that are barely there. There's no accounting for taste, I realize, but I so can't even begin to understand his popularity.
Katy Perry, Teenage Dream — This time around Perry doesn't once resort to using the gay card to titillate or insult. Which is progress, but not enough. Her lyrics are still riddled with clichés and maxims that only a daydreaming teen would find profound. They're attached to dance-pop music as formulaic as can be.
Toni Braxton, Pulse — Braxton sounds desperate to have a hit all throughout Pulse. She derivatively pursues the tried-and-true, offering little that is new. If only she would try harder to find better material for that luxurious contralto voice.