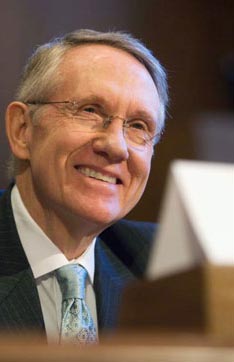 This morning, the Senate was to vote on three measures, including the reconsideration of the National Defense Authorization Act with the "Don't Ask, Don't Tell" repeal measure. After voting on the first two, Majority Leader Harry Reid (D-Nev.) came to the floor to announce a pause for a "little bit" on the NDAA vote.
Reid first said that it was his hope that the Senate "can very quickly lay down the tax bill." Minority Leader Mitch McConnell (R-Ky.) then added, "It's my understanding it's complete and ready. And, actually — we could move to that very soon, in the next hour or so."
This is essential to meet the unified Republican demand that the tax-cut package be worked out prior to any GOP support for proceeding on any other legislation.
Referencing earlier comments today from Sen. Carl Levin (D-Mich.), Reid then went on, saying, "[Levin] gave a speech here today saying that if we don't get on the defense bill today, then we won't get it done this year. So, in the next little bit, I'm going to make a decision whether I'm going to move to reconsider the vote on that bill. And I want everyone to know that's what I'm going to do.
"I appreciate everyone's help on this including Senator Levin, Senator [Joseph] Lieberman [(I-Conn.)], Senator [Susan] Collins [(R-Maine)] who has worked with me trying to see some way to get this completed — but I'll make this decision in the next little bit."
Levin earlier had said, per Politico's Josh Gerstein:
"If we don't proceed on this bill this week, then invoking cloture sometime next week, even if we can do it, would be a symbolic victory," Levin said, arguing that there would not be sufficient time to conference the measure with the House before both bodies adjourn for the year. "The onlt way that this will be real and that the repeal of 'don't ask, don't tell,' assuming we continue to keep it in the bill, will be real is if we proceed to the bill this week. We cannot and should not delay this vote any longer."
This prompted a response from the Human Rights Campaign's Fred Sainz, who wrote to Metro Weekly, "If senators move forward with a vote on NDAA before a deal has been solidified, the vote will fail and all key players will share the responsibility."
Apparently, Reid decided, at least, to hold off for a "little bit," though it is not clear if that bit will be enough time to reach a deal that will garner Collins's vote.
Moreover, Log Cabin Republicans' executive director Clarke Cooper said, [I]t is up to the Majority Leader to make that possible by dealing with the tax issue and moving swiftly to a debate on defense authorization," said R. Clarke Cooper, Log Cabin Republicans Executive Director. "Senator Susan Collins has presented the majority leader with a plan that is entirely reasonable, accepting the Majority Leader's suggested number of amendments and simply asking for four days time to debate this complicated and consequential bill. There has been no response from the majority leader. "