When writing his 1995 play Mojo, playwright Jez Butterworth could hardly have suspected that fewer than five years later a certain dentally challenged swinging super spy would awake to find his mojo stolen in the flick The Spy Who Shagged Me.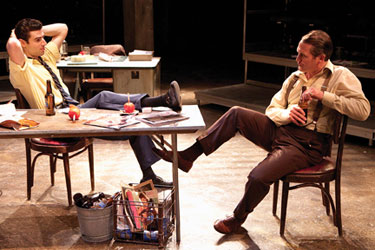 Darkly funny '50s: Eichner and Scot McKenzie
(Photo by Scott Suchman)
However, mojo aside, Butterworth's play and Mike Myers's Austin Powers film could not possibly be more different (although the name Jez Butterworth does call to mind such Bond-like monikers as Pussy Galore and Powers's Felicity Shagwell). Where Austin Powers was a journey into psychedelic sixth grade humor, Butterworth's play Mojo, now casting a brilliantly dark shadow across the doorstep of Studio's 2ndStage, comes with a humor as black as its characters' drug-tinted piss. ("It's the white pills. Don't take any more of the white pills.")
When we stagger into the cigarette butt and porn-strewn office of the 1950s underground British club that forms Mojo's backdrop, Sweets (Matt Dewberry) is already on high boil. At first, it's uncertain whether his agitation has anything to do with the silver-suited teenybopper who was dancing in the dim light of the jukebox just moments earlier, before we meet Sweets. But the kid exits so quickly, cuts such a ridiculous figure, it's hard to believe he is anyone of consequence.
All we know is that Sweets is on edge, Potts (Danny Gavigan) is trying to calm him down and the white pills are not without their unfortunate urinary side effects.
What grows from this jittery sludge is an uneasy, violence-flecked comedy that conjures both the films of Quentin Tarantino and, oddly enough, those British country house plays where the entire world shrinks to the size of a drawing room. As an audience, we're told an outside world exists. One with picture shows that Baby (Daniel Eichner) wants to go see and sandwiches that Skinny (Dylan Myers) is willing to run for and where kids are lining up outside a club to see Silver Johnny (Logan DalBello), the kid who was dancing with the juke box, perform.
But Mojo gives us no sunshine, no fresh air, just the constantly turning tension of five men whose trust of one another is already evaporating before we meet them. There is no rising action here. From the very first moment we are forcefully submerged in Butterworth's dark and frenetically paced soup.
Offering a standout performance is Eichner as Baby, Mojo's black heart. While not necessarily the worst of the play's grim collection of characters, Baby is the one who is unafraid to lay all his knife-edged cards on the table. Eichner makes delightful work of the man's mean spirit, delivering a chilling performance liberally spiked with nervous-making gallows humor.
Dewberry and Gavigan pair exceptionally well as Sweets and Potts. As close to innocents as this show has to offer, both actors remain mindful that Mojo's pratfalls are generally fatal. They balance wit with sharp chemistry and a sense of timing that keeps the show moving at a clever pace.
The black comedy has earned something of a hip cachet, the title too often attached to work that lists more heavily in one direction or the other. Too dark to be truly funny, too funny for the noose to be more than a party favor. Butterworth's Mojo has found that elusive middle ground and Studio Theatre has brought together a collection of talents that allow it to brightly whistle its way through the graveyard.
"FAMILY THEATER" OFTEN gets a bad rap, particularly for those of us whose families do not require a car seat or "kinder" anything. It calls to mind broadly gesticulating scenery-chewers in furry animal costumes teaching lessons about fair play in slowly spoken, overly articulated speeches.
That's certainly not to paint all and sundry with the same clumsy, condescending brush. There is some truly fantastic work being done – plays that don't ask adults to endure while the kids enjoy.
Take, for example, Round House Theatre's new production of A Wrinkle in Time. With it, Round House is greeting the season with a show that talks about love and family with more humor and adventure than treacle and sing-song.
The play opens, as Madeline L'Engle's book does, on the proverbial dark and stormy night. Meg (Erin Weaver) is huddled under a quilt in her attic room, terrified by the storm and wondering when her younger brother Charles Wallace (Jacob Land) is going to come upstairs to comfort her. That's what Charles Wallace does. He always seems to know what Meg is thinking, though he claims that he simply knows what she's feeling.
Which is why the kids at school think he's a freak and why Meg is often in trouble for defending him. Things for the pair have only gotten worse since the mysterious disappearance of their scientist father.
Out of the storm appears the odd and eccentrically named Mrs. Whatsit (Tonya Beckman Ross). After a couple of hasty mugs of cocoa and a cheese sandwich, Whatsit turns to Meg's mother and informs her, quite casually, that "…tesseracts really do exist." It's a statement that shocks Mrs. Murry and leaves Meg entirely confused.
MOJO




To Dec. 26
Studio 2ndstage
$30-$35
202-332-3300
studiotheatre.org
A WRINKLE IN TIME







To Dec. 26
Round House Theatre
$10-$60
240-644-1100
roundhousetheatre.org
A Wrinkle in Time is an epic in every sense of the word and Round House has appropriately dressed it as such. From JJ Kaczynski's beautifully animated opening sequence to scenic designer Misha Kachman's off-kilter, "once-upon-a-time-meets-Jules-Verne set," to the clever and spare use of puppets and audio design, A Wrinkle in Time sprawls luxuriously on its carefully rendered stage.
Weaver shines in her leading role, bringing audiences a Meg who feels suitably willful without seeming bossy or aggressive. Her Meg is a fiercely independent role model who will doubtless move some in the audience to open (or revisit) L'Engle's book.
She's joined onstage by a fantastically game ensemble including the very funny Dawn Ursula as Mrs. Who, the perfectly charming Davis Hasty as Calvin O'Keefe and KenYatta Rogers, who moves easily amongst his various roles. Audience members also have the great fortune of seeing Beckman Ross play Mrs. Whatsit. A perfectly goofy and completely magnetic turn, Beckman Ross could wrench a smile out of the season's greatest Grinch.
As they did with their 2008 telling of the Alice in Wonderland story, Round House has once more demonstrated that delivering great family theater is far from child's play.