Just like many of his million-plus users, Grindr founder and Chief Executive Joel Simkhai has met his share of men on his handy iPhone app. The 34-year-old launched Grindr in March 2009 as a way to meet other gay men.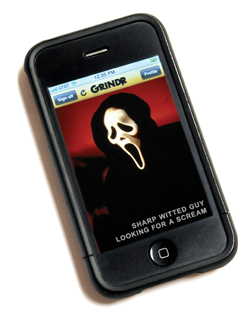 "I would go to coffee shops, go to the gym, go places, and I would always see guys and wonder, 'How do I meet him?"' Simkhai says from his company's Southern California offices.
With a plethora of technology options, it's easier than ever to meet men online – for a brief good time, or an eternity. You can surf for a hookup while waiting for the metro or killing time during a boring meeting at work.
Manhunt.net, with its slogan "Get on, Get off," claims more than 4 million profiles worldwide. Other similar sites such as Adam4Adam and longtime favorites Gay.com and the personals section of Craigslist also make it easier to meet men – and may also help criminals meet their next victims.
"It's no different than meeting someone at the bar," says one frequent user of such sites. While that may be true, robberies are more convenient when the victim allows the intruder to walk through his front door.
Simkhai notes that in his own experience with Grindr, "I don't know of any situation of any physical harm to any of our users."
But the world of online hookups isn't without its black eyes.
On April 14, D.C. middle school Principal Brian Betts was shot to death in his Silver Spring home after meeting his assailant on a gay Internet chat site, Montgomery County Police said.
District police say Anthony Perkins met his killer earlier this year on a gay telephone chat line. The same fate met Gordon Rivers on Jan. 10 in what police called a botched robbery.
While such heinous crimes are rare relative to the vast number of users, Sgt. Carlos Mejia of the Metropolitan Police Department Special Liaison Unit said it's difficult to compile data on crimes related to such Internet encounters. The fear of being outed or embarrassment to admit how victims met their assailants may keep people quiet.
"Think of meeting someone new as a job application, even a temporary position," Mejia said. "If you were an employer, you would not hire some random person off the street who you never met or spoke to. You would not give them all of your private information either."
He recommends interviewing them first, verify who they say they are, check references, other things an employer would do before they offer someone a job.
"They engage in consensual activity and then the next day somebody realizes a wallet's missing, jewelry, something like that," Mejia says, imploring victims of such crimes to immediately call police. The more time passes, he warns, the more likely it is for evidence to be lost or criminals to get away.
Sexual safety is another issue. Chatters can easily hide or misinform others about their health status. However, Grindr and Manhunt prohibit the discussion of unsafe sex on users' public profiles.
"At the end of the day, you're meeting a stranger," Simkhai says. "You really don't know anything about this person. People might be misrepresenting themselves."
Grindr posts safety recommendations on its website, and Simkhai points to two important steps: Don't get drunk before meeting someone new, and meet in a public place.
"Be careful what information you share. Be mindful you really don't know who you are talking to."
Above all else, says Simkhai, "Common sense is probably No. 1."