Have you ever had one of those years that seems to fly by and it's only at the end that you realize just how much has happened? Mike Leigh's new film, Another Year, is just the opposite. After a long slog to reach the end of the film it may feel as if very little has transpired, but that's the beauty of Leigh's story. He captures a year of life that is remarkable for its normalcy. It's just life; a gratifying and grating year of life.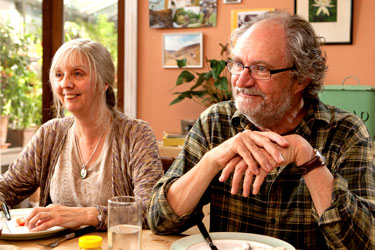 Another Year
The only thing really funny about Tom (Jim Broadbent) and Gerri (Ruth Sheen) are their cartoon-character names. Everything else borders on depressing. While they are at the center of Another Year, the film is less about them and more about the friends and family who join them around their kitchen table over the course of four seasons. There's Mary (Lesley Manville), an aging divorcee who finds too much solace in the bottom of a wine bottle; Ken (Peter Wight), whose gluttony could be the death of him; and their son Joe (Oliver Maltman), who is staring at his future across the table.
Since most of Leigh's script lacks action, the film develops at a snail's pace. As longtime friends gather together, they talk about the old times and people they once knew with no regard for backstory or context. The audience doesn't need to know who so-and-so is, they are there to see the interaction between two old buddies. It requires more patience and a willingness to be lulled into Tom and Gerri's world, but Leigh and the performers ensure it's a welcoming home.
Leigh may be conducting a Rorschach test with Another Year, providing a variety of characters in different phases of their lives and then stepping back to allow the audience to determine what to take away from it. It might be too simplistic to say that the moral of Leigh's film is that couples are happy and single people are miserable, but that's certainly the subtext to the story. Tom and Gerri are absolutely adorable together, and Broadbent and Sheen are perfectly paired to play the duo. Barely needing more than a glance to convey their thoughts to each other, the two are dynamic. Sheen is able to capture the kindness and love of a mother while also retreating into herself during moments of anger. Broadbent brings a calm to the role of someone who has found contentment even as those around him are suffering. Their relationship has a tinge of superiority to it, but it adds a needed level of nuance to Leigh's story.
As Mary, Manville steals the entire movie. Not only is Mary the most outrageous and vividly drawn character, Manville's performance is at once hysterical, squirm inducing, and heartbreaking. While her self-destructive actions are foreshadowed by warning signs that a 3-year-old couldn't miss, Mary blithely plows forward. Manville ensures that Mary is not just pathetic but also sympathetic. To do otherwise would destroy the idea that she could be friends with Tom and Gerri in the first place.
Leigh's measured approach to the film makes it both beautiful to watch and challenging. Occasionally a conversation drags on too long, crossing from the intended awkward phase to the "I'm going to go get popcorn" phase. Nevertheless, whether it's Tom and Gerri and their seemingly happy existence of gardening or Mary's fleeting hope for a relationship, Another Year provides the chance to see what happens in life when you might be too busy living it to otherwise notice.
ANOTHER YEAR




Starring
Jim Broadbent,
Lesley Manville
Rated PG-13
129 Minutes
Area Theaters

THE SECRET DIARIES
OF MISS ANNE LISTER



AND ONE HALF
Reel Affirmations Xtra
Friday, Jan. 21
DC JCC
WHAT IF MR. DARCY was just Darcy? That question is essentially answered in The Secret Diaries of Miss Anne Lister, a pre-Victorian era lesbian love story. The film is based on the true diaries of Anne Lister, a wealthy landowner in the early 1800s. Called Gentlemen Jack by her neighbors, Anne steadfastly refuses to wed any suitor in defiance of her family, though she does give her heart to a woman who eventually betrays her by marrying a man.
The real diaries that Anne wrote in code wouldn't be deciphered until the 1930s, but their story of forbidden love is one that can be found in countless films over the years. In fact, there's little that distinguishes this story from many others except the fact that Anne was living as a semi-out lesbian in the early part of the 19th century.
The most notable aspect of Diaries, which shows at 7 and 9:15 p.m. on Friday, Jan. 21, at the DC JCC as part of the Reel Affirmations Xtra series, is Maxine Peake's portrayal of Anne. Peake makes sure Anne is strong and filled with moxie, giving her a hard exterior for all areas of life except romance. Yet even as she suffers the trials and tribulations of lost love, Anne has a girl-power that transcends the society in which she lives.
Even though true, Anne's devotion to a married woman and the heartbreak it brings starts to feel a little too much like an episode of The L Word. (Well, L Word-lite since the sex scenes are pretty tame.) But Jane English's script does capture the timeless nature of finding love and becomes a tale of inspiration and admiration for a woman who refused to live by the rules in a man's world.