Matt Bamford may look like a little guy, but he's had a big year. After all, serving as Mr. Mid-Atlantic Leather is a once-in-a-lifetime opportunity.
"This is the ultimate for me, the second-highest title a leatherman can reach," says Bamford, pointing to his 2010 trip to San Francisco for International Ms. Leather as the highlight of his title year – and not just for the contact high he jokes about experiencing from walking the streets. "Not a lot of East Coast male titleholders get a chance to go to IMsL. I'd never been before. I loved to be able to walk down the Castro and see a little bit of our history as a gay community."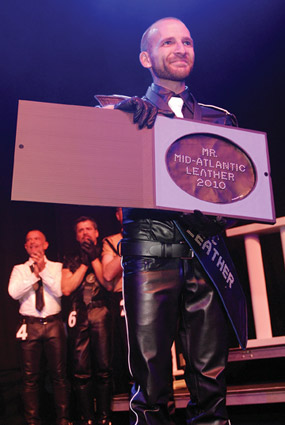 Matt Bamford
Bamford says his other highlight was sharing the cover of Metro Weekly, appearing to be stuffed into a giant condom with two other safer-sex advocates, Dr. Terry Gerace and Dan O'Neill. While standing in a giant rubber might seem like fun and games, in this case is was part of Bamford's Mr. MAL platform: promoting safer-sex. He did just that helping to manage "FUK!T" events of volunteers stuffing safer-sex kits of condoms, lubricant and health information, passed out to members of the community by the thousands. He also helped to run the gay-focused "Rainbow Tuesdays" with the Alexandria Health Department, offering screenings for sexually transmitted infections.
"I think I did a great job," he says of promoting safer sex as Mr. MAL 2010. "I'm very proud of where the organizations are. And I will continue to support D.C. FUK!T. I'll never walk away from that. And the clinic is going to keep growing and growing."
Bamford acknowledges that while his particular title didn't demand any cross-dressing, it could at times be a drag. The Centaur MC, sponsors of the title, try to offset their titleholder stress with a travel fund – a rarity – and other forms of support. But they can't do everything. Bamford recalls, for example, driving to Columbus, Ohio, one day to judge a contest, and driving back the very next day as especially grueling.
He also remembers the pressure of competing at the granddaddy of all the leather contests: International Mr. Leather. There is an expectation that Mr. MAL should at least place in the top 20 at IML. He was relieved to place fifth. And, having gotten so close to that particular brass ring, Bamford's step-down over the weekend will mark his leather retirement in a sense.
"This is definitely a last stop for me," he says. "I will take more of a supporting role for the community. But I climbed the leather-community ladder very quickly. I'm completely satisfied where I'm at."
In his wake, the sage 27-year-old leaves some advice for his successors.
"Being a titleholder is not easy. You're never going to have enough money, never enough time off. Pick and choose what's best for you. When you commit, honor that commitment. And stay away from the drama. Never, ever forget where you came from. Remember those who came before you and make it your year. The sash doesn't make you; you make the sash."